Throwing a company picnic is a great way to bring your team together and have some fun!
To make your event extra special, consider renting a combo dry bounce house from Jungle Jumps.
With a wide variety of sizes, styles, and features available, Jungle Jumps has everything you need to make your company picnic a blast.
Plus, they offer additional services to ensure your event is stress-free and memorable.
Get the party started today with combos and dry bounce houses offered by Jungle Jumps!
Key Takeaways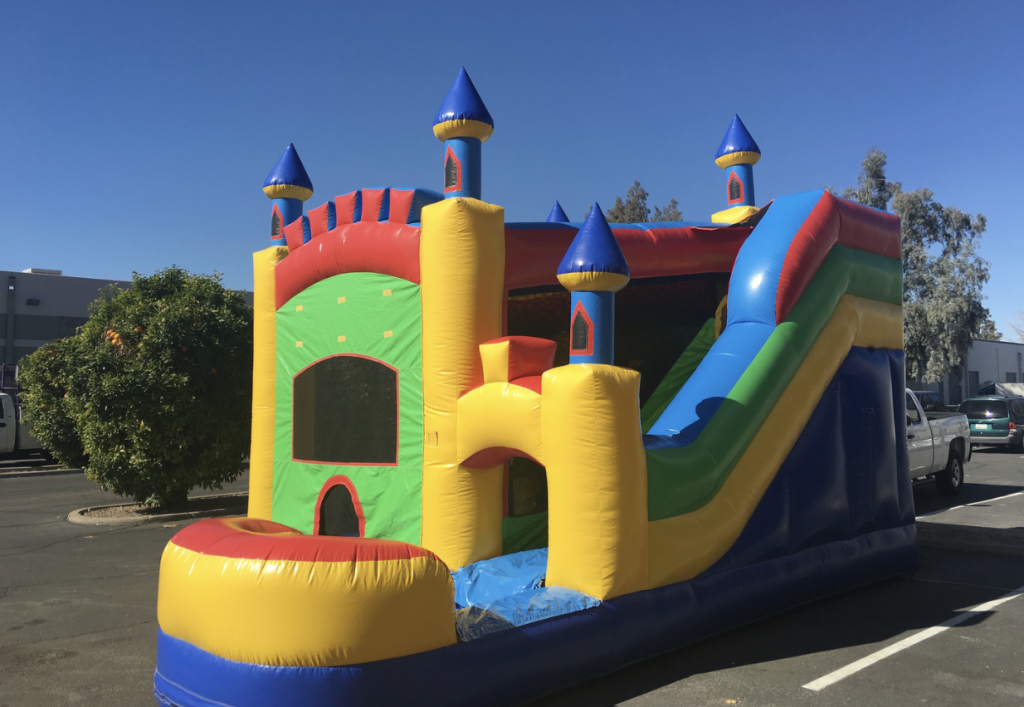 Overview of Jungle Jumps
You'll be amazed by the convenience and quality of Jungle Jumps's combos dry bounce houses for company picnics! From inflatable castles to slides, Jungle Jumps has a variety of structures that will make any picnic a blast. Their bounce houses are made with durable materials, ensuring they're safe and secure for employees and their families.
Plus, they come in a variety of sizes and themes, so there's something to fit any budget or occasion. And with setup and delivery services, you won't have to worry about a thing. In addition, their team of experienced professionals will make sure everything is set up correctly and safely.
Benefits of Renting a Bounce House
Renting a bounce house from Combos Dry for your company picnic will make it a blast, giving your employees and their families an unforgettable experience! With a huge selection of vibrant colors, shapes, and sizes to choose from, you can customize your bounce house to match your company's theme. Not only are bounce houses a fun activity for everyone, but they also help to create a sense of community and connection between employees.
| | |
| --- | --- |
| Pros | Cons |
| Inexpensive | Takes up space |
| Entertaining | Potential injuries |
| Long-lasting | Weather-dependent |
Bounce houses are safe, durable, and guaranteed to provide hours of entertainment for your guests. They also create a positive atmosphere for employees, encouraging them to bond and interact with each other. With Jungle Jumps's reliable rental services, you can rest assured that your bounce house will be delivered and set up on time. Make your next company picnic one to remember by renting a bounce house from Jungle Jumps!
Selecting the Right Size Bounce House
Choosing the right size bounce house for your company picnic is essential for ensuring that everyone can enjoy the fun. If you have more than 25 people attending, you should consider a larger bounce house that can fit at least four people at a time. However, if your group is smaller, a smaller bounce house should be adequate.
You should also consider the age group of your guests, as a larger bounce house may be too much for younger children. It's also important to measure your available space to make sure that the bounce house fits in the area you plan to use it. If your area is too small, you may need to look for a smaller bounce house.
Additionally, you should consider the type of material used to make the bounce house. Quality and safety are important factors to consider when selecting a bounce house. Finally, make sure to check the rental company's reputation and read reviews before renting a bounce house.
With careful consideration, you can ensure that your company picnic is a fun and safe event for everyone!
Features of Combos Dry Bounce Houses
When renting a combo dry bounce house for your company picnic, you'll want to consider the features it offers.
Here's what you should look for to ensure a safe, fun experience:
Durable, flame-resistant vinyl material
Easy set-up and take-down
Different sizes to accommodate various ages and numbers
Cushioned inflatable floor for extra protection
Fun designs and themes to make it a memorable event.
Whether you're hosting a large corporate gathering or a small family reunion, a combo dry bounce house is sure to bring everyone together and create lasting memories.
With its safety features and eye-catching designs, it's the perfect addition to any picnic or outdoor event.
Tips for Planning a Successful Company Picnic
Planning a successful company picnic requires careful consideration of everything from food and entertainment to location and budget; so, take your time to ensure it's a hit!
Think about what type of food would be best for your employees and guests, and order accordingly.
Consider providing activities like a game of softball, or a bounce house rental from Combos Dry to keep everyone entertained.
When it comes to location, choose a place that's easily accessible and has enough space to accommodate all your guests.
Finally, create a reasonable budget and stick to it.
With the right planning, your company picnic will be memorable and enjoyable for everyone!
Booking Your Bounce House Today
Book your bounce house today with Jungle Jumps and make your company picnic a hit! Our bounce houses are perfect for any event, ensuring hours of fun for all ages.
We offer a variety of sizes and styles for your choosing, from traditional bounce houses to obstacle courses, you're sure to find the perfect fit.
Plus, our experienced team is ready to help you every step of the way. All you need to do is provide us with the date, time, and location of your event and we'll take care of the rest!
We guarantee our bounce houses are clean, safe, and in perfect condition for your company picnic.
Top 3 best bounce houses for sale offered by Jungle Jumps
1) Double Bounce House
Model: 
BH-2110-D
W X L X H:
14 x 23 x 10
UNIT LB:
320
Description (Double Bounce House):
Jungle Jumps' jumping castles are perfect for indoor settings, featuring a sleek and imaginative design. Despite their compact exterior and slim footprint, these castles offer a spacious interior play area. What sets them apart is their distinct castle appearance, which does not include inflatable turrets, along with an eye-catching combination of purple, yellow, and green commercial-grade vinyl materials, giving them a truly unique look. Moreover, the castles are thoughtfully equipped with finger-safe mesh screens on the windows, allowing parents to easily supervise their children's playtime.
2) Indoor Bounce House IIII
Model:
BH-2073-A
W X L X H:
8 x 8 x 7
UNIT LB:
77
Description (Indoor Bounce House IIII):
The indoor bounce house offered by Jungle Jumps is a perfect choice for intimate indoor gatherings or outdoor gatherings. Despite its compact size, it provides a comfortable interior play space with large window openings on each side, all fitted with fine mesh for better visibility. Crafted from durable deep blue and vibrant red vinyl, this bounce house is engineered to withstand years of use with minimal maintenance required. For easy setup, an illustrated guide is provided, ensuring a hassle-free installation process.
3) Mini Bounce House III
Model:
BH-2058-A
W X L X H:
8 x 8 x 7
UNIT LB:
77
Description (Mini Bounce House III):
Jungle Jumps' indoor bounce house features a compact and versatile design, making it an excellent choice for intimate indoor gatherings or outdoor get-togethers. Surrounding the interior play zone are wide window openings covered with fine mesh, ensuring a perfect balance of visibility and safety. Crafted from durable deep blue and vibrant red vinyl, this bounce house is built to withstand years of use with minimal maintenance required. To simplify the assembly process, an illustrated setup guide is included in the package, making installation a breeze.
Frequently Asked Questions
What Safety Regulations Are in Place for Combos Dry Bounce Houses?
Safety is our top priority. All of our bounce houses are regularly inspected and certified by a third party. They come with specialized mats and padding for added protection. We also provide trained staff to ensure everyone's safety.
How Long Does It Take to Set up and Take Down a Bounce House?
It typically takes about 1-2 hours to set up and take down a bounce house. It's easy and fast, with experienced professionals making sure everything is done safely.
Are There Any Age Restrictions for Using a Bounce House?
Yes, there are age restrictions for using a bounce house. Generally, children under 3 years old should not be allowed, and kids over 12 should be supervised. For safety, it's important to follow the age guidelines.
What Is the Cancellation Policy for a Bounce House Rental?
Cancellation policies vary, but usually, you'll get a full refund if you cancel at least two weeks in advance. Otherwise, a fee may apply.
Conclusion
Renting a combo dry bounce house from Jungle Jumps is an easy and affordable way to make your company picnic a success.
You can choose from a variety of sizes and features to meet your needs.
With the help of Combos Dry's expert staff and additional services, you'll have everything you need for a fun and memorable event.
So don't wait – book your bounce house today and start planning the perfect company picnic!