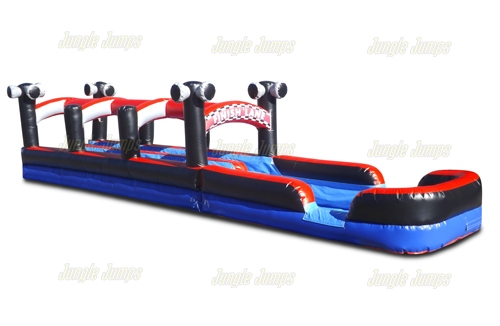 The best way to blow up a water slide or a Slip 'n Slide is to do it safely and as per the manufacturer's guidelines. Before the whole family can blast on an inflatable Slip 'n Slide, you take a few minutes to learn how to inflate it properly so you can use it without a glitch and in safety. 
An air blower is used to inflate your new inflatable Slip 'n Slide, just like any other vinyl crossover or commercial inflatable. What's great with Jungle Jumps, we use the highest standards of safety so that our users can focus on having fun while we handle safety, security, and troubleshooting.
Here's a quick and easy guide to get started:
The Rainbow Slip 'N Slide
The Rainbow Slip 'n Slide is a commercial-grade inflatable constructed exclusively of no-tear vinyl and sturdy baffle material. It allows people to race or slide into the mini-pool supplied at the end, especially since there's a no-jump policy.
Everybody will find something they like because of the variety of hues on offer. Suitable for all ages, this exciting water slide can add fun and excitement to any gathering or event. The color and size of this inflatable may be changed to suit your needs.
In general, no more than one person should be in any given lane at a given moment. This entertaining inflatable is appropriate for children as young as four and as old as 104. Despite its popularity, this slide should not be utilized in windy locations because of its slick surface.
To securely attach your inflatable, you'll also want some stakes. A large enough tarp covering the whole area beneath your Slip 'n Slide is also a good idea. A little more room on both sides is preferred. Although we offer hook anchors with our inflatables, we only sell tarps on the side.
How to Blow Up a Slip 'N Slide Correctly
Set up your inflatable Slip 'n Slide on a level, open area that is free of any trash or other obstructions. Avoid placing inflatables too close to electrical wires or trees. The utility provider should identify any locations where there's a chance of striking power wires so you know where to avoid them.
Then, using your tarp, unfold your inflatable Slip 'n Slide. After that, as indicated in the image, attach a garden hose to the water bladder system. If you want to keep your garden hose in place, utilize the hose loops. Wait until the Slip 'n Slide is fully inflated before turning on the water.
Now that we're ready for it, the moment has come for us to learn how to blow up a Slip 'n Slide. Set your air mover near your Slip 'n Slide's inflating tubes. Only big inflatables will require more than one inflation tube at a time, so use the one closest to your blower. Before you begin inflating, make that your power cord is long enough and has enough slack in it.
Connect your blower to your inflatable Slip 'n Slide and shut off the other inflation tube. Then turn on your blower and slide. As soon as the bounce house is inflated, walk around it and hammer down your hook pegs to keep it safe and secure.
Stakes should be checked and secured before anybody starts sliding, and the entire Slip 'n Slide should be thoroughly inspected for rips, tears, or other damage before anyone starts. You can start having fun once you've taken care of all that!
Conclusion
The pandemic should not stop you from providing an outstanding, fun-filled event with inflatables that kids, even adults, can enjoy despite the pandemic. When it comes to having fun—pandemic or no pandemic—the best safety protocols must be followed to ensure that anyone using inflatables will be safe from injuries or lack of supervision.
You need to hire a reputable supplier who will not only deliver the product to you but can assist during your event, safeguard the players, and even troubleshoot problems as they arise on site.
Jungle Jumps is the largest commercial bounce house and commercial inflatable producer in the US. We utilize only the best materials and building techniques for sale for the best water slide, bounce house, and commercial inflatable. Order yours today!