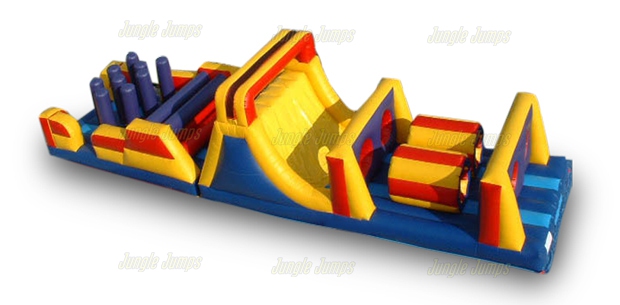 Your inflatable business' marketing collateral can speak volumes about the professionalism of your company. High quality designed and printed materials can also put you miles ahead of the competition. The term marketing collateral refers to all of the written marketing and sales pieces your customer will come into contact with as you try to win their business. You need to have a game plan in place regarding how you will win a customer's business and present them with your products and services.
The following are some marketing collateral items that you should consider when putting together you sales pieces:
Brochures – This item can cover all of your products and services in one, including information about the company, photos, testimonials, and general product information.
Catalog of Products and Services Available – Consider what you will give your customers to look at to determine what inflatable products they are interested in. This may be done all online, but a printed catalog is a nice point for selling, and for the customer to have on hand.
Product Fact Sheets – Each fact sheet should focus on one inflatable product or product line. The information should include product name and photos, distinctive features, and comparisons to other similar products. You may want to include cost on these fact sheets, or if your pricing structure varies greatly based on the event specifics this may be information you would prefer the customer speak to you directly for.
Company Sheet – To stand out from other businesses in the inflatable industry give your customers a fact sheet about your company. Include the date the company was founded, location, name and some background information. This sheet should also contain contact information and a brief mission statement for your company.
Press Items – Whenever anything is written about your inflatable company by a third party (only favorable information of course) collect and maintain this, preferably in a binder. You can show customers the breadth of your business with this type of information. You may also want to include advertisements and printed marketing materials in this file.
The design and printing process of marketing collateral can be costly for a small business. While items do need to look professional there are ways to cut costs. The major pieces for your company, including the brochure and catalog, should be professionally printed on a nice paper stock in four color processing. This will be the bulk of the cost for your marketing collateral.
Supporting items, fact sheets and the company sheet, can certainly be printed in house. When printing these items in house ensure you use a thicker paper stock than the standard 20# paper. A glossier paper is also a small price to pay for a more professional appearance. If you do not have a nice color printer black and white can suffice for these items.
Many companies in the inflatable industry do not bother with designing and printing this type of marketing collateral. Doing so will give your business a more professional appearance, putting you above the competition, and ultimately helping you to win sales.