Inflate Your Business with our Commercial-Grade Bouncers

Jungle Jumps is a commercial bounce house for sale manufacturer and provides a wide variety of inflatable bounce houses for sale. Every bounce house purchase means that you are receiving quality manufacturing of inflatables built to the highest standards of craftsmanship, performance, and reliability in the commercial grade bounce houses industry. Your business requires our products to be designed for maximum durability. Our commercial bouncers will hold up to the most rigorous daily use for many years.
Not only does your bounce houses purchase give you what you see listed on our site, we also give you the options to customize your inflatable jumper to any specification that you like. Jungle Jumps leads the way in building top quality commercial jump houses in southern California and every jumper we offer for sale comes with a 3 year warranty from the date of purchase.
Want to start your own entertainment rental business? Jungle Jumps can get you started with the moonwalks and wholesale commercial bounce houses we offer for sale. We've even prepared a step-by-step manual for you to get your business up and running quickly. Our company offers unparalleled support for people interested in establishing a commercial bounces houses rental company, and our commercial inflatables packages provide top-quality manufacturing, full customization, and even the rental contracts printed with your company's information right on them. A range of accessories and repair items means your commercial bouncers will be ready to thrill year after year.
We have the largest selection of commercial grade jumpers that you will find. We are the premier inflatable bouncer manufacturer with durable products that you will want to purchase for your business. Here are some of the more outstanding commercial inflatables in the collection of bounce houses Jungle Jumps has for sale: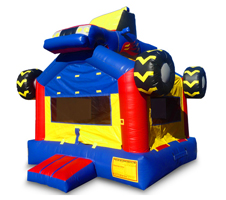 A great option for monster truck fans, this one will kick any party into overdrive! With bright colors and a novel design featuring a monster truck right on the top, the large bounce house style for sale here ensures many hours of fun!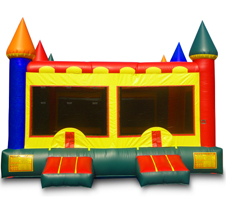 This model features a spacious interior and a captivating castle-inspired design. With plenty of room to bounce around in and two entrances with two slides, this is one commercial bounce house package that should be a hit at your next outdoor gathering!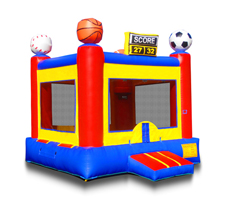 Sports serves as the inspiration for this exciting inflatable bounce house our company manufactures for sale, and you can bet that kids of all ages will have plenty to enjoy! Featuring the same robust construction and eye-catching design as all the other models in our lineup, this commercial jumper is built to last.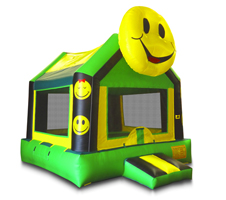 Turn that frown into a smile with this loveable jumper! Designed in an array of dazzling and attractive colors, and featuring a smiley face up top, this model can brighten anyone's mood! Buy a bounce house for endless hours of fun and excitement, or get started with your own inflatables rental business.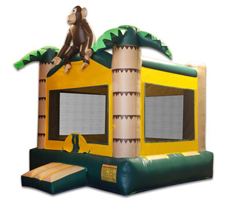 Let your jungle instincts run riot with this cute and charming jumper! One of the many commercial jump house and bouncer models that feature a jungle-inspired design, this robust and durable model ensures hours of fun for everyone. Like all of our products, this one is built with material designed to last.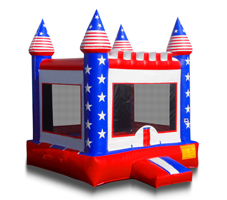 Everyday day is a good day to show your love for your country, and there is no better way to do that than with the patriotic commercial inflatable bounce house we are proud to offer for sale! Designed in the beloved stars and stripes motif, this makes a perfect addition to your next Fourth of July gathering.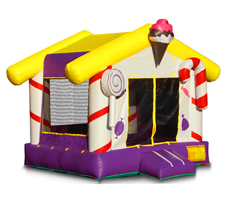 An enchanting model reminiscent of one of the most beloved fairy takes ever told, this inflatable moonwalk is a treat in more ways than one. With delectably tempting candy cane-ice cream-and-lollipop design, your kids will love spending hours at play in this commercial moonwalk model.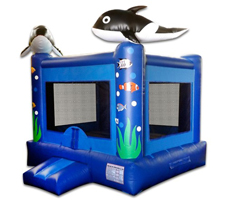 Ocean lovers will find plenty to enjoy with this model! It features a captivating marine world design complete with two adorable Orcas right up on top, making it a great choice for those with a taste for watery fun.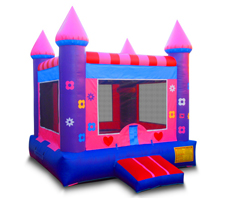 Every little girl will be proud to bounce around in one of these! Featuring a charming pink castle design, this commercial grade inflatable jumper delivers a quality experience worthy of your little princess!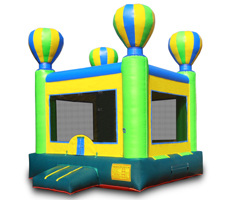 Reach new heights of fun and enjoyment with this fascinating bounce house that Jungle Jumps provides for sale! Featuring multi-colored balloons on every post, this state-of-the-art bounce house lets you take off on a wondrous adventure right in your own back yard!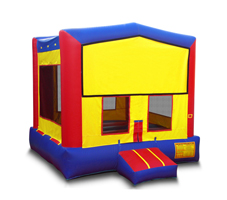 Colorful wall panels and tough construction make these commercial bounce houses a favorite among partygoers of all ages. Purchase inflatables for your next event and watch the fun commence!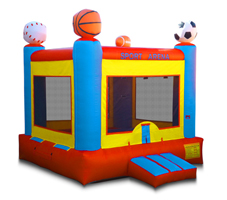 Sports fans of all ages will love this top quality jumper made by the best inflatable bouncer manufacturer in the business. This one is adorned with decorative sports balls atop the four corners, and the rugged construction ensures years of trouble-free use.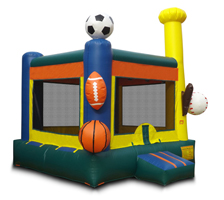 This amazing commercial jump house package features the same great materials and construction as the rest of the Jungle Jumps line. Colorful sports balls and gear decorate the outside of this large bounce house we have available for sale, giving sports fans something else to cheer about.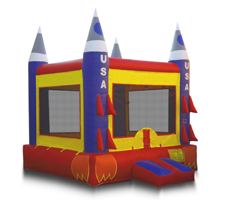 Spacefans can climb aboard this giant inflatable. The rockets decorating the corners of this jumper appear to be taking off toward outer space, adding to the excitement. Colorful and attractive, this durable commercial bouncer will last for years and provide endless hours of fun for kids and adults alike.
These are only some of the hundreds of models of quality bounce houses, water slide jumpers, moonwalks, and other inflatables that we have available for sale. Jungle Jumps is proud to offer a full range of customization options, with a broad palette of colors and sizes for you to choose from, so the perfect bounce house can be designed to your specifications. The sky's the limit with the best commercial inflatable manufacturer in the industry – one that is proud to support American craftsmanship with every one of our industrial inflatables made right here in the United States.