Inflate your Business with our Commercial-Grade Wet & Dry Slides

Jungle Jumps is the premier manufacturer of inflatable water slides and the company provides many models of commercial grade water slides for sale. Every water bounce house or inflatable slip and slide purchase means that you are getting quality manufacturing of inflatables built to the very highest standards in the commercial grade water slide industry. Craftsmanship, performance, durability, and reliability of the water inflatables and slip and slides for sale are all part of the package when you choose Jungle Jumps. Your business requires our products to last for years of use and the maximum performance available in the industry. Our commercial water slides and inflatable slides are designed from the ground up to withstand daily use for years to come.
We offer a wide selection of outdoor inflatables on our website, but we believe in giving our customers the option of customizing any inflatable water slide to the exact specifications you need for your business or your event. Jungle Jumps has built its reputation on outstanding quality and service, leading the industry from our headquarters in Southern California. Every inflatable bounce house and commercial water slide we manufacture is backed by our comprehensive 3 year warranty from the date of original purchase.
Do you dream of owning your own entertainment rental company? Jungle Jumps is ready to help, with the huge selection of commercial water slides we offer for sale. We even have a step-by-step guide to assist you with getting your business up and running fast. Our company provides unrivaled support and service for anyone interested in establishing their own water slides and commercial slip and slide rental company. Our packages provide outstanding manufacturing quality, your choice of customization options, and we'll even include the rental contracts printed with your company's logo. Our huge selection of accessories and repair items means that your inflatable slides and water bounce houses will be ready to go for years to come.
Jungle Jumps has the very largest selection of commercial-grade inflatables available on the retail market. Our manufacturing and commitment to quality gives our customers exactly what they need for their own businesses. Here are some of the choices in our collection of wet and dry commercial inflatables we have for sale: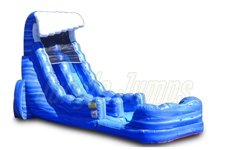 A single lane and a cresting wave motif highlight this exciting commercial inflatable for sale. An inflatable staircase takes riders to the top, and the slide brings them down to a generous bumper area. This dry slide is built with durability for years of use.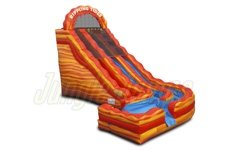 Dual lanes and with an inflatable staircase, this exciting commercial wet slide offers cooling thrills to complement the hot colors and curved shape of the inflatable we offer for sale. A covered launch area and the durability you've come to expect from Jungle Jumps are part of the package.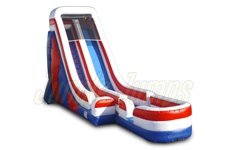 A patriotic theme graces this monster single lane dry inflatable slide for sale by Jungle Jumps. 22 feet of fun await riders of any age, with an inflatable staircase on one side and a huge bumper area at the bottom. This commercial dry slide is built to last.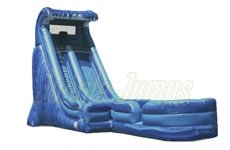 A roaring wave forms the launch area of this single lane giant inflatable slide for sale, with an inflatable staircase and huge bumpers to complement the exciting shape of the slide. The slide measures 24 feet in length, perfect for your next backyard or outdoor event.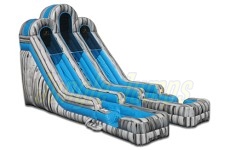 The central staircase on this commercial grade inflatable slide is flanked by two sliding lanes. The bright blue of the slides is complemented by a faux marble finish on the inflatable, giving it a classy appearance that is sure to thrill event participants.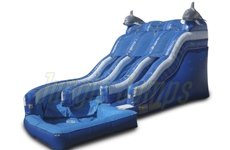 This curved dual lane inflatable slide for sale includes decorative inflatable dolphins flanking the launch area. A single staircase runs up one side of this brightly-colored commercial inflatable, perfect for entertaining kids of any age.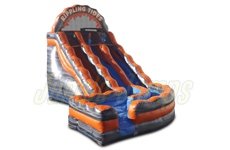 Fun awaits aboard the brightly-colored curved inflatable water slide for sale here. This is a dual lane model with a side staircase. The curved lanes add extra thrills to this fun inflatable waterslide.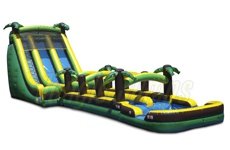 This inflatable slide model has it all – a long dual lane waterslide with a generously sized slip and slide area. The tropical colors and inflatable palm tree accents make this monster sized inflatable a hit at your next gathering, giving participants years of enjoyment thanks to its durable construction.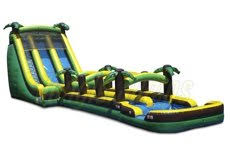 Exciting primary colors give this giant 22 footer the visual appeal you need for your next event. The commercial grade inflatable dry slide features a single lane and a covered launch area, with generous bumpers to catch riders at the bottom.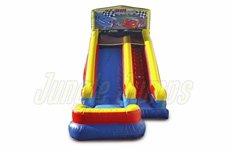 Versatility is the highlight of this single lane commercial inflatable slide for sale. It has a wide lane with a flanking staircase, and can be used wet or dry. The bright colors keep riders coming back for more.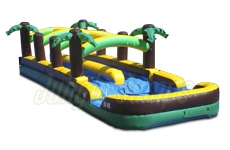 Let the fun begin in this exciting commercial inflatable slip and slide for sale by Jungle Jumps. This inflatable features two lanes and a tropical motif with inflatable palm trees for added appeal. A generously-sized bumper area catches riders at the end of the slide.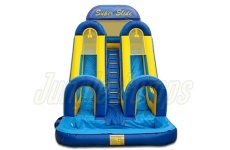 This brightly colored double lane inflatable water slide features a central staircase for riders to ascend. A large splash area at the bottom helps keep riders cool, and the commercial grade super slide is made with vibrant colors and the durability you need for years of use.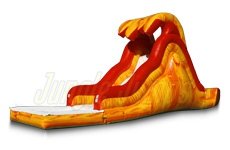 Characterized by its hot fire marble color scheme and arching flame top, this outdoor single lane inflatable offers fun for all ages. A generous splash pit at the bottom of the waterslide is perfect for cooling off.