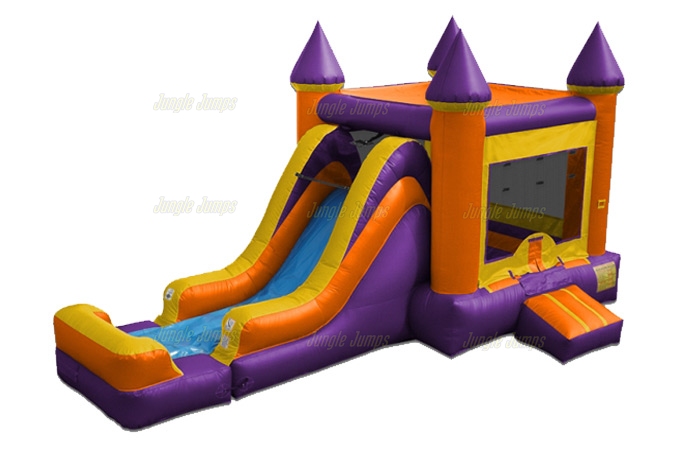 If you're planning to start a bounce house rental business, you need to be able to know how to clean all your inflatables. Every time you rent out commercial inflatables, it's almost impossible not to get them dirty, especially if you set them up in an outdoor location. All those sticky fingers, mucky chins, and filthy shirts that most children have can make your bounce houses look like it's been to war with all the dirt and stains imprinted on them. If you're not sure how to clean them properly, here are five simple steps you can do to make your bounce house look clean and almost new again. 
1. Initial Preparations
There are a couple of pre-cleaning steps you need to take before you can actually do some scrubbing on your bounce houses. The very first step to do is to roll out your bounce house on a waterproof tarp. Take off all removable components like steps, modular art panels, ladders, nettings, or side rails as they need to be cleaned separately. Cleaning those pieces will basically follow the same steps as the main bounce house.
You should then visually inspect the bounce house and look for any parts that are extremely dirty. That way, you'll know which parts you need to focus on.
2. "Dry" Cleaning a Bounce House
That visual inspection you made will have given you a clear road map that will help you clean your bounce house more efficiently. Now you should start the "dry phase" of the cleaning process by removing any loose items on the bounce house. Things like sticks, crayons, jewelry, toys, and big clumps of dirt are some of the debris you'll find on the inflatable. Believe it or not, you'll find these items quite often when attempting to clean your commercial inflatables. Use either a broom, a handheld brush, or a shop vacuum to help you remove other debris.
Next is to check the crevices and behind flaps to make sure you get everything. Any loose items left on the inflatable can damage your bounce house during the later stages of the cleaning process.
3. "Wet" Cleaning a Bounce House
It's time to do another visual inspection. If there aren't any stains or spills on the inflatable, you can skip ahead to step four. However, if there are any stains left, then you need to start the "wet phase" of the cleaning process. To do this, you need to create a bounce house cleaner using three parts water to one part vinegar. Then you need to add a sensible amount of bleach-free dish soap. Apply your homemade bounce house cleaner to all the dirty and soiled areas and scrub vigilantly using a soft bristle brush, a sponge, or a rag. Be careful not to scuff the vinyl.
4. Disinfecting and Drying a Bounce House
Disinfecting is a crucial step as it protects the children and adults who will use the bounce house from any bacteria or viruses left on the surface. Use bleach-free disinfecting wipes. You can use Lysol and apply it on a rag or dishcloth and wipe the entire surface of the bounce house along with the attachments. Be sure to run the wipes on every inch of the inflatable to make sure it's thoroughly disinfected.
Finally, after all is said and done, you need to dry the bounce house thoroughly with a couple of clean towels and some natural sunlight. Let the entire thing dry under the sun while you wipe off some of the excess water and disinfectant.
Conclusion
Knowing how to clean your commercial inflatables is crucial if you want to maintain a bounce house rental business. This will make sure that all your users are completely safe from any germs and diseases left by previous renters.
Jungle Jumps is a worldwide commercial bounce house manufacturer and supplier. We carry inflatables of all shapes and sizes that are ideal for both indoor and outdoor events. If you're looking for a commercial-grade bounce house supplier, Jungle Jumps is the one to call. Contact us today to order!