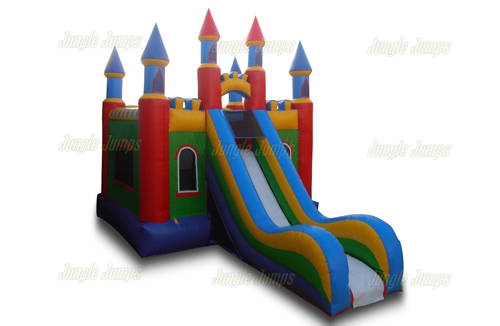 Operating a bounce house business is a relatively easy endeavor because all you need is an array of commercial moonwalks and the right customers to get started. However, as time goes by, your products will undergo changes, which will require you to do maintenance and repairs. 
If you want to avoid facing eventual replacements, you must be one step ahead of the problem and learn to look after your moonwalks regularly. Taking care of your inflatables keeps your clients satisfied because you can meet their demands without coming across potential issues.
However, failing to patch up your bounce houses when they're long overdue could affect your company. Keep reading below to find out the common instances that could significantly impact your bounce house business if you don't go out of your way to perform the repairs.
Having a Deflated Bounce House
When you purchase an inflatable from a moonbounce manufacturer for the first time, you can expect the product to be in excellent condition. However, after multiple uses, since you can't always control how kids will treat the bounce house, it could become flattened over time.
Deflation is often caused by holes and punctures that you can tend to overlook when you don't pay attention to your moonwalks enough. One solution to repairing your bounce house is sewing it up correctly and advising your customers to manage the weight limit per use.
Experiencing Wear and Tear
Kids love playing on jump houses, especially during parties and various occasions. Unfortunately, when things get rough and become uncontrollable, a bounce house can loosen up, and its material can become torn.
A helpful way to fix your situation is to inflate the product properly to get a closer look at the texture of the bounce house before sewing up the affected region using a needle and a thread. When you overlook the situation and don't address it right away, the seams of an inflatable can worsen and reduce its durability.
Encountering Fabric Damage
Purchasing various jump houses for sale is great for luring interested customers to rent them out for special events. Since you can expect plenty of children to have the time of their life enjoying the bounce house, they don't know what not to do, so they end up causing a mess.
If you're dealing with a manageable situation, you could solve your problem by applying a cleaning solution to eliminate the dirt and prevent the bounce house's fabric from becoming more damaged. The best thing to do is initiate an inspection after every use to control any tears present.
The Occurrence of Discoloration
When you buy a bounce house and put it up for rent, the families who seek your services cannot always promise that their kids will be on their best behavior when playing inside the moonwalk. As a result of the dirt that accumulates due to food, drinks, and mud, you must remove the mess immediately to prevent it from staining.
However, the bleaching products you apply could affect the fabric and cause discoloration. In times like it, patching up the bounce house could be a better solution. That way, you can maintain the original color of the inflatable.
Conclusion
If you're interested in getting inflatable jumpers for sale to offer to your potential customers for commercial purposes, you must prepare yourself for the responsibilities. You have to watch over your products to ensure they remain in good condition for a long time. Some instances that will require you to take extra care of your products include having a deflated bounce house, experiencing wear and tear, encountering fabric damage, and witnessing discoloration.
Are you looking for bounce house manufacturers in the US? Jungle Jumps serves as a worldwide supplier of commercial-grade inflatables. Browse through our catalog to find what you need!