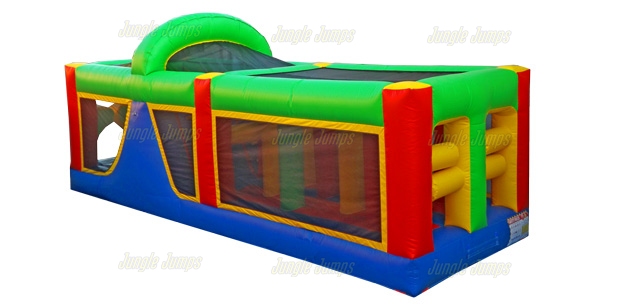 Inflatable jumpers, obstacle courses, houses, trampolines, and other inflatable products are growing in popularity and can be found even in bodies of water. With that being said, buying commercial inflatable products is a great investment. Still, there's so much more when it comes to finding the best ones.
Although the design is one of the most important aspects of inflatable jumpers, safety will always be at the top of the list. With that being said, how do you know if the inflatable you're buying is safe for people to use?
Ideally, when you buy inflatables from a reliable inflatable manufacturer, their products are guaranteed to be safe and follow standard safety protocols to ensure that the people who use the product remain safe. For this reason, it's best to invest in solid inflatables from manufacturers like Jungle Jumps.
If you want to buy a commercial inflatable product, we've compiled a list of tips and important elements to look out for when purchasing these fun, massive inflatables. Let's take a look!
Entrapment Hazards
One of the first things you need to look out for when buying a commercial inflatable is if the inflatable has entrapment hazards. These hazards are often found within climbing and grab handles. With that being said, the gap between the handle and equipment shouldn't exceed 1.2″. Anything larger than that can lead to entrapment of a user's wrist or ankle.
Water Depth
Another important element you need to consider is the minimum water depth in the inflatable jumper's specifications. Ideally, the minimum water depth should be based on a formula that correlates to the jumper's height, ensuring the safety of users, even when they fall from the highest point of the inflatable.
Pressure Gauges
When you purchase your commercial inflatable product, ensure a pressure gauge is available or included in your purchase. This gauge helps ensure that your inflation is maintained, especially during the in-water performance, to eliminate hazards.
Anchors
Another important element that you need to consider is if your inflatable has anchoring instructions. This means that your inflatable is intended for a body of water, and the manufacturer should supply the anchor. Anchors keep your floating product in place and ensure that it doesn't bump other solid objects.
Detailed Manual and Repair Kit
Like any product, you need to ensure that your inflatable products come with their own user manual and specifications. This way, you'll have a more seamless, hassle-free process when it comes to assembly and disassembly. Besides that, you'll know various warning instructions and safety and service information as well.
Besides the user manual, you also need to ensure that a repair kit is available for purchase or is included in your purchase. No one can't prevent natural wear, and for this reason, you need to repair and maintain your inflatable regularly.
The Bottom Line: It's Quite Easy to Find the Perfect Inflatable, You Just Need to Know What You're Looking For
Investing in the best inflatable products is essential. And with the help of our guide, you'll get to find inflatable jumpers that won't only bring in the fun but also ensure the users' safety. That's why it's important to buy high-quality inflatable products from manufacturers like Jungle Jumps to ensure that your inflatables last long and can provide joy and fun, all while being safe in or out of the water.
Why Choose Jungle Jumps?
If you're looking for a superior bounce house manufacturer, Jungle Jumps is exactly what you need.
We are a worldwide supplier of commercial-grade inflatables that offers various types of bounce houses and inflatable jumpers, perfect for any event and function.
Check out our wide range of products today!