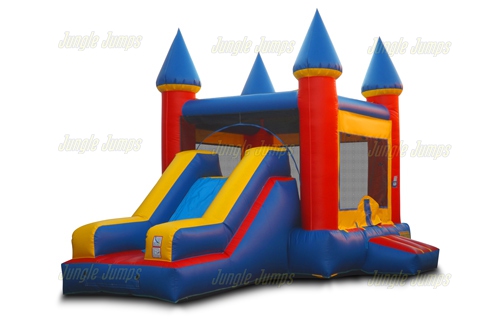 Making money is undoubtedly one of the most general, difficult, and ambiguous tasks that anyone can deal with because of how much work and creativity it involves for success. If you've found yourself with lots of determination to make something of yourself and grow your wealth, then you're likely struggling with choosing a particular idea to make money with. Seeing that many industries are over-saturated or too expensive to get into, getting the start you need isn't going to be the most straightforward process. 
At this point, you're probably stuck at a certain point where you might only have an idea of how your bank account is going to reach six or seven figures. As you continue to cross items off your list and weigh between potential options that you're 50-50 with, here's one idea that will reward your efforts well if done right: bounce house rentals.
Why bounce houses?
While it may seem like a rather strange idea at first, making money off bounce houses is one of the fastest and safest ways to start making good money with greater scalability. With life going back to normal and COVID-19 cases dying down each day, people who host parties for their kids or themselves are looking for valuable opportunities and rental ideas to make their events much better. This is where bounce houses give the best experience out of all because kids and adults alike love them, and they bring more life to any party—this is why they're so profitable!
How do you start?
Unlike other overly complicated business models and ideas, getting started on a bounce house rental business is something that can be easily done if you follow the right tips and tricks. Fortunately, our experienced experts at Jungle Jumps have put together this list of helpful tips that you can use to get your new endeavor started:
1. Buy the right bounce house
When it comes to starting your bounce house rental business, the first thing you'll need to worry about is the actual item you're going to rent out.
Today, finding a bounce house that you can make money with is much easier because the Internet ensures that suppliers are only a few clicks away. Once you find a reliable bounce house retailer and worldwide supplier—such as Jungle Jumps—that you can purchase your equipment from, you'll need to shop around according to these factors:
Your budget
The ideal size that your client base would want
The overall look and shape of your ideal option to rent out
2. Settle sufficient storage
After you purchase your bounce house, the next thing you'll need to take care of is the manner in which you'll store your equipment. While your garage may be a good place to put your inflatable investment, you'll eventually need to move your items to a place that:
Is easily accessible with a 24/7 set-up
Is near your general service area
Is safe with the necessary safety measures and features
3. Get the right insurance policy and license
Although bounce houses are incredibly fun because of the amazement they provide for anyone that rents them from you, they can also be unsafe at times, which means that you might be liable if you aren't protected. By getting the necessary insurance and applying for a state license, you won't have to worry about having any renter come after you in case they have an accident!
Conclusion
While there are different ways to make a living and increase your bank account balance, the most creative and potentially lucrative way to do so is through bounce house rentals. Once you approach the opportunity with the right mindset and ensure that you consider the right tips, you'll be able to rake in profit and continuous business opportunities in no time!
At Jungle Jumps, we take immense pride in being a bounce house manufacturer for any child (and child-at-heart) that needs an unforgettable experience. If you're looking to buy a top-quality bounce house for your home, get in touch with us today so we can help!