Do you want to buy an inflatable house in New Jersey?
Read our new article about the best inflatable bounce house in New Jersey by Jungle Jumps the number 1 bounce house supplier in New Jersey!
Are you looking for the perfect inflatable bounce house for your next event or party? Jungle Jumps is not only the top supplier in New Jersey but also offers exceptional bounce houses across the United States! Check out their amazing selection in California, Florida, New York, Colorado, Arizona, Pennsylvania, Illinois, Ohio, Georgia, North Carolina, Wyoming, Vermont, North Dakota, South Dakota, Delaware, Wisconsin, West Virginia, Washington, Utah, Oregon, and more! Don't miss out on their nationwide bounce house sales and bring joy to your community today!
Jungle Jumps – Who is it?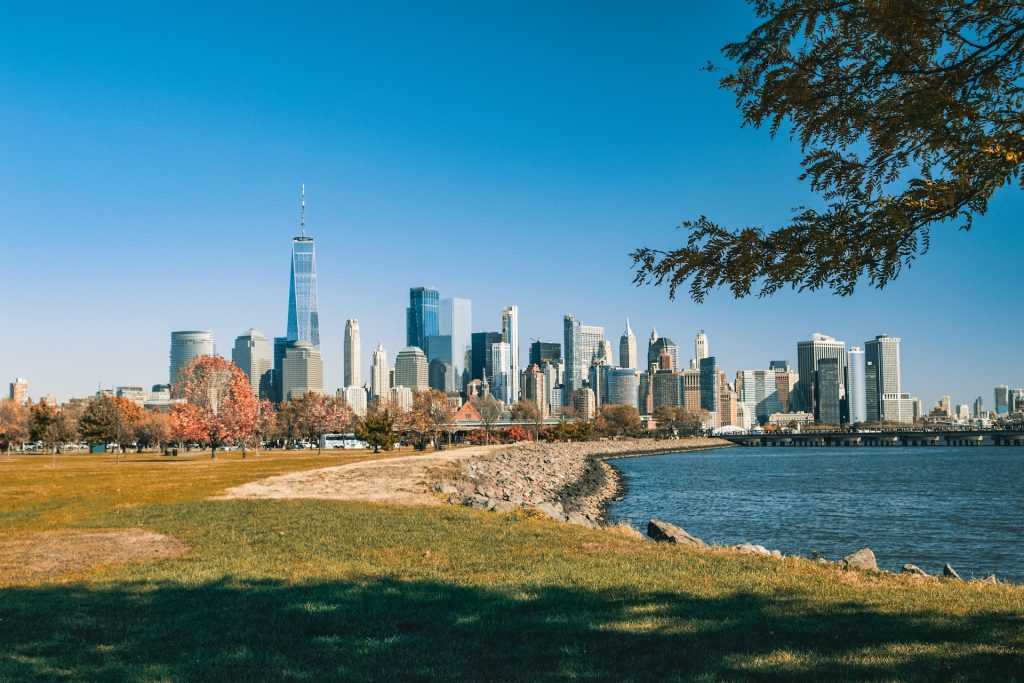 Jungle Jumps, a top commercial inflatables manufacturer in the United States, is headquartered and operates its manufacturing facility in Pacoima, California. Our team of in-house graphic and product designers employs cutting-edge technology to craft high-quality, functional, and visually captivating inflatables. We are dedicated to continuous innovation and product development, providing our customers with a diverse range of choices.
Quality is our top priority throughout the entire manufacturing process, as we use only the finest materials and construction methods. Our extensive product line features various inflatables, such as bounce houses, water slides, combo units, inflatable games, and other interactive options. We specialize in producing bounce houses, offering a wide array of styles and colors, along with seasonal free shipping promotions. Our water slides and wet/dry combo slides are ideal for outdoor events during warmer seasons. Moreover, we provide custom inflatables tailored to fulfill the distinct needs and visions of our clients. Jungle Jumps also offers bounce house accessories and event items that make excellent additions to your business.
Jungle Jumps is the best inflatable bounce house for sale in New Jersey available on:
-Newark
-Jersey City
-Paterson
-Elizabeth
-Lakewood
-Edison
-Woodbridge
-Toms River
-Hamilton township
-Trenton
-And more
Top 5 best inflate bounce houses for sale in New Jersey
1) Red Birthday Cake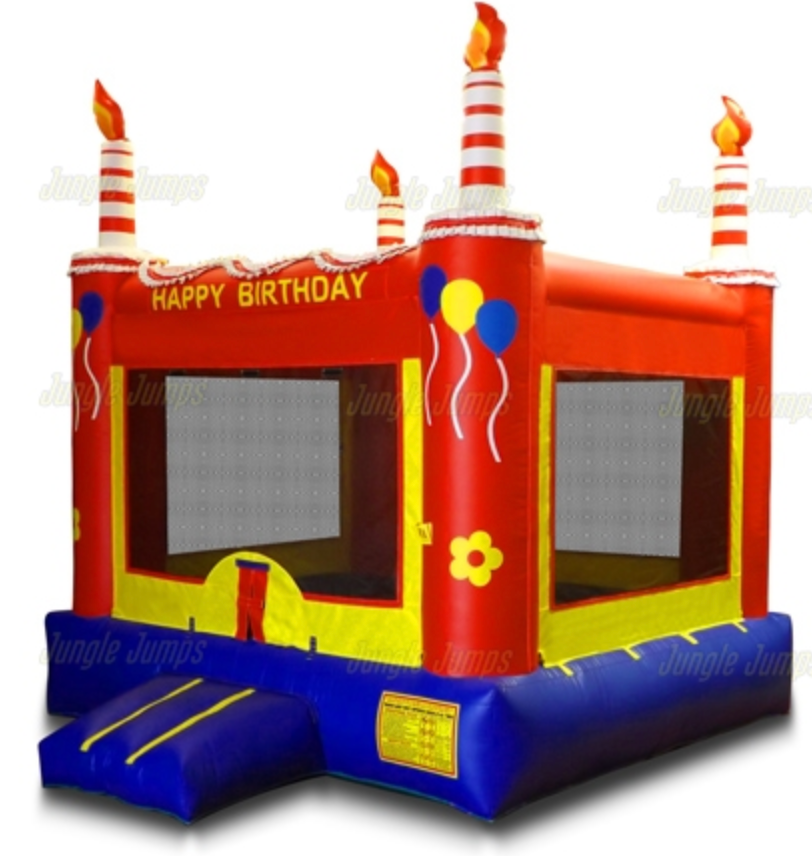 Model: 
BH-1132-B
W X L X H:
13 x 13 x 15
UNIT LB:
175
Description (Red Birthday Cake):
Elevate your upcoming event with our high-quality inflatable birthday cake bounce house. Boasting a distinctive design, the bounce house is adorned with inflatable candles at each corner and comes in striking red, bold blue, and vivid yellow hues. Crafted from resilient commercial vinyl, this bounce house is designed to endure years of energetic play.
Offered in two sizes, you can choose between a smaller version with a 13'x13′ interior play area or a larger one with a 15'x15′ interior play area. Both options feature spacious mesh openings on all sides, ensuring proper ventilation and easy supervision. Ideal for birthday celebrations and various events, this birthday cake bounce house is sure to be a hit.
2) Fun House Inflatable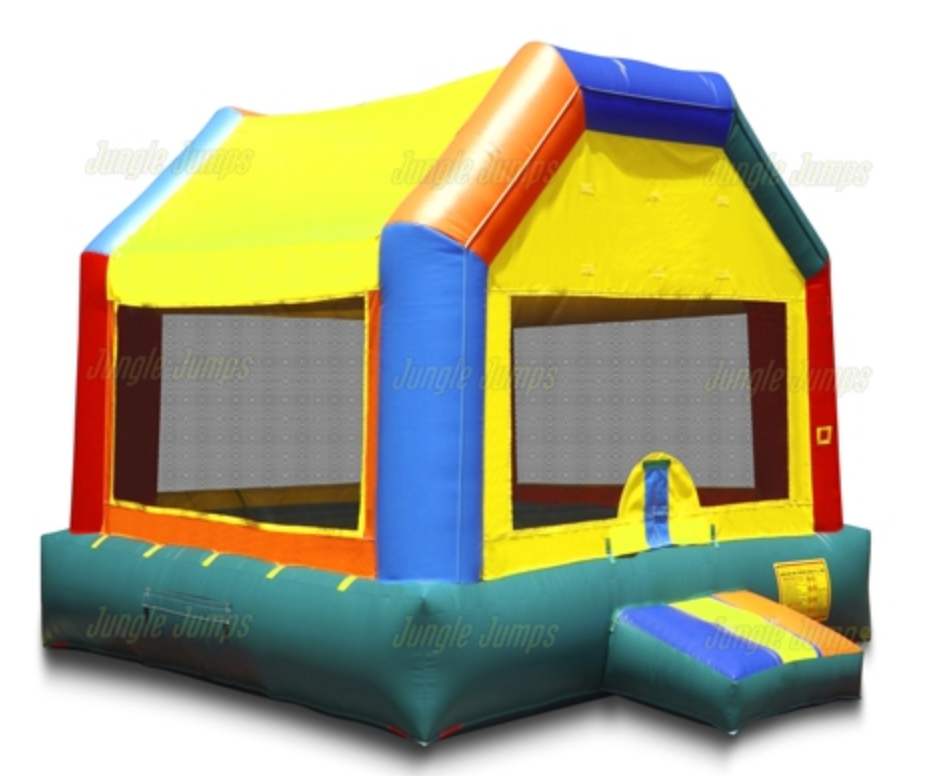 Model: 
BH-2029-B
W X L X H:
13 x 13 x 13
UNIT LB:
170
Description (Fun House Inflatable):
Jungle Jumps, a top American producer of inflatable bouncers, offers an extensive selection of products. Among our best-selling items is the enjoyable fun house inflatable, which boasts a hipped roof design for additional headroom and a broad inflatable entrance/exit ramp for convenient access. Constructed with durable commercial vinyl material in a variety of colors, this bouncer is designed for longevity. Each wall is equipped with mesh windows for proper ventilation and visibility. Furthermore, we provide a rental contract featuring your company information with every purchase, ensuring a seamless process when renting it out to clients.
3) Balloon Bounce House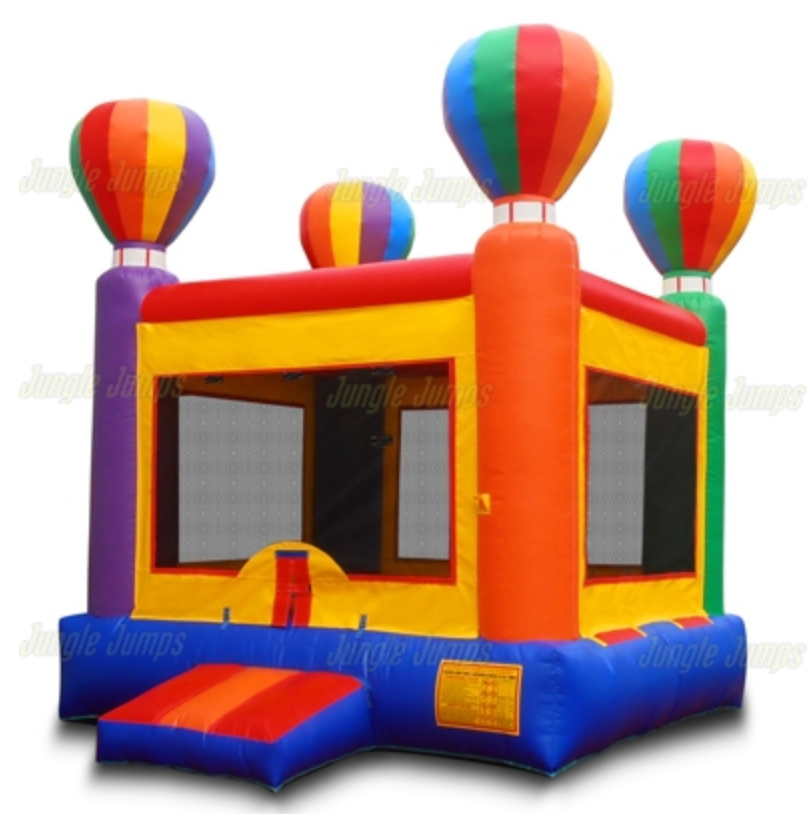 Model: 
BH-1148-B
W X L X H:
13 x 13 x 16
UNIT LB:
173
Description (Balloon Bounce House):
Elevate your next event with our one-of-a-kind hot air balloon-inspired inflatable bounce house. Boasting vibrant multi-colored hot air balloons adorning the four corner pillars, this commercial-grade bouncer is not only eye-catching but also built to last, thanks to its heavy-duty, durable vinyl construction.
Large mesh-covered openings on all sides ensure excellent airflow, while the inflatable ramp provides easy access for little ones to enter and exit. To make your experience smooth and hassle-free, we've included a detailed illustrated manual to guide you through setup, maintenance, and storage. Let your event reach new heights with this delightfully unique inflatable bouncer.
4) V-Roof Sea World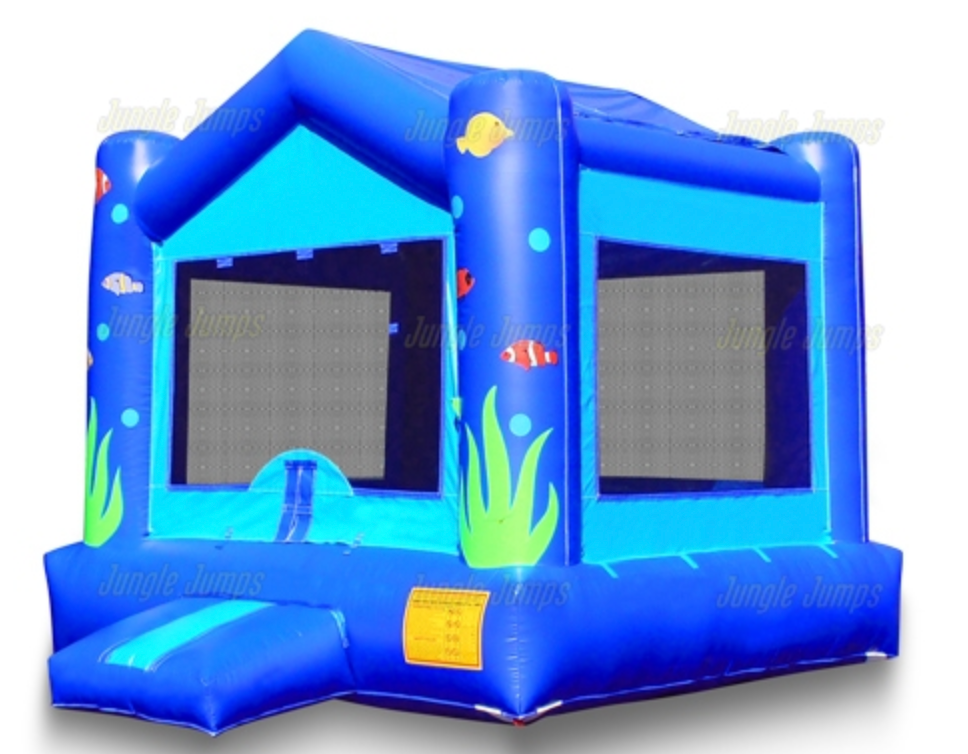 Model: 
BH-1205-B
W X L X H:
13 x 13 x 13
UNIT LB:
170
Description (V-Roof Sea World):
Introducing the latest addition to our popular Sea World inflatables collection – the V-Roof model! This new design offers increased headroom for participants, making it perfect for children of all ages. With its bright aquamarine and deep blue colors, this inflatable play area transports kids to an enchanting underwater world.
Crafted from durable commercial-grade vinyl, the V-Roof model is built to withstand years of use, ensuring endless fun for the little ones. The exterior is adorned with delightful details such as printed fish, bubbles, and seagrass, adding to the overall charm of this inflatable.
An inflatable entrance ramp leads children into the play area, while mesh-screened openings on the front, back, and sides provide excellent ventilation for a comfortable play experience. To make renting this inflatable a breeze, we include rental contracts customized with your company's information.
Upgrade your inflatable rental offerings with the exciting V-Roof Sea World inflatable and let your customers dive into an ocean of fun!
5) USA Bounce House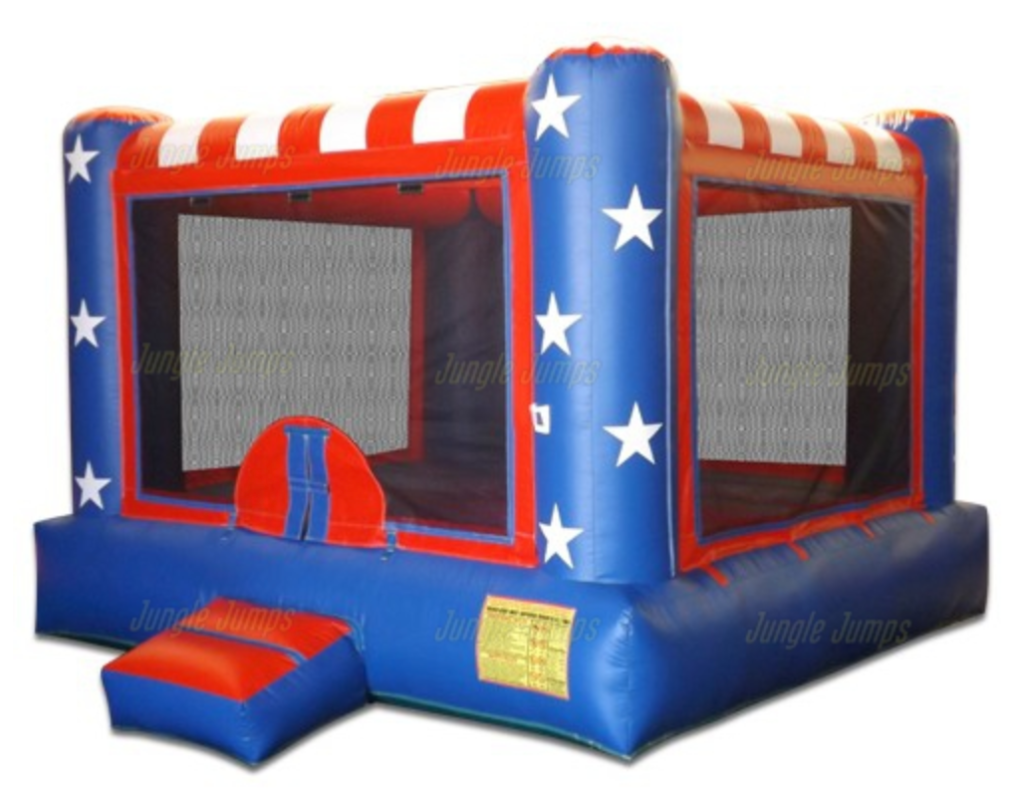 Model: 
BH-2103-B
W X L X H:
13 x 13 x 10
UNIT LB:
170
Description (USA Bounce House):
Transform any indoor event into a magical experience with this enchanting inflatable bouncer for sale. Adorned with star-shaped decorations at every corner and featuring a convenient entrance/exit ramp for kids, this bouncer promises endless entertainment. Built with robust commercial-grade vinyl in eye-catching colors, it guarantees longevity and durability. The roomy interior play space is equipped with mesh-covered window openings on all sides for maximum visibility. Let the excitement begin and watch as imaginations soar in this delightful inflatable bouncer.
Conclusion
In conclusion, investing in a top-quality bounce house from Jungle Jumps is an excellent way to elevate any event and create memorable experiences for children and adults alike. With their commitment to quality, innovation, and customer satisfaction, Jungle Jumps stands out as the premier supplier of inflatable bounce houses in New Jersey and across the United States.
Whether you're looking to buy a bounce house for a birthday party, or a community event, or to expand your rental business, Jungle Jumps has a diverse range of incredible options to suit your needs. Don't miss out on the opportunity to bring joy, laughter, and excitement to your community with a top-of-the-line inflatable from Jungle Jumps. Explore their fantastic collection today and find the perfect inflatable bounce house to make your next event a resounding success!