Explore our latest article featuring the top inflatable bounce house in Utah by Jungle Jumps, the leading bounce house provider in the state!
If you're impressed with the top inflatable bounce house in Utah, you'll be amazed to know that Jungle Jumps offers fantastic options for bounce house sales in the US. They have a wide range of high-quality inflatable bounce houses for sale in states like California, Florida, New York, Colorado, Arizona, Pennsylvania, Illinois, Ohio, Georgia, North Carolina, Wyoming, Vermont, North Dakota, South Dakota, Delaware, Wisconsin, West Virginia, Washington, and more.
Discover the perfect bounce house for your next event by exploring Jungle Jumps' extensive selection across the nation.
All you need to know about Jungle Jumps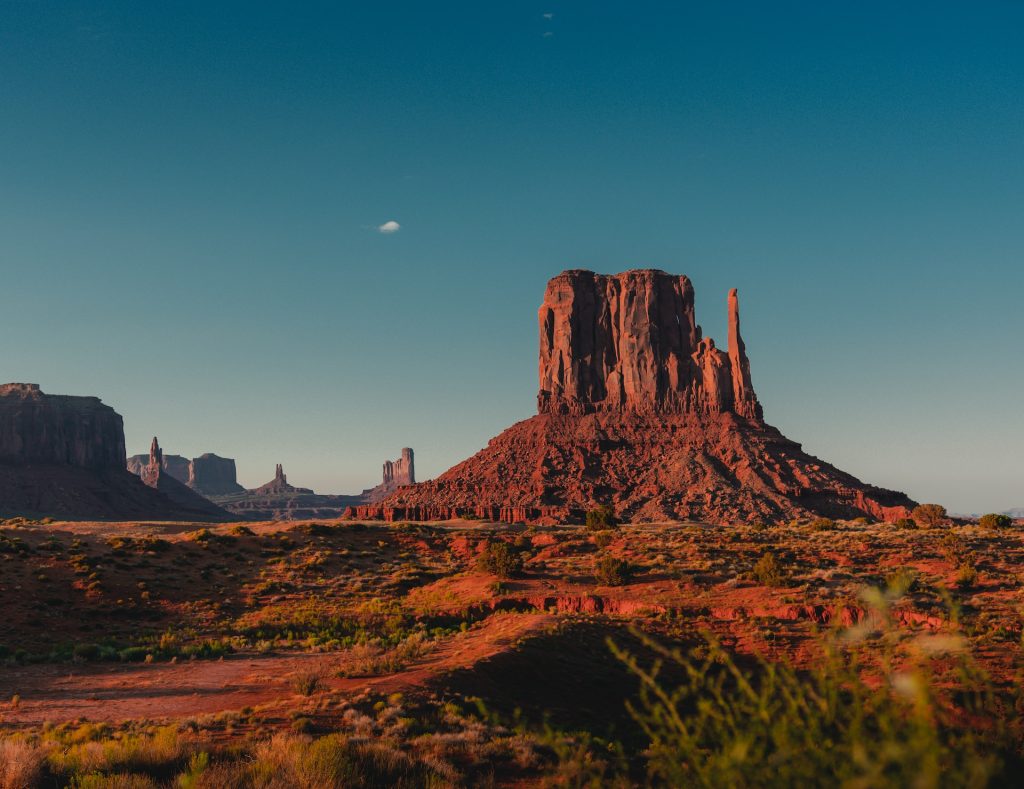 Jungle Jumps stands as a premier manufacturer of top-quality commercial-grade inflatables in the United States. Situated in Pacoima, California, our 24,000-square-foot headquarters and production facility houses our talented team of graphic and product designers who utilize cutting-edge technology to develop first-rate inflatables.
Continually innovating, our designers work tirelessly to expand our product offerings, presenting customers with an extensive variety of choices. We employ the finest materials and construction techniques to guarantee the exceptional quality of our inflatables. Our diverse product line comprises bounce houses, water slides, combo units, inflatable games, and other interactive attractions.
We take pride in our specialization in bounce houses, available in an array of styles and colors, accompanied by seasonal free shipping. Our water slides and wet/dry combo slides are ideal for outdoor events and festivals during warm weather. Additionally, we offer customization options for inflatables to cater to your unique requirements. To further enhance your business, we also provide supplementary accessories and event essentials.
Jungle Jumps is the best inflatable bounce house for sale in Utah available on:
-Salt Lake City
-West Valley City
-West Jordan
-Provo
-Orem
-Sandy
-St. George
-Ogden
-Layton
-South Jordan
-And more
Top 4 best inflate bounce houses for sale in Utah
1) Princess V-Roof Castle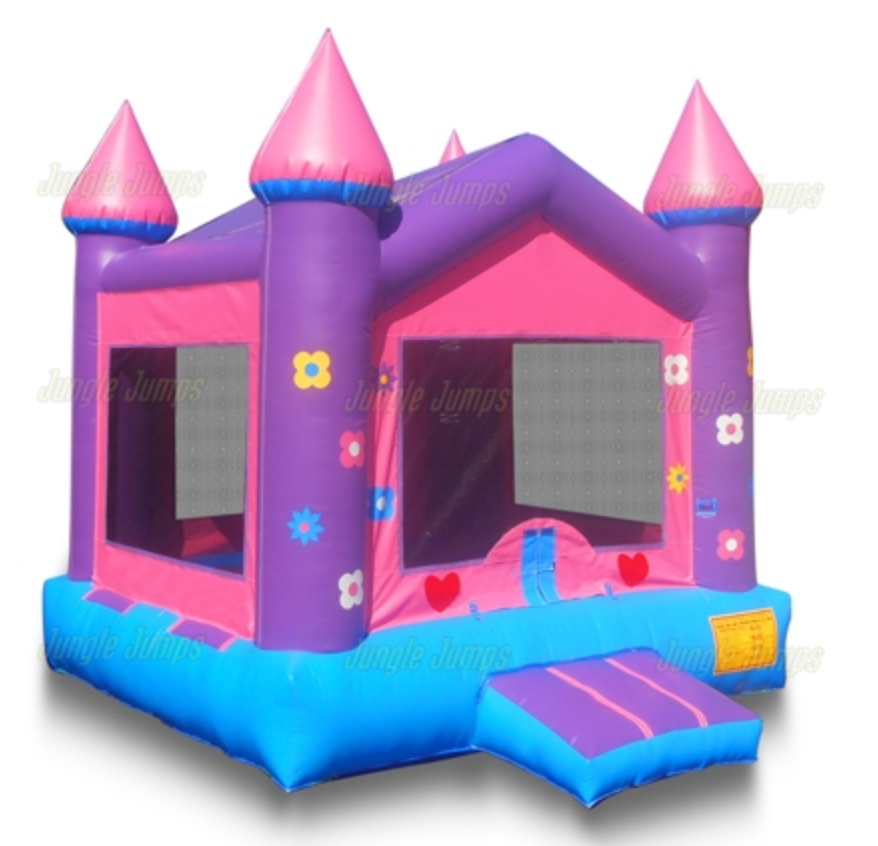 Model: 
BH-1202-B
W X L X H:
13 x 13 x 15
UNIT LB:
175
Description (Princess V-Roof Castle):
Our top-quality inflatable princess castle bouncer is a favorite among children, featuring a spacious play zone and vibrant colors. As a prominent manufacturer of bounce houses in the United States, Jungle Jumps expertly constructs our products using sturdy and long-lasting vinyl material, guaranteeing years of enjoyment. The elevated roof allows for additional headspace, while the 13'x13′ exterior offers ample room for multiple participants to play simultaneously. Furthermore, this inflatable can be tailored to suit your unique requirements, and we include a vinyl patch kit with adhesive for effortless upkeep and extended use.
2) Red Birthday Cake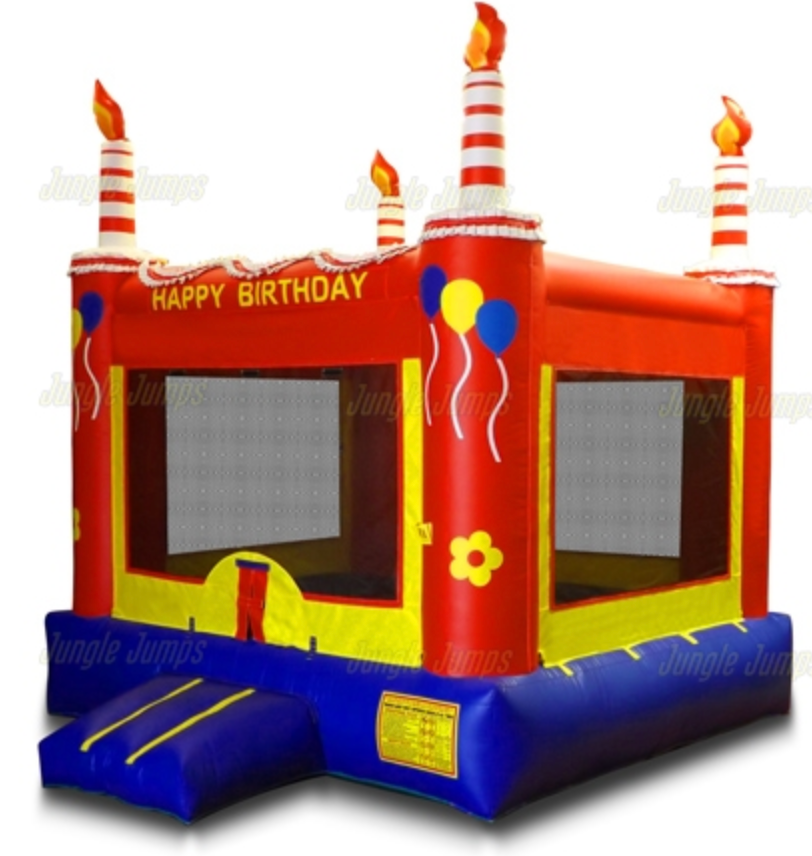 Model: 
BH-1132-B
W X L X H:
13 x 13 x 15
UNIT LB:
175
Description (Red Birthday Cake):
Elevate the excitement of your upcoming event by incorporating our top-quality inflatable birthday cake bounce house. This one-of-a-kind design showcases an inflatable cake ornamented with candles at every corner. Crafted from robust commercial vinyl in striking red, bold blue, and vivid yellow hues, this bounce house is designed to withstand years of enjoyment. It comes in two dimensions, offering a 13'x13′ or a 15'x15′ indoor play area. The spacious mesh-covered openings on all sides enable proper airflow and facilitate effortless monitoring. Our inflatable birthday cake bounce house is the ideal choice for birthday celebrations and various events.
3) Tropical Paradise Bouncer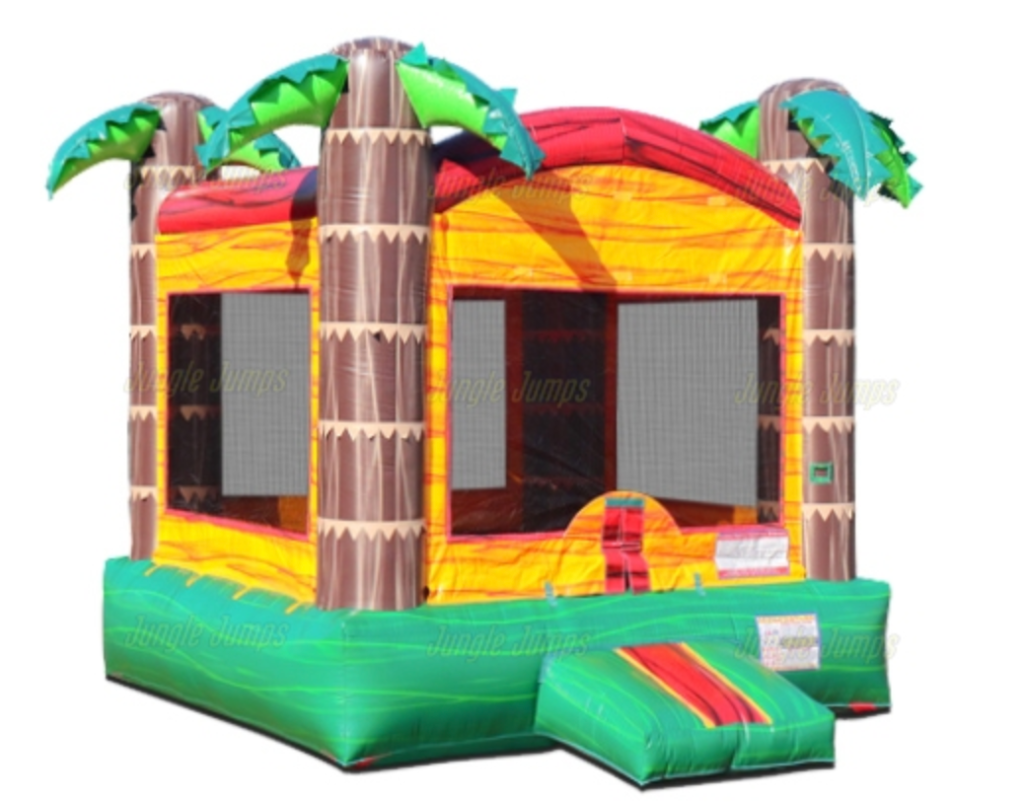 Model: 
BH-2263-B
W X L X H:
13 x 13 x 14
UNIT LB:
175
Description (Tropical Paradise Bouncer):
Prepare for a thrilling tropical escapade with Jungle Jumps' top-notch, compact bounce house. The curved ceiling offers generous headspace for young attendees, while inflatable palm trees at each corner contribute a fun element. The vibrant marbleized vinyl in red, yellow, green, and brown furnishes the bounce house with a festive appearance. At Jungle Jumps, safety is our primary concern, so we incorporate finger-safe fine mesh panels on every wall for proper ventilation and extra protection. The inflatable ramp and front flapped entrance allow for easy access in and out for children. Constructed with commercial-grade vinyl, our bounce house is engineered to endure years of usage with minimal upkeep, making it an ideal addition for any celebration or indoor/outdoor event.
4) Palm House Moonwalk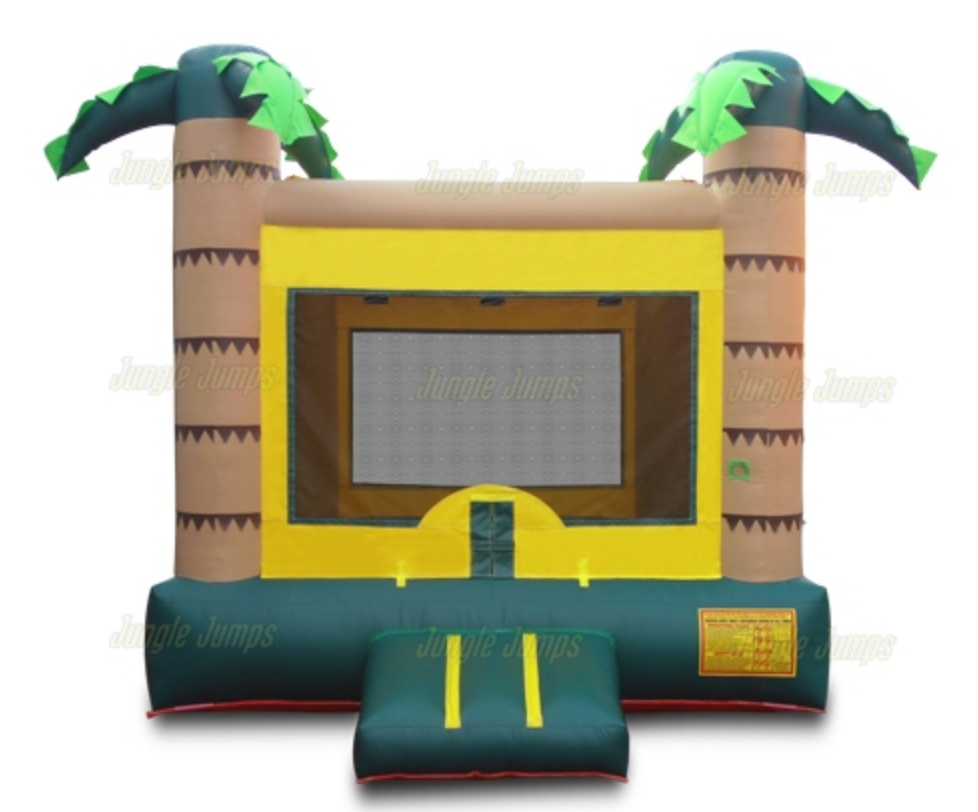 Model: 
BH-1049-B
W X L X H:
13 x 13 x 14
UNIT LB:
175
Description (Palm House Moonwalk):
Jungle Jumps' compact inflatable bounce house is perfect for indoor birthday celebrations and events. Easily fitting in any spacious room or outdoor area, its small size makes it simple to install. Featuring four turrets, it resembles a castle and is constructed from robust vinyl material in vibrant colors. The fine-gauge mesh on the wall openings provides parents with a clear view for monitoring their children inside. The inflatable ramp at the entrance ensures smooth entry and exit, and it includes a patch kit and a step-by-step guide for effortless set-up.
Conclusion
In conclusion, Jungle Jumps is the leading provider of high-quality, commercial-grade inflatable bounce houses in Utah and across the United States. With a diverse range of products, including princess castles, birthday cake bouncers, and tropical paradise bouncers, there is a perfect bounce house for any event or celebration. Jungle Jumps' commitment to innovation, customization, and safety ensures that their bounce houses will provide endless fun for kids and families. Whether you're in Salt Lake City, West Valley City, or any city in between, you can trust Jungle Jumps to deliver the ultimate bounce house experience for your next event. Don't wait, explore their extensive selection and bring the joy of a Jungle Jumps bounce house to your community today!