Are you interested in purchasing an inflatable bounce house in Wisconsin? Check out our latest article on the top bounce house for sale in Wisconsin, brought to you by Jungle Jumps, the leading bounce house provider in the state!
If you're not located in Wisconsin, don't worry! Jungle Jumps offers a wide selection of inflatable bounce houses and other party essentials in various states across the country. Browse through our collection of bounce houses for sale in Pennsylvania, Illinois, Ohio, Georgia, North Carolina, Wyoming, Vermont, North Dakota, South Dakota, Delaware, and more! No matter where you are, Jungle Jumps has the perfect inflatable bounce house to make your event a hit!
Jungle Jumps is the best inflatable bounce house for sale in Wisconsin available on:
-Milwaukee
-Madison
-Green Bay
-Kenosha
-Racine
-Appleton
-Waukesha city
-Eau Claire
-Oshkosh
-Janesville
-And more!
Learn More About Us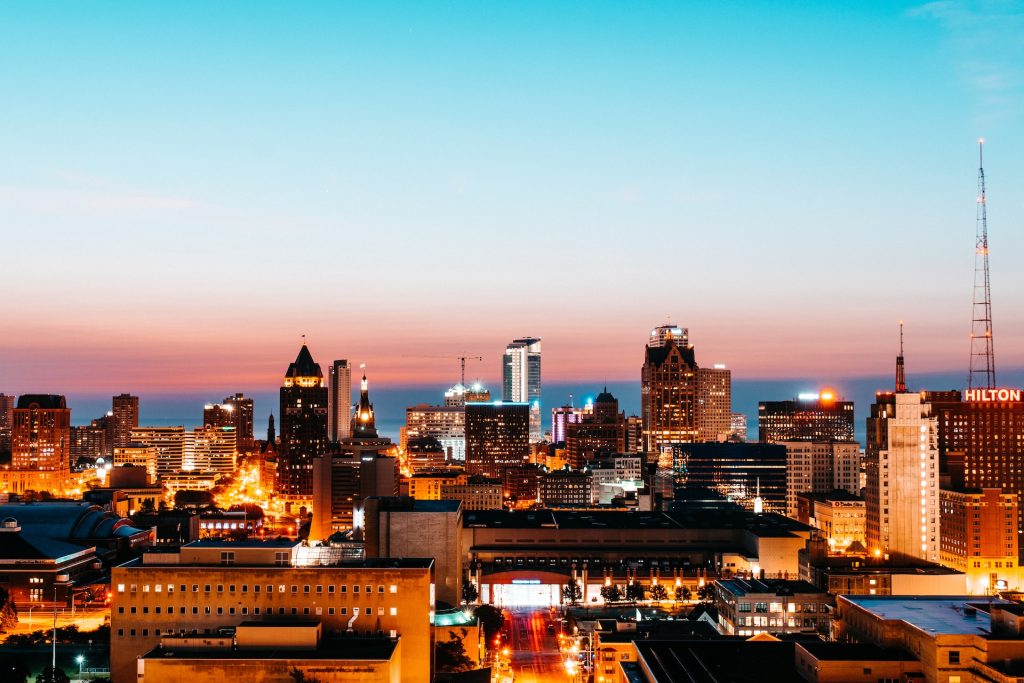 Jungle Jumps stands as one of the premier manufacturers of commercial-grade inflatables in the United States, with our headquarters and 24,000 square feet production facility situated in Pacoima, California.
Boasting full-time graphic and product designers on site, Jungle Jumps employs cutting-edge design and manufacturing technologies to create top-notch commercial-grade inflatables. Our designers tirelessly work to bring new products to life, providing our customers with a diverse range of options.
We take immense pride in our commitment to quality, using only the finest materials and construction methods to produce industry-leading water slides, bounce houses, and commercial inflatables for sale.
Our expertise lies in manufacturing bounce houses (also referred to as "Jumpers", "Moonwalks", and "Bouncy Castles"), inflatable wet water slides and dry slides, combo units, inflatable games, and other interactive inflatables. Our inflatable bounce house offerings are the backbone of our business, and we are delighted to present a vast selection of styles and colors, complete with periodic free shipping promotions.
Perfect for outdoor events and festivals during warmer months, our water slides and combination wet/dry slides come in a variety of designs. Our water slide product line has expanded over the years, positioning us as the foremost producer of these items. Customization options are also available to bring your unique vision to life, with your imagination being the only boundary to what we can create for you. Enhance your business with bouncer house accessories & event items from Jungle Jumps.
Top 5 best inflate bounce houses for sale in Wisconsin
1) Pink & White Castle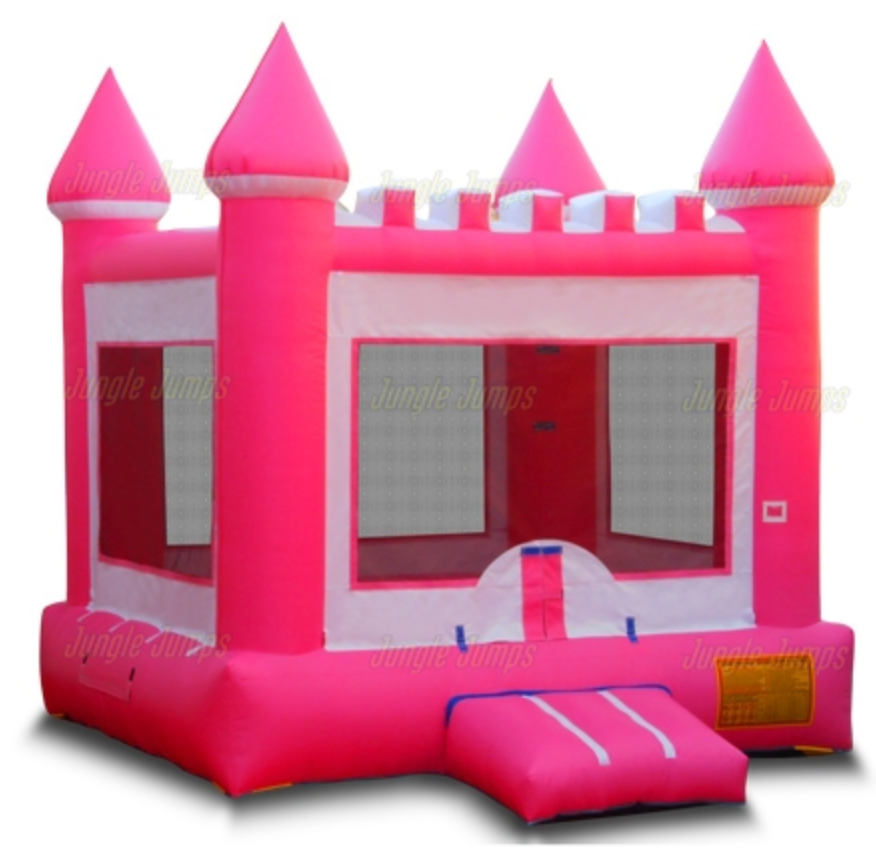 Model: 
BH-2027-B
W X L X H:
13 x 13 x 15
UNIT LB:
175
Description (Pink & White Castle):
The Pink & White Castle Bounce House offers a delightful space for young princesses to enjoy themselves. With a 13'x13′ exterior, there's ample room for bouncing and sliding, and the inflatable ramp ensures easy entry and exit. Constructed from sturdy vinyl and adorned with bright white accents, this castle fits perfectly in any setting. Four towers positioned at each corner enhance its authentic castle appearance. Mesh openings on all four sides allow for fresh air circulation and give spectators a fantastic view of the excitement within.
2) Dream Castle 6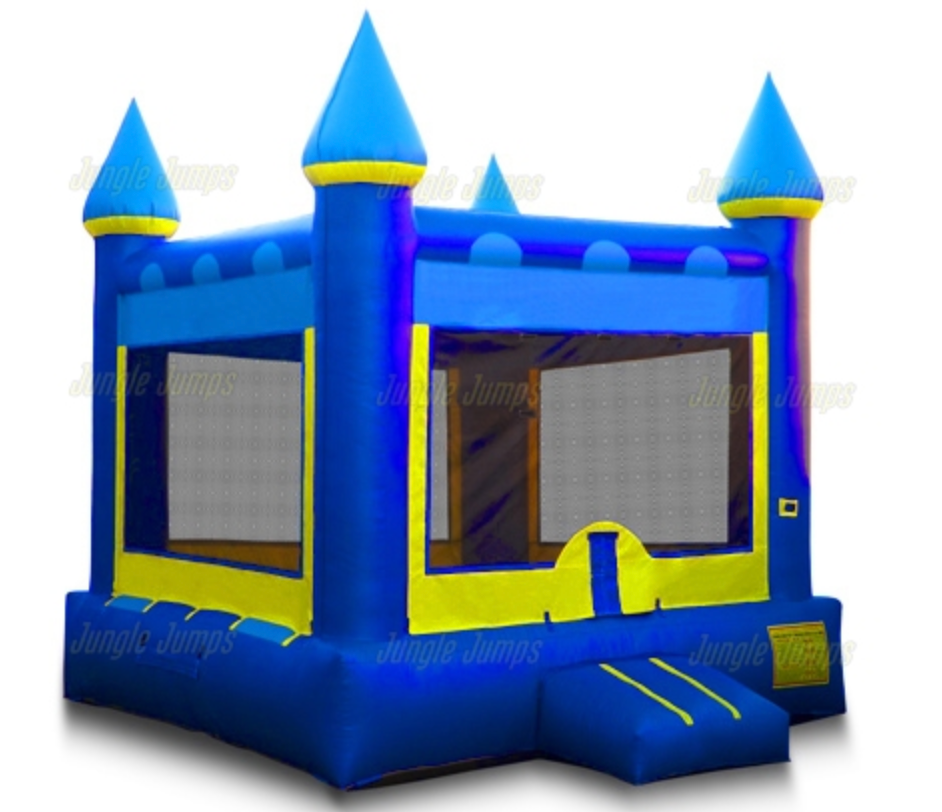 Model: 
BH-1052-B
W X L X H:
13 x 13 x 15
UNIT LB:
175
Description (Dream Castle 6):
If you are looking to purchase commercial bounce houses, Jungle Jumps is your one-stop destination. Consider our exciting castle bouncer made from strong, commercial-grade vinyl in eye-catching colors, ensuring its longevity for countless outdoor events. This bounce house boasts four inflatable turrets at each corner along with mesh-covered window openings on the front, sides, and back. The interior play area is easily accessible via the inflatable entrance/exit ramp on the front. To help maintain your dream castle in excellent condition, we provide an illustrated manual, repair patches, and glue.
3) Tuxedo Bounce House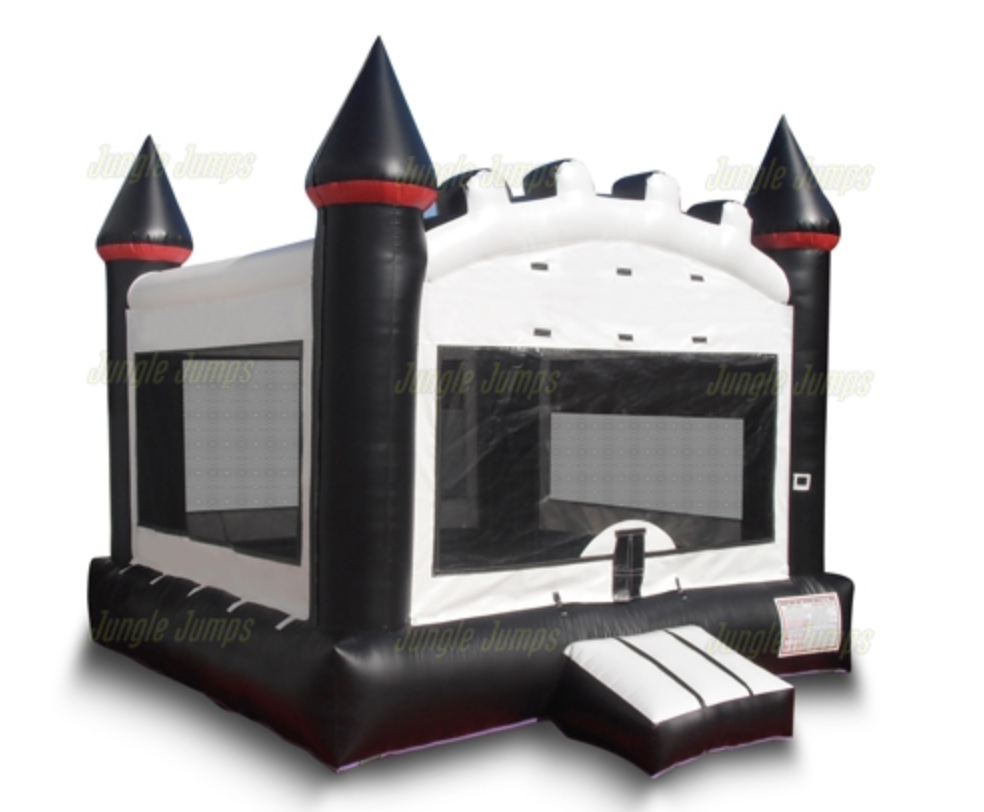 Model: 
BH-1195-B
W X L X H:
10 x 10 x 11
UNIT LB:
175
Description (Tuxedo Bounce House):
If you're in search of a distinct and commercial-grade moonwalk for sale, look no further than Jungle Jumps. Our unique model features an eye-catching combination of deep black and snowy white vinyl fabric, giving the bouncer a truly striking appearance. With castle-like accents such as inflatable turrets and an arched parapet roofline, this moonwalk stands out from the rest.
To ensure a comfortable and enjoyable experience, generous mesh panels have been added to all four sides, allowing for optimal ventilation within the play area. Crafted from the most durable materials available, our industrial-grade inflatables promise many years of trouble-free and low-maintenance usage.
Experience endless fun and unbeatable quality with Jungle Jumps' one-of-a-kind inflatable products.
4) Candy Moonwalk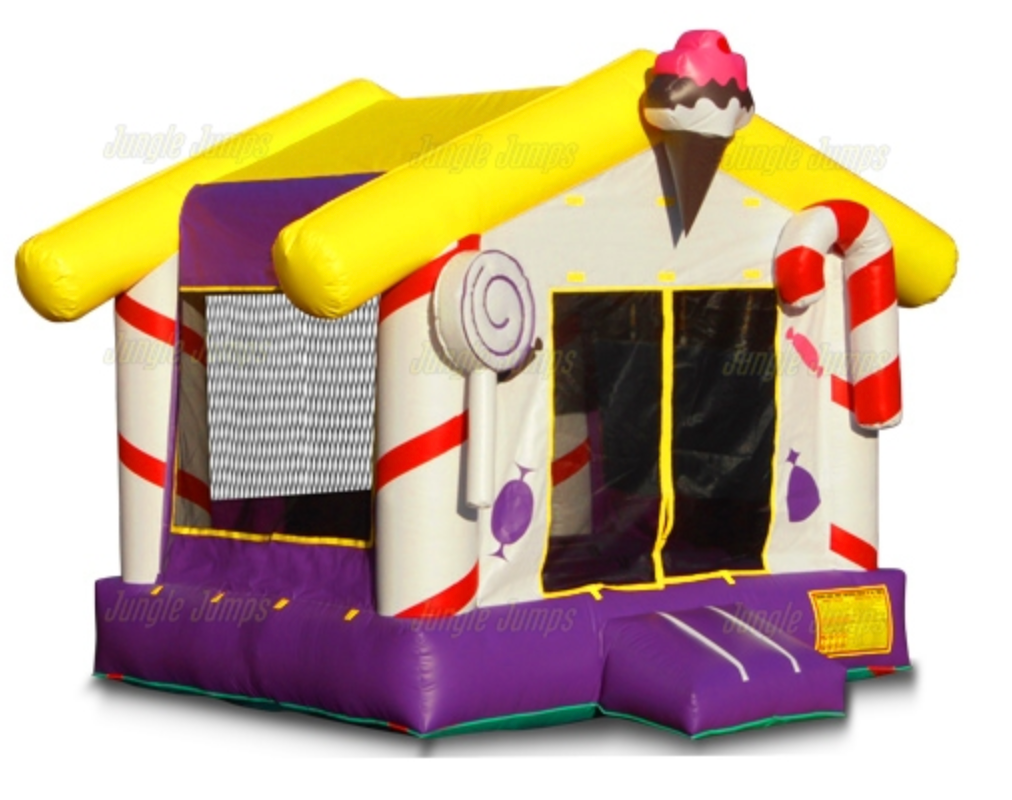 Model: 
BH-1401-B
W X L X H:
13 x 13 x 15
UNIT LB:
193
Description (Candy Moonwalk):
Once upon a time, in a land filled with fun and excitement, there was a magical Candy Moonwalk that brought joy and laughter to every event. This enchanting moonwalk for sale was adorned with delightful inflatable candy decorations, such as lollipops and candy canes, that captured the imagination of all who saw it. Intricately printed elements added an extra touch of whimsy to this wondrous creation.
The Candy Moonwalk featured a towering peak, providing ample headroom for the little jumpers to frolic inside. Its spacious play area was perfect for children to explore and create their fairy-tale adventures. As the joyous laughter filled the air, the mesh panels on the sides and back of the bouncer allowed for excellent ventilation, ensuring that the little ones stayed cool and comfortable.
To make it even more magical, an inflatable ramp provided easy access to the enchanting world inside the Candy Moonwalk. And to ensure that the kingdom of fun was always in tip-top condition, a vinyl patch kit with glue was included, so the magic would never fade.
And so, the Candy Moonwalk continued to bring happiness and wonder to events far and wide, leaving behind a trail of joyous memories and thrilling adventures for children of all ages.
5) Princess Module II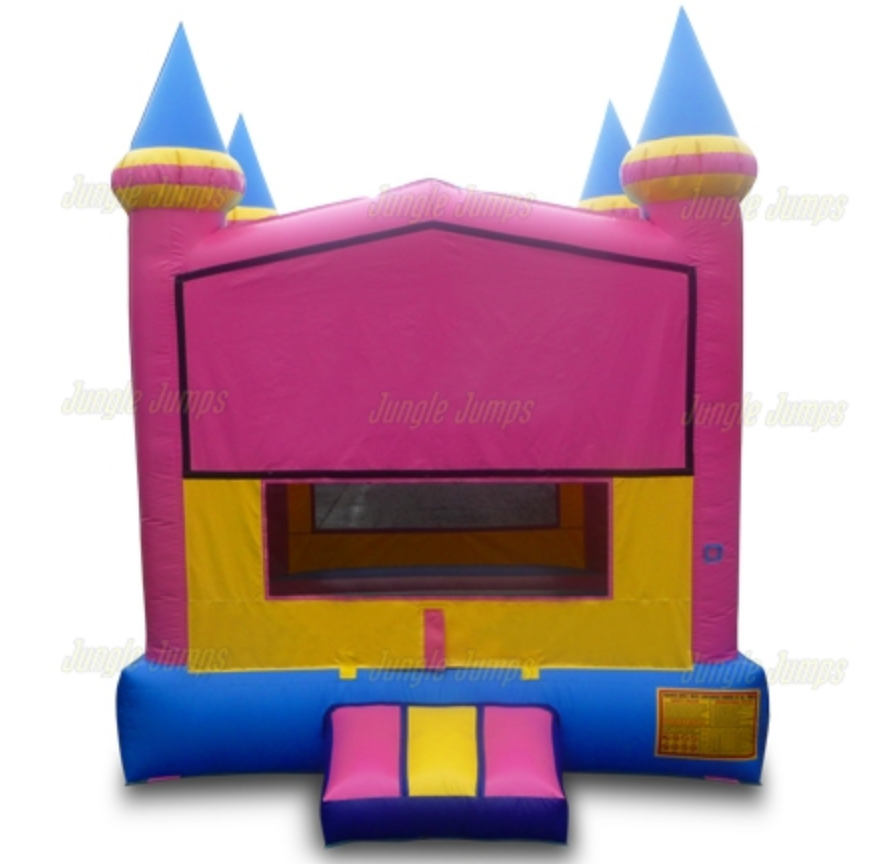 Model: 
BH-2081-B
W X L X H:
13 x 13 x 16
UNIT LB:
185
Description (Princess Module II):
If you are searching for an entertaining and lively bouncy castle to purchase, look no further than this vividly designed model. Resembling a castle from a child's fantasy, our inflatable bounce house boasts a pointed roof adorned with inflatable turrets at every corner. The sturdy and long-lasting vinyl structure displays a combination of cool gray, striking pink, and bright purple hues. This model is available in two dimensions to accommodate any event – a 13'x13′ exterior for the smaller version and a 15'x15′ exterior for the larger one.
Conclusion 
→ In conclusion, if you are looking to purchase an inflatable bounce house in Wisconsin, Jungle Jumps is the premier provider to fulfill all your needs.
→ Offering a diverse range of commercial-grade inflatables, including bounce houses, water slides, and other party essentials, Jungle Jumps is committed to delivering top-quality products and services across the United States.
→ With customization options available and a dedicated team of designers and manufacturers, Jungle Jumps ensures that your unique vision comes to life, making your event the talk of the town. Browse through our collection today and find the perfect inflatable bounce house to turn your event into an unforgettable experience.

→ Click here!