These attractions offer unique party entertainment for all ages and are stress-free to set up.
Plus, they're affordable to rent and come in a variety of sizes. With their timeless appeal, easy cleaning, and safe, durable design, why wouldn't you choose a bounce house for your next event?
⇒ Before you start, please take the time to read our various articles.
–https://www.junglejumps.com/blog/inflatable-bounce-house-blower/
–https://www.junglejumps.com/blog/indoor-inflatable-bounce-house/
–https://www.junglejumps.com/blog/inflatable-bounce-house-water-slide/
–https://www.junglejumps.com/blog/inflatable-bounce-house/
-And more, visit our blog!
Key Takeaways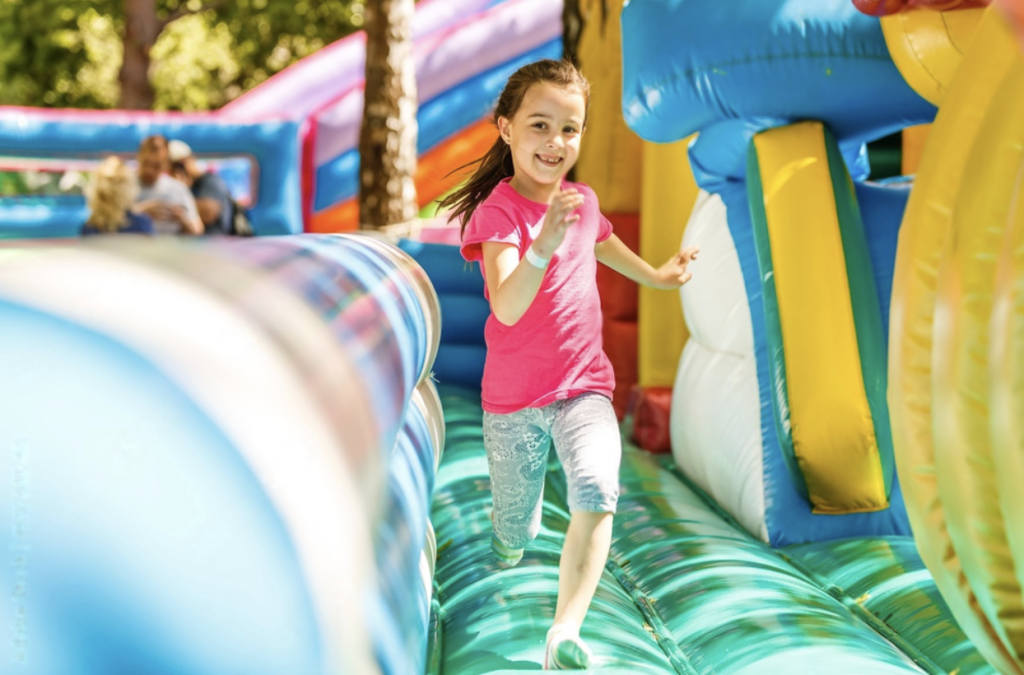 Bounce houses provide entertainment for kids and adults of all ages.
They encourage physical activity and improve coordination skills.
Bounce houses offer a variety of activities for active recreation, including sports.
Renting a bounce house is an affordable and convenient option for party entertainment.
Fun for All Ages
No matter what age, you'll have a blast bouncing around in a bounce house! Bounce houses provide hours of entertainment for kids and adults alike. They're the perfect party attraction for any occasion, from birthday parties to family gatherings.
Kids love the bright colors and the fun feeling of being able to jump up and down without getting hurt. They're also able to exercise and build their coordination skills while enjoying the activity.
Adults, too, can enjoy the experience as a way to relax and have fun. Bounce houses provide a safe environment for everyone to enjoy, and everyone can join in the fun.
With the variety of sizes and shapes available, there's something for everyone. Not to mention, the affordable cost makes it a great option for any budget. Everyone can enjoy the fun of a bounce house and it's a great way to bring people together.
Unique Party Entertainment
Your guests will love the unique entertainment a bounce house provides! It's a perfect way to keep everyone entertained, from toddlers to teens.
Here are three reasons why a bounce house is the perfect addition to any party:
Variety: Bounce houses come in a variety of shapes, sizes, and styles, so you can pick one that fits your theme.
Interactive: Jumping, sliding, and racing around in a bounce house encourages physical activity and will keep your guests entertained.
Safety: With air-filled walls, padded floors, and safety nets, bounce houses are designed to be safe for everyone.
Interactive Play
Are you looking for a fun and engaging activity for your next party? Bounce houses are the perfect way to provide interactive, active play!
They're sure to bring smiles to the faces of your guests as they explore and enjoy the unique attractions.
Fun Engagement
Jump into the fun and let your kids interact with their friends in a bounce house! Bounce houses offer a unique way to engage with each other that's both fun and exciting. Here are just a few of the great ways to enjoy a bounce house:
Play a game of tag inside the bounce house and have a blast with no worries about knocking over furniture or running too fast.
Have a friendly competition with the other kids and see who can jump the highest.
Create an obstacle course that the kids can race around, with different challenges at each corner.
Bounce houses provide an unforgettable experience for kids of all ages, and are sure to be the hit of any party. With these interactive activities, no one will be left out of the fun!
Active Recreation
After playing tag, competing to jump the highest, and racing through obstacle courses, kids can also enjoy a variety of interactive play activities in a bounce house. Bounce houses provide a safe, fun way for kids to get active and have fun. It provides a great way to let kids burn off extra energy while playing and having a good time. They can bounce, climb, run, and crawl in the bounce house, all under the watchful eye of parents and guardians.
There are also a variety of activities for kids of all ages, such as basketball, volleyball, and other interactive sports activities. These activities let kids enjoy a variety of physical activities and provide a great way for parents to promote physical activity.
Kids can also take part in fun competitions like a bouncing race or a bouncing relay. These activities are a great way to get kids to have fun while also getting some exercise.
Stress-Free Setup
Setting up a bounce house for your party doesn't have to be stressful; you can have it ready to go in no time. Here are a few ways to make sure setup is a breeze:
Make sure you have enough space to set up the bounce house.
Ensure that the surface you're setting up on is flat and level.
Pre-inflate the bounce house before the party.
These simple steps will help you quickly and easily set up the perfect party attraction.
Plus, you can always ask for assistance from the rental company if you need any help. With a little bit of planning and preparation, you'll have your bounce house ready to go in no time!
Affordable Rental Options
Now that you know how stress-free setup can be, you may be wondering about the affordability of bounce house rental options.
You'll be happy to know that the majority of rental companies offer competitive pricing. The rental cost of a bounce house is typically based on the size and length of the rental period.
For example, a small bounce house may cost around $100 for a four-hour rental, while a large bounce house may cost up to $200 for the same length of time.
You can also save money by renting multiple bounce houses or choosing a longer rental period. Many companies also offer discounts for large groups or repeat customers.
With competitive prices and discounts available, bounce house rental options are a great way to keep your party costs affordable.
Creative Party Themes
With hundreds of styles and themes to choose from, you can easily find the perfect bounce house to match your creative party theme! From a jungle-themed bounce house complete with safari animals to a castle-style bounce house with bright colors and unique designs, the possibilities are endless.
Here are three creative party themes that can be accentuated with a bounce house:
Sports Party: Create a sports-themed bounce house with footballs, baseballs, and basketballs to make your sports-loving guests feel like pros.
Movie Night: Imagine a bounce house made to look like a movie theater, complete with popcorn and movie posters.
Pirate Adventure: A pirate-themed bounce house is perfect for a swashbuckling good time, complete with pirate flags and treasure chests.
No matter the theme, a bounce house can make any party a blast!
Safe and Durable
When it comes to party attractions, bounce houses are a safe and durable choice. Their durable material and secure setup mean your guests can enjoy the fun without worry.
Plus, they can be used over and over again!
Durable Material
You can count on the bounce house material being safe and durable. It's made from high-grade vinyl fabric, with a strong mesh netting used to secure the walls and roof. Additionally, the air-filled chambers and seams are reinforced for extra protection.
Here's a quick look at the features that make the material reliable:
The vinyl is treated with flame-retardants and UV-resistant coating, making it safe for use.
The mesh netting is made of durable polyester that can withstand high winds and rough play.
The air-filled chambers and seams are reinforced with double and triple stitching to provide extra strength and protection.
All this ensures that the bounce house is built to last, and you can trust it to provide hours of safe, fun entertainment.
Secure Setup
You can trust that your bounce house will be securely set up and safe for use, thanks to its durable construction. Its heavy-duty vinyl material and reinforced seams make it resistant to punctures and tears, meaning it can handle even the toughest of play.
Plus, the reinforced netting and mesh windows protect children and provide maximum ventilation, making it safe and secure for your little ones.
The secure setup of the bounce house also ensures that it won't collapse or blow away, making it a great addition to any party. The stakes and sandbags provided with the bounce house ensure that it's firmly attached to the ground, providing a safe and secure environment for your party-goers.
With a secure setup, you can rest assured that your party will be a hit with all ages.
Variety of Sizes
Offering a variety of sizes, bounce houses make it easy to cater to any size party. Whether you're hosting a small gathering or a large celebration, there's a bouncy house to fit your needs. Here are a few things to consider when selecting a size:
Size of your space: A standard bounce house is typically 15′ x 15′, but you can find smaller sizes, such as 10′ x 10′, to better fit your space.
Number of guests: A larger bouncy house can accommodate a larger number of kids. Consider your guest list before selecting the size.
Age of kids: If your guests are all toddlers, a smaller bounce house may be best. But if you have a mix of ages, a larger size can accommodate everyone.
No matter what size you choose, a bounce house is sure to make your party a hit!
Easy to Clean
One of the best things about bounce houses is how easy they're to clean – no more scrubbing floors and walls after the party is over! After the fun is over, all you have to do is deflate it, fold it up, and store it away.
It can also be easily wiped down with a damp cloth or vacuumed if needed. With bounce houses, there's no need to worry about food and drink spills or mud and dirt from outside. Even young children can help with the cleaning-up process, making it even more convenient.
In addition, it's easy to keep the bounce house clean during the party by wiping up spills and messes as they occur. This makes it an ideal choice for any type of party or gathering.
Timeless Appeal
Cleaning up after a party is a breeze with a bounce house, but it's also a timeless attraction that never gets old. Whether it's a birthday, pool party, or family gathering, nothing beats the fun of a bounce house. Here's why:
They provide hours of entertainment for kids of all ages.
They can be used indoors and outdoors, giving you flexibility in planning your event.
They can be rented for any length of time, so you can choose the duration that best fits your budget.
No matter the occasion, a bounce house will bring a smile to everyone's face. With its bright colors and playful design, it's no wonder why bounce houses are a favorite among partygoers of all ages. And, with its easy setup and teardown, and low maintenance cost, it's no wonder why bounce houses are a party staple.
Several commercial bounce houses for sale that Jungle Jumps offers?
1) Dream Castle 6 
Model: 
BH-1052-B
W X L X H:
13 x 13 x 15
UNIT LB:
175
Description (Dream Castle 6):
We offer an extensive selection of bounce houses for sale to meet your needs. Among them is our exciting fun castle bouncer, built to last with robust commercial-grade vinyl in vivid colors, ensuring its endurance at outdoor events for years to come. This bouncer boasts four inflatable turrets, one at each corner, enhancing its castle-inspired design. For ventilation and visibility, mesh-covered window openings are strategically placed on the front, sides, and back. Inside, a spacious play area awaits, accessible through the inflatable entrance/exit ramp at the front. To facilitate easy setup and maintenance, we provide an illustrated manual, along with repair patches and glue, ensuring your dream castle remains in excellent condition.
2) Balloon Bounce House 
Model: 
BH-1148-B
W X L X H:
13 x 13 x 16
UNIT LB:
176
Description (Balloon Bounce House):
This commercial-grade moonwalk is adorned with vibrant, eye-catching balloons at its four corners. The heavy-duty vinyl material ensures durability, and the mesh-covered openings on each side ensure excellent ventilation. Getting in and out is a breeze with the inflatable ramp. Setting up the moonwalk is hassle-free, thanks to our illustrated step-by-step manual, while maintenance and storage are made straightforward with our accompanying guide.
3) Tropical Paradise Bouncer 
Model: 
BH-2263-B
W X L X H:
13 x 13 x 14
UNIT LB:
175
Description (Tropical Paradise Bouncer):
Prepare for tropical excitement at your upcoming party or indoor/outdoor event with this vibrant commercial bounce house from Jungle Jumps. Crafted with top-quality materials, the bounce house features an arched roof, providing ample headroom for guests inside. Its inflatable ramp and flapped opening at the front ensure easy access in and out. Safety and ventilation are prioritized with finger-friendly fine mesh panels on each wall. Adding to the festive atmosphere, decorative inflatable palm trees grace each corner of the bounce house. Rest assured, the durable vinyl material is built to withstand years of use with minimal maintenance required.
Frequently Asked Questions
Is There a Limit to How Many People Can Use a Bounce House at Once?
Yes, there is a limit. Most bounce houses can hold 4-5 people at once. It's important to adhere to the limits for safety and to get the most out of your bounce house experience.
How Do I Know if the Bounce House Is Safe for My Child's Age and Weight?
When renting a bounce house, check the manufacturer's guidelines for weight and age limits. Make sure your child's age and weight fit the criteria for safe use.
How Long Does It Take to Set up and Take Down a Bounce House?
Setting up and taking down a bounce house typically takes around 30 minutes. You'll be ready to go in no time!
How Long Can I Rent a Bounce House For?
You can rent a bounce house for as long as you'd like. Most companies offer daily, weekly, or even monthly rentals. Talk to them about the option that best fits your needs.
Are There Any Additional Fees for the Delivery and Pickup of a Bounce House?
Yes, there may be additional fees for delivery and pickup. Make sure to ask your rental company for details.
Conclusion
So if you're looking for an exciting and affordable way to entertain your guests, a bounce house is the perfect solution. It's safe, durable, easy to set up, and appeals to all ages.
Plus, they're easy to clean and can be rented in a variety of sizes.
So why not make your next party a bouncing good time? You won't regret it!