Looking to add an extra splash of excitement to your backyard pool party? An inflatable slide for pool can provide endless hours of fun and entertainment for guests of all ages while helping them cool off in the summer heat. With just a few easy steps, you can turn your outdoor space into an exciting aquatic playground that your guests will never forget. Read to learn more by Jungle Jumps!!
*Check out our many articles that I'm sure will interest you!*
–https://www.junglejumps.com/blog/wholesale-inflatable-water-slides/
–https://www.junglejumps.com/blog/commercial-inflatable-water-slides/
–https://www.junglejumps.com/blog/buy-inflatable-water-slide/
–https://www.junglejumps.com/blog/giant-inflatable-water-slide/
–https://www.junglejumps.com/blog/buy-inflatable-water-slide-us/
–https://www.junglejumps.com/blog/backyardinflatable-water-slide/
–AND MORE, VISIT OUR BLOG!! (https://www.junglejumps.com/blog/) 
Definition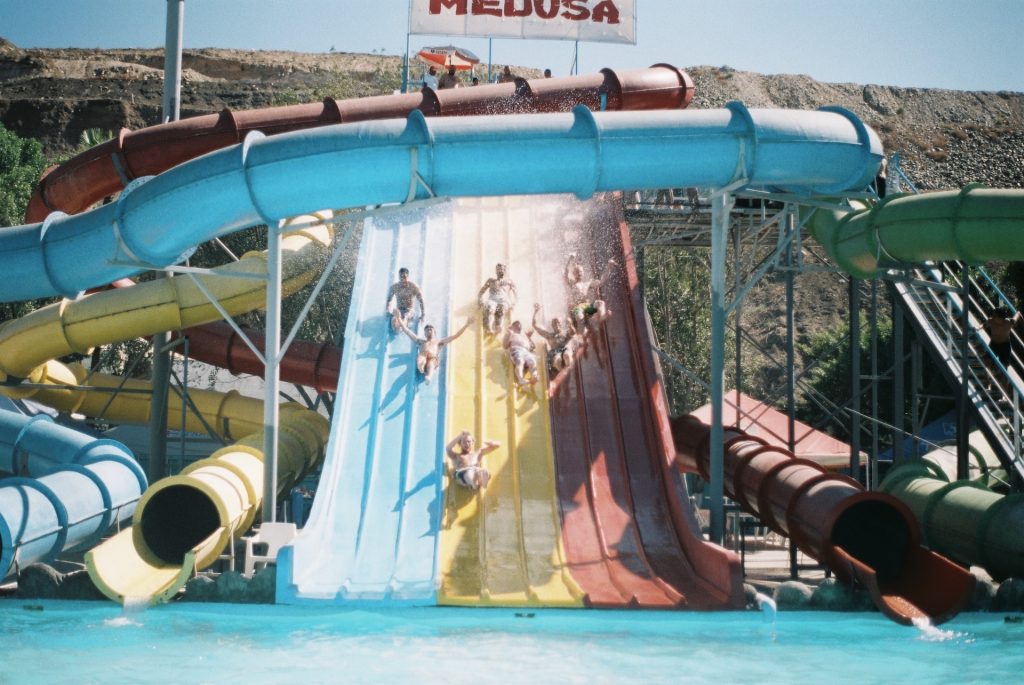 Inflatable water slide games are an exciting way to add fun and excitement to any backyard party. These inflatable slides come in many shapes, sizes, and colors, making them perfect for a variety of occasions. They can be used for parties or just for some good old-fashioned summertime fun. The best part about these slides is that they can easily be set up with minimal effort on your part.
The main component of an inflatable water slide game is the actual slide itself. This usually consists of a large plastic sheet with frames at either end which allows it to stand upright when inflated. It's typically covered in bright colors and designs, adding more fun and visual interest to the game. Additionally, most slides also have built-in sprinklers so kids can cool off while playing on the decline.
These types of games provide hours of entertainment and make a great addition to any outdoor event. Kids will love running around and sliding down this unique structure! With its vibrant visuals and interactive features, an inflatable water slide game adds plenty of splash to your next gathering.
Benefits Of Inflatable Water Slides
Now that we know the definition of inflatable water slides, let's explore some of their many benefits. Inflatable water slides are a great way to add some extra fun and excitement to any backyard party or event. They bring out the kid in everyone, no matter what age they may be!
Inflatables provide hours of entertainment for kids and adults alike. With multiple lanes and splash pools, there is something for everyone. The vibrant colors and designs on the slide also make them aesthetically pleasing, adding an eye-catching element to your outdoor space. And with a variety of sizes available, you can find one that fits just about any yard size – from small backyards up to large open fields.
Best of all, setting up an inflatable slide couldn't be easier. All it takes is a few minutes to blow it up – usually using an electric air pump – and then connect it directly to your garden hose so it's ready for use within minutes! This makes them incredibly easy for anyone who wants to host a backyard get-together but doesn't have much time to plan activities.
Inflatables are not only convenient; they're also safe too! The materials used in these slides are non-toxic and durable enough to withstand even rough playtime without ripping apart or deflating suddenly while in use. Plus, they come with safety features like netting around the sides and entrance steps which help prevent potential accidents during playtime. So when you rent or purchase an inflatable water slide, you can rest assured knowing that your guests will be having fun safely!
How To Select The Right Slide?
When selecting an inflatable water slide for your backyard party, there are a few important factors to consider. Firstly, the size of the slide should be commensurate with the space you have available and the number of guests expected. Pick one that is larger than what you need so that all guests can use it simultaneously. Secondly, safety must always come first; make sure the materials used in constructing the slide are durable and trustworthy. Lastly, look out for features like built-in sprinklers or water guns which can add excitement and fun to any gathering.
The cost associated with renting or buying an inflatable water slide may vary greatly depending on its complexity and design. It's best to compare prices from multiple vendors before deciding to find a reasonable deal within your budget limits. Additionally, check if other services such as setup & delivery are included in the purchase price – this could save time and effort when planning your event.
An important thing to remember is that while having an inflatable water slide at your party will certainly create memories for both children and adults alike, ultimately choosing something safe and appropriate is key for everyone's enjoyment. With these things taken into account when selecting yours, you'll be able to host a lively outdoor bash without worry!
Top 5 of the best inflatable water slide games that Jungle Jumps offers
MODEL: 
SL-1205-M
W X L X H:
10 X 23 X 14
UNIT LB:
220
Description:
Our compact inflatable water slide, the Blue Water Slide, is the perfect addition to small backyards or significant outdoor events. At 14 feet tall, it is easy to set up and use. The super-wide wet slide lane is joined on one side by an entrance ramp/ladder, while at the top, an inflated arch with fine mesh covering adds to the excitement. Participants cool off in the splash pool that spans the width of the unit at the bottom.
Crafted from ultra-tough vinyl fabric in dark blue, the Blue Water Slide features light blue and white accents. We use the same commercial-grade vinyl material in all of our inflatable products, ensuring its durability. Whether it's for a party or simply a day of fun in the sun, this model entertains and cooling refreshments for all. Choose the Blue Water Slide for your next outdoor gathering!
MODEL: 
SL-1420-B
W X L X H:
10 x 29 x 18
UNIT LB:
390
Description:
At Jungle Jumps, we take pride in using the strongest vinyl fabric available in the market to make our inflatables. Our latest creation features a rippling blue design that is both eye-catching and durable. The slide has a single lane on one side, with a ladder/ramp adjacent to it for easy access.
A decorative inflatable wave curls over the top of the slide lane, while a mesh panel covers the lane and ramp for added safety. The bottom features a splash area with high inflatable bumpers that protect young bodies as they reach the end of their exhilarating run.
We specialize in manufacturing commercial-grade inflatables that are built to last. Trust us to provide you with the safest and most entertaining inflatables for your next event or party. Choose Jungle Jumps for the best inflatables on the market!
MODEL: 
SL-1438-B
W X L X H:
19 x 26 x 18
UNIT LB:
420
MODEL: 
SL-WS141-C
W X L X H:
12 X 34 X 20
UNIT LB:
480
Description:
Our dolphin water slide is a popular choice for outdoor events of all sizes, resembling something straight out of a fantasy novel. Made from tough and durable commercial-grade vinyl, this model showcases shades of blue with white accents. At Industrial Water Slides, we offer water slides for sale that are built to last for years of use.
Access to the single slide is made through the side-mounted inflatable ramp, leading to a wide splash pool at the base. Inflatable dolphins decorate the top of the slide, while a mesh panel along the top area ensures the safety of children against falls. The high slide sides and bolsters around the splash pool add even more safety to this exciting and stylish commercial water slide.
Our commitment to quality and safety shines through in every inflatable product we manufacture. Choose our dolphin water slide for your next event and experience endless fun and entertainment for all.
MODEL: 
SL-1187-B
W X L X H:
12 x 32 x 18
UNIT LB:
395
Description:
Jungle Jumps, the premier inflatable manufacturer, presents an awesome commercial water slide that combines surf styling with incredible fun. Our design captures the essence of big wave surfing, complete with inflatable simulated surfboards flanking the slide. A towering wave stands overhead, and the blue and white vinyl colors are accented with printed details for a realistic touch.
Featuring a single wide slide lane accessed from the side-mounted ladder/ramp, this water slide offers endless thrills for all. At the bottom, a generously-sized splash pool is ready to catch youngsters as they slip down. Mesh coverings at the top of the unit and highly bolstered sides provide added safety for participants.
If you're searching for commercial inflatable water slides for sale, look no further than Jungle Jumps. We are committed to creating top-quality, safe, and entertaining inflatables for all occasions. Choose our surf-inspired commercial water slide for your next event and experience the thrill of big-wave surfing in a safe and controlled environment.