Everything you need to know about the best inflatable bounce house by Jungle Jumps.
What are the different safety rules to know about the bounce house?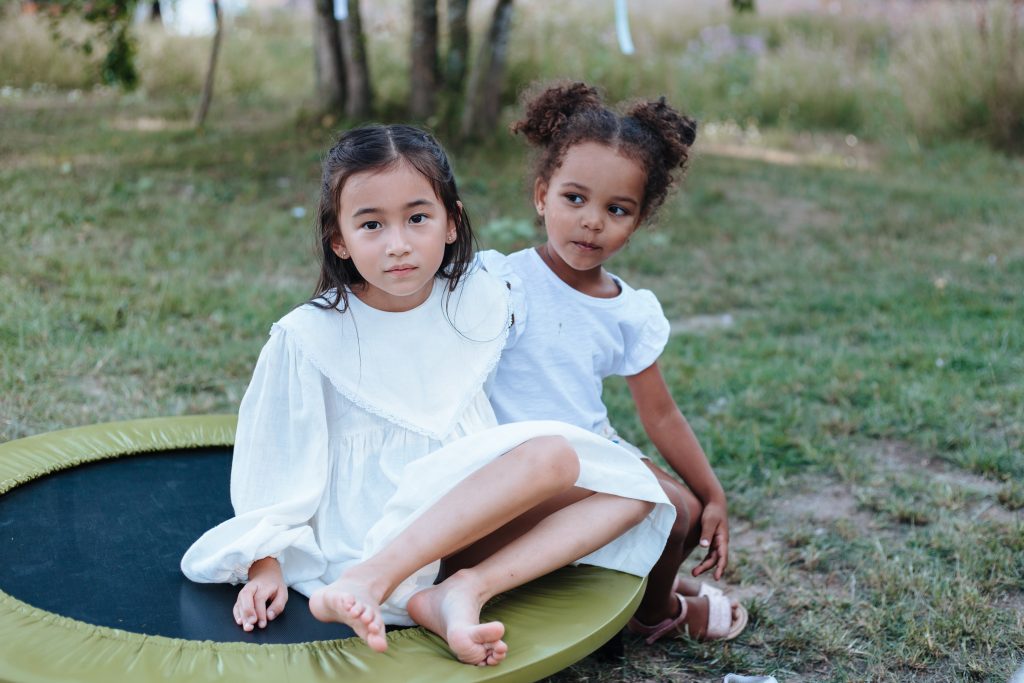 There are a lot of basic safety rules that you need to know:
No shoes:
Always make sure that any child who uses your bounce house is either wearing socks or has bare feet. The hard rubber sole of a shoe can inflict serious damage to any body part that it hits—and bare skin is much more vulnerable than covered skin.
Insurance
If you own a bounce house rental business, it's essential to have insurance. Without insurance, you're putting yourself and anyone who rents the bounce house from you at risk.
Sharp Objects
When you are setting up your bounce house, make sure that there are no sharp objects on the ground where the setup site is or near the bounce house.
Attendants
When renting a bounce house for a large-scale event, it is important to ensure that you are in attendance while the bounce house is being used. By doing so, you can ensure the safety of all children by making sure they take their shoes off and that no one gets too rowdy.
To make sure children are safe in bounce houses, follow these steps:
Prohibit Sharp Items:
There are three reasons why you should prohibit any person from bringing in sharp items. First, sharp objects can injure someone. You don't want to have cases like this on your hands, especially with children who may not be able to understand the seriousness of the situation. Second, sharp items can cause damage to the bounce house, which will affect the performance of the equipment and compromise safety. Last, it can cause unnecessary harm to the children. A child jumping around and falling may fall on a sharp object and get injured.
Supervise the Children:
To ensure the safety of your children, make sure a responsible adult is supervising them every time they use a bounce house. Ensure they are following all instructions. It is best not to allow children into the bounce house if they don't know how to use it properly or if they don't understand its instructions.
No food or drink allowed:
Although food and drinks are not permitted in the bounce house, it is still important to enforce that rule. If you do not, then you might end up with children getting hurt. First of all, food can get into the bounce house and onto the children. These kids are still quite young and may have allergies to certain foods. Second, food and drinks can attract bacteria, fungi, or other microorganisms that will make children sick if they ingest them.
Keep the bounce house clean:
Keeping the bounce house clean can help ensure that it's safe for children. The best way to stay on top of this is to keep it clean all the time. Not only will this keep kids safe, but it will also make their experience that much more enjoyable.
Bounce House events are a great way to encourage physical activity
Physical activity can be a great source of happiness. Children who play in the inflatable for hours on end are getting a good cardio workout, which provides them with additional health benefits besides the fact that they're simply moving around. These children can also utilize a healthy, simple workout as an excuse to burn off excess energy. Instead of sitting inside playing computer games all day, these kids will be exhausted by the end of the day and will most likely sleep for eight hours that night.
Properly cleaning your inflatable bounce house
One of the biggest reasons that inflatables need to be cleaned is because of the potential for mold growth. Mold is a fungus that can spread rapidly and once it gets into inflatables, it can quickly spread to the blower and other parts of the inflatable. The danger of mold is that it can cause health issues such as asthma and allergies. It can also cause infections in some individuals. By keeping your inflatables clean, you are preventing mold from occurring.
The first step to cleaning your bounce house is to sweep off any loose dirt, sand, or leaves that have accumulated on the outside of the inflatable. If any sand or leaves are stuck inside the inflatable, use a vacuum to clean them out. Then rinse off any dust with water.
Next, wipe down the inflatable with a cleaning spray. If you find any spots that are particularly difficult to clean, use a scrubbing brush to get rid of the dirt or grime.
For tough stains, you may need to use a soft brush that is designed for scrubbing inflatable products. Scrubbing gently will help you avoid damaging the item.
Methods for repairing a bounce house
Here are the best methods for repairing a bounce house:
-When you discover a hole in your inflatable bounce house, you can use a patch to fix it. Once you have enough air in the bounce house, apply the patch and inflate the bounce house again. If any air seems to be leaking from your patch, then use a sewing machine to resew that section of the patch.
-Inflatable patches are great alternatives to patches that are sewn or stuck on. They leave a tiny hole in the material after being applied, which is less noticeable than a large patch. These patches are applied with a patching tool. Place the patch, and adhesive side up over the hole and inflate the bounce house to test the patch. If any air seems to be leaking from the patch, then you'll need to repair that section again.
-Purchase a patch kit to repair the hole. Patch kits are generally applied with a patching tool. You'll typically find these at hardware stores at affordable prices. Apply the patch with the hole in the middle to one of the sides of the patch. Ensure that you have positioned it correctly so that there is no leaking when you inflate the bounce house and test it out.
-If you're not willing to pay to get the hole or rip repaired, or if it is too big to patch up, use duct tape. Simply tape all around the hole provided you are not taping over the hole itself. Alternatively, you can tape around the hole ensuring you do not cover the hole itself. This will be more time-consuming, but it will get the job done.
20 best inflatable bounce house
1. Princess Castle II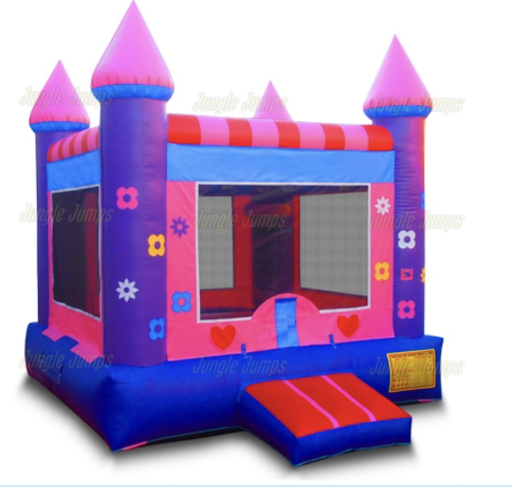 Model:
BH-1184-B or BH-1184-C
W X L X H:
13 x 13 x 15 or 15 x 15 x 15
This castle-shaped bounce house is a dream come true for children of all ages. The fantastic styling will make you believe you are in a fairy tale! It features durable vinyl construction in rich purple, vibrant pink, and bright red. Printed flowers decorate the exterior and inflatable turrets at the corners provide added excitement. The entrance/exit ramp inflates along with the bounce house, which also has a candy-striped roofline. Ventilated mesh-covered openings offer stunning views from inside or outside the inflatable toy.
2. Wedding Bounce House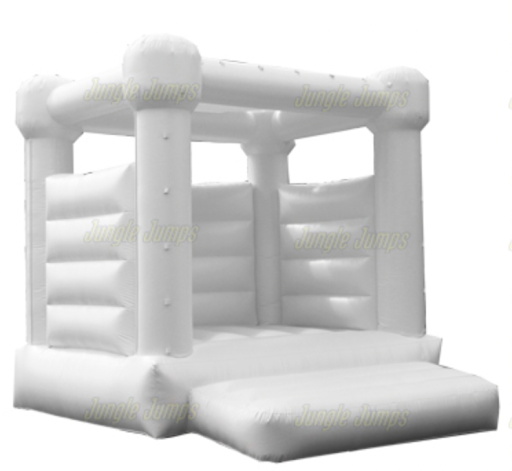 Model:
BH-2270-B-WHT
W X L X H:
14 x 16 x 14
This will be the perfect gift to bring joy to your whole family at your wedding. It is a thoughtful gift, designed for everyone in the family—from children to adults. You will have the most wonderful wedding.
Try the Wedding Bounce House!!
3. Module Jumper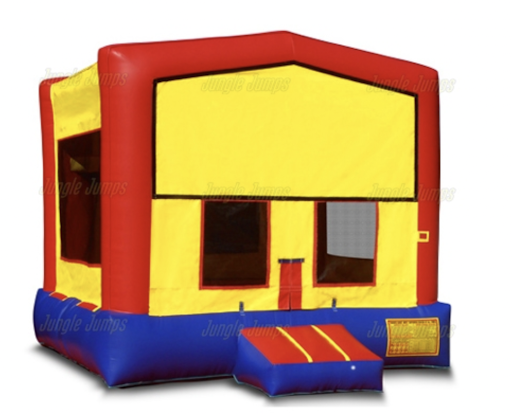 Model:
BH-1079-B
W X L X H:
13 x 13 x 13
If you're ready to buy a bounce house, look no further than our large 13'x13′ jumper model. Its peaked roof offers extra headroom as compared to some of our other commercial-grade creations. The brightly-colored exterior comes courtesy of our tough, durable commercial-grade vinyl construction designed to stand the test of time. Two small mesh-covered windows grace the front of the jumper, while larger openings on the back and sides permit great ventilation. Step-by-step instructions with photos are included so you can start having fun quickly.
4. Sport Arena inflatable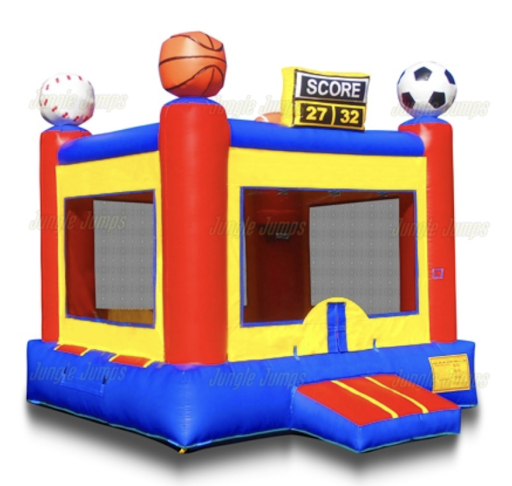 Model:
BH-1098-B
W X L X H:
13 x 13 x 14
Bright colors and sport styling make these commercial moonwalks attractive to young ones. Inflatable sports balls add decoration to the four exterior columns, and a matching scoreboard can be found over the inflatable entrance/exit ramp. The play area is bordered by mesh-covered window openings on all four sides. As the leading bounce house manufacturer, we want our customers to get going quickly with their purchase, so we include the air blower, a ground cover, and a step-by-step illustrated how-to manual with each commercial bounce house package.
5. Excalibur Castle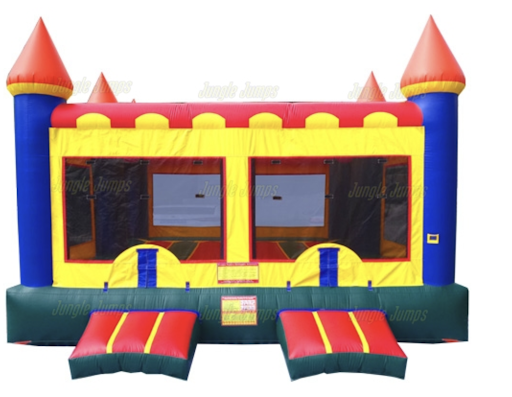 Model:
BH-1101-D
W X L X H:
20 X 22X 15
If you are looking for a commercial bounce house that will stand out at your next event, then look no further than the Excalibur Castle. This inflatable castle features a gigantic jumper measuring 22'x20′. Six inflatable turrets grace the outside, giving it a castle-like exterior appearance. The durable vinyl material is tear-resistant and able to withstand years of use. Bright colors add visual flair to the jump house, which also features dual entrance/exit ramps.
6. Crayon Moonwalk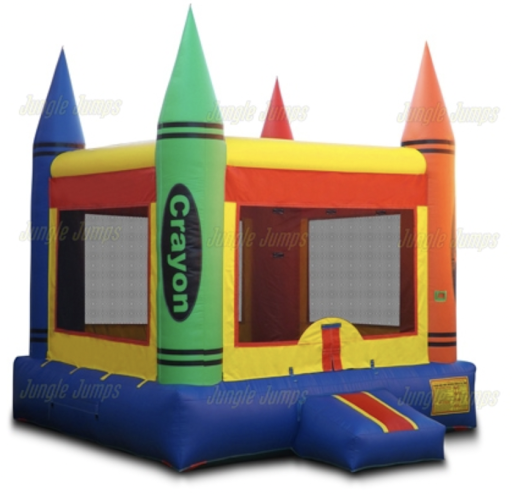 Model:
BH-1111-B
W X L X H:
13 x 13 x 15
Our colorful commercial bouncers are the hit of any event. The inflatable moonwalks for sale here at Jungle Jumps include Screened-in openings that can be found on all four walls, and the fine mesh won't snag little fingers or toes. A small entrance/exit ramp leads to fun and adventure with an optional basketball hoop for even more thrills which can be negotiated by contacting us. The inflatable exterior columns look like crayons and are fabricated from durable commercial-grade vinyl material. Our Crayon Playland is styled like a castle but with a bit of a fun twist and is perfect for promoting literacy at schools or libraries.
7. Princess Module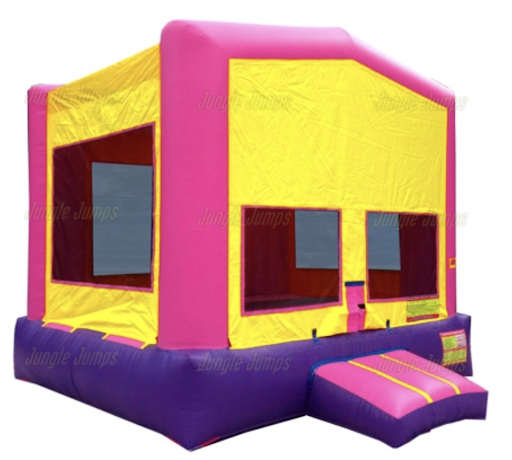 Model:
BH-1093-B
W X L X H:
13 x 13 x 15
For kids of every age, the versatile Fun House jump house is a fun and popular choice. The bright vinyl material comes in a vibrant yellow with pink accents. A sloped roofline offers extra headroom height-wise for higher jumps and flips. Crafted from tough commercial-grade materials, this bouncer is built to last for years. We'll even include a rental contract.
8. Aloha Tropical Bounce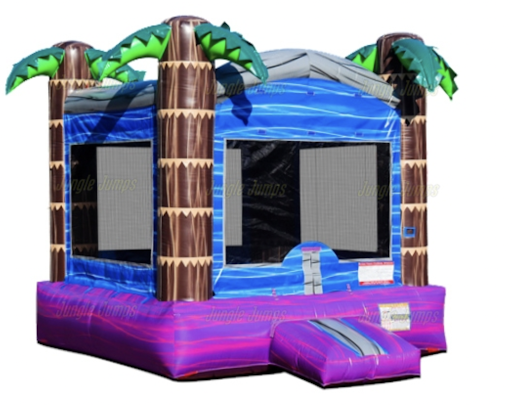 Model:
BH-2264-B
W X L X H:
13 x 13 x 14
Our Tropical Bouncer is the perfect choice for smaller events and indoor use. It has a more compact footprint than our larger models, but it doesn't skimp on quality or style. The bouncer features four large mesh panels, one on each wall. An entrance/exit ramp and flapped opening are situated in the front of the unit. To give this commercial-grade jump house a tropical vibe, we've used vibrant marbled vinyl in shades of purple and blue, then added simulated inflatable palm trees at each corner of the unit. Endless hours of fun are in store for young partygoers thanks to its quality and durability.
9. Palm House Moonwalk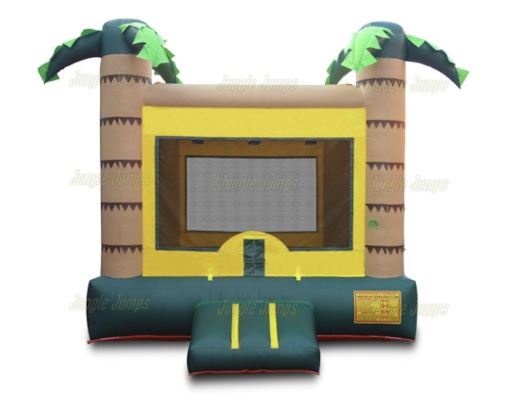 Model:
BH-1049-B
W X L X H:
13 x 13 x 14
Avoid the stress of planning a tropical vacation by buying this bouncy house from Jungle Jumps. It looks like an island oasis, with tall inflatable palm trees at the corners and a generously-sized exterior area measuring 13'x13′. This bouncer is made from tough, tear-resistant commercial vinyl, giving it the strength to last for years of constant use. Mesh-screened windows allow participants to view the outside or to let parents keep an eye on their little ones while they play. A step-by-step manual is part of the package, too.
10. Tropical Paradise Bouncer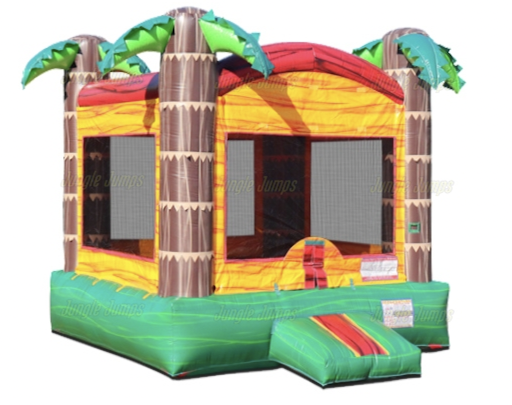 Model:
BH-2263-B
W X L X H:
13 x 13 x 14
Tropical thrills await young guests at your next party or indoor/outdoor event, thanks to this Jungle Jumps commercial inflatable. The arched roof offers improved headroom inside the bouncer, and decorative inflatable palm trees at each corner add a festive look. Marbleized vinyl in the red, yellow, green, and brown finish of this colorful jump house. Fingertip-friendly fine mesh panels on each wall allow great ventilation and safety while an inflatable ramp and flap at the front of the bouncer make entrance and exit easy. Designed to withstand years of use with little or no maintenance, our vinyl material is made to last!
11. Pink Castle Jump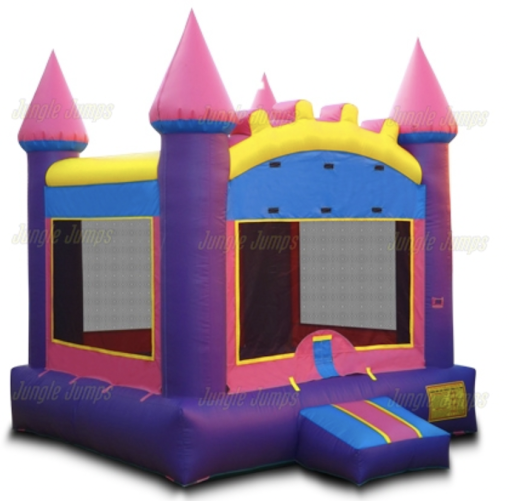 Model:
BH-1180-B
W X L X H:
13 x 13 x 15
Our brightly-colored castle-style jumper is a real treat for young participants. It comes in a stunning colorway, adding bright purple, blue, and yellow to the exterior. Tough, durable materials and unrivaled craftsmanship help this bouncy house last for many years. Inflatable turrets can be found on each corner, and an arched parapet decorates the front roofline. The 13'x13' exterior area is accessed by the inflatable entrance ramp, and mesh-lined window openings are located on all four sides.
12.  V-Roof Sea World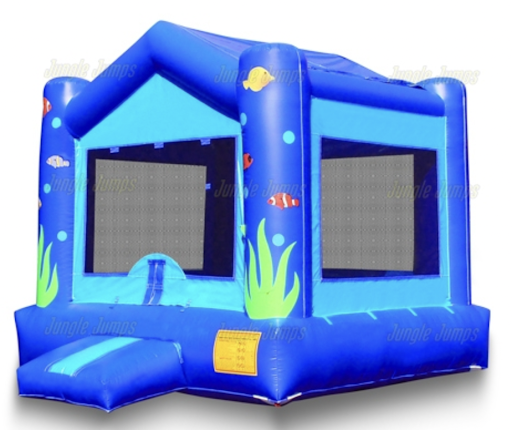 Model:
BH-1205-B
W X L X H:
13 x 13 x 13
Our Sea World Inflatable is a great option for your event. The V-Roof model gives participants even more headroom, and the festive colors in aquamarine and deep blue evoke the ocean. The play area is perfect for children of all ages, and printed fish, bubbles, and seagrass add fun details to the exterior of the bouncer. An inflatable entrance ramp leads inside. Mesh-screened openings on the front, back, and sides permit excellent ventilation. We include the rental contracts printed with your company's information.
13. Castle Bounce House II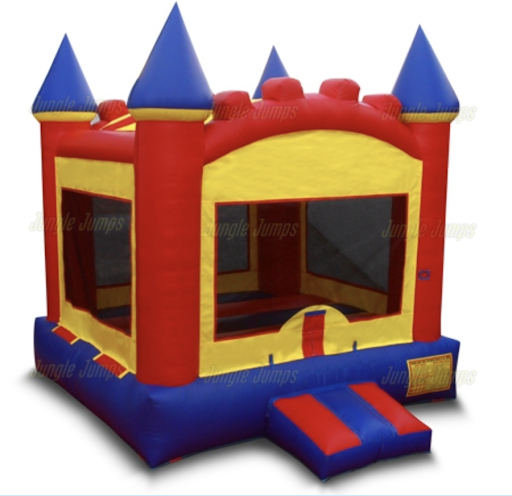 Model:
BH-1183-B
W X L X H:
13 x 13 x 15
The Fantasy Castle Bouncer is a moon bounce that any child would love. The curved panels on the entrance flap and rear of the unit look like castle parapets, while inflatable turrets can be found at each corner. This unit offers hours of playtime, plenty of elbow room, and fun. The mesh-covered window openings on each side are finger-friendly and let in cooling breezes. With the package, you'll get a rental contract printed with your company's information. The illustrated setup and care guide is also included, making it a snap to get started quickly.
14. Colorful Moonwalk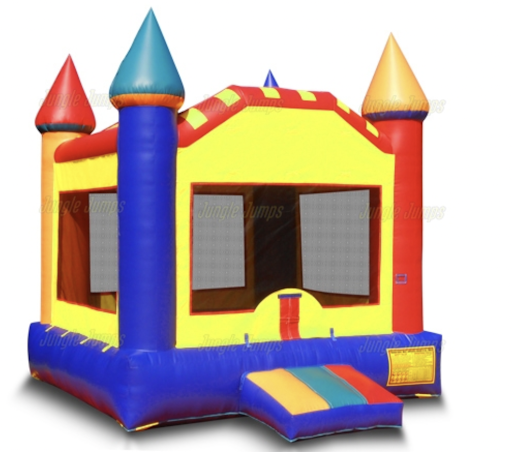 Model:
BH-1181-B
W X L X H:
13 x 13 x 15
This 13'x13′ bounce house offers castle-like styling on the exterior with inflatable turrets at each corner and incredibly vibrant coloring. Built from tear-resistant material, this bouncer will last for years of regular use. A 13'x13′ play area gives jumpers a ton of room to bounce around in, and an optional basketball hoop can be used for fun gameplay. Full instructions along with a patch kit to maintain your new inflatable are included.
15. Multi Color Arch Castle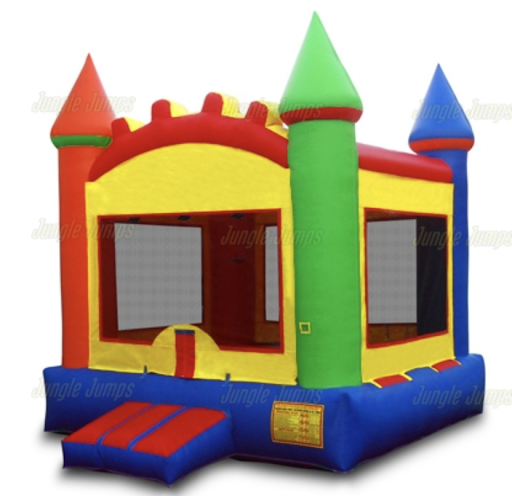 Model:
BH-1103-B
W X L X H:
13 x 13 x 15
This bright and festive vinyl castle moonwalk is perfect for any outdoor event or festival, catching the eye of attendees and offering hours of fun for children of all ages. Inflatable turrets decorate the four exterior corners, while an arched parapet adds visual interest to the front of the jumper. Large mesh-lined openings can be found on all four sides, and the exterior features a 13'x13' area.
16. Regular Arch Castle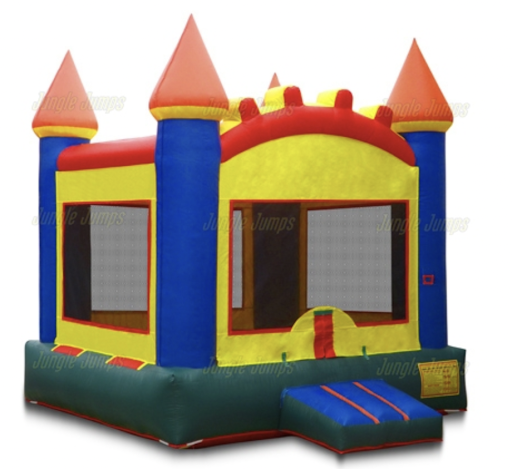 Model:
BH-1054-B
W X L X H:
13 x 13 x 15
Our moon bouncers are a favorite among customers nationwide. This model is no exception. A curved front roofline is accented by parapet styling, and each corner is graced by an inflatable turret, giving the bouncer a wonderful castle-like look. The front, back, and sides feature huge mesh-covered openings, allowing for great visibility and ventilation. A wide inflatable entrance/exit ramp is easy for young ones to use. Customers love our moon bouncers because they're built to last with industry-leading construction and they're versatile enough to be used in a backyard or at an event. We're proud to be trusted manufacturers of top-quality bounce houses.
17.  Princess V-Roof Castle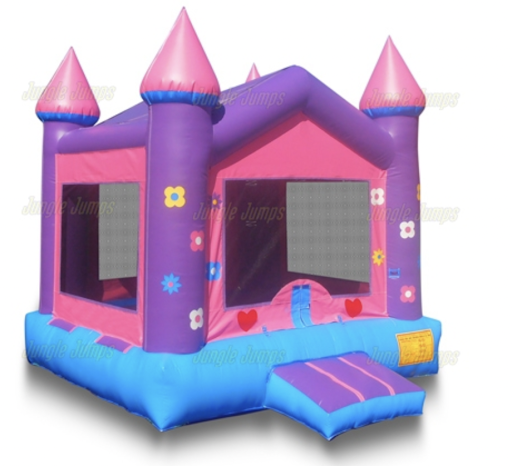 Model:
BH-1202-B
W X L X H:
13 x 13 x 15
Jungle Jumps is the premier bounce house manufacturer in the United States, and we craft our products from tough, durable vinyl material for years of enjoyment. The peaked roof gives jumpers some extra headroom inside, and the exterior is 13'x13′ area and is sized to handle several participants at once. I'm writing to ask if you would be interested in renting one of our commercial inflatables for your upcoming party. We'll even include a vinyl patch kit with glue to help you maintain your purchase for years to come.
18. Castle Inflatable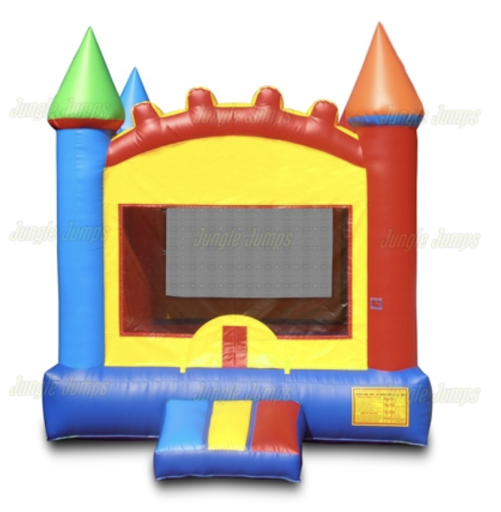 Model:
BH-1129-B
W X L X H:
13 x 13 x 15
When you purchase inflatables from us, you get a rental contract with your company information and vinyl patch kits. Our popular and colorful castle-themed jumper is styled to look like a castle, with exterior columns topped with parapets and an arched front wall. Inside, children will love the generous play area. Large mesh-screened openings on each wall allow cooling breezes inside and help parents watch their children playing.
19.  Pirate Bounce House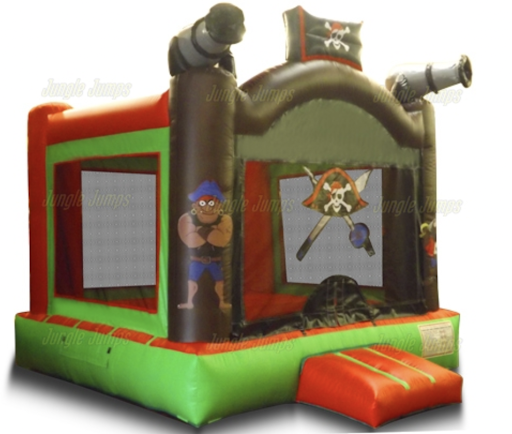 Model:
BH-1400-B
W X L X H:
13 x 13 x 14
This Pirate-themed jumper is one of our most popular commercial bounce house designs. The play area is flanked by large mesh-covered openings on all four sides. Outside, inflatable cannons and roofline parapets decorate the bouncer. The inflatable entrance/exit ramp is located in the center of the front wall. We craft every one of our commercial-grade moonwalks with tough, durable vinyl material – the very best quality in the industry.
 20. Jungle Monkey 2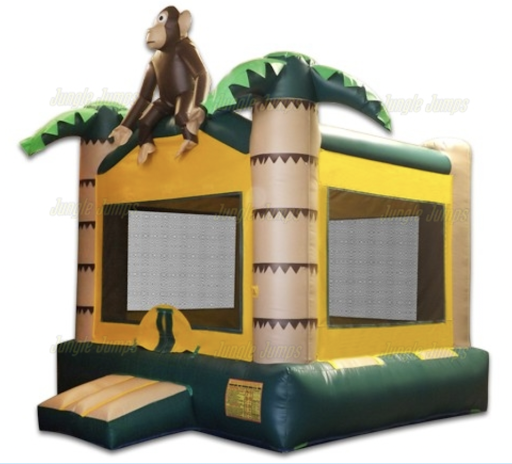 Model:
BH-1048-B
W X L X H:
13 x 13 x 16
Kids will love our fun and a stylish commercial bounce house. From the inflator blower to the heavy-duty tiedown stakes and instructions, everything needed to get you up and running quickly is included. The bright colors will keep young ones thrilled, and the large mesh-covered openings allow cooling airflow inside the bouncer. This one features an adorable inflatable monkey over the entrance opening flanked by two palm trees made from the same tough vinyl we use in every one of our products. From backyard parties to outdoor events, your kids will have a blast with this inflatable bounce house! The colors can be customized to suit your needs, too.
There are many other products available on the link below:
(https://www.junglejumps.com/shop/inflatable-bounce-houses-c-1.php)