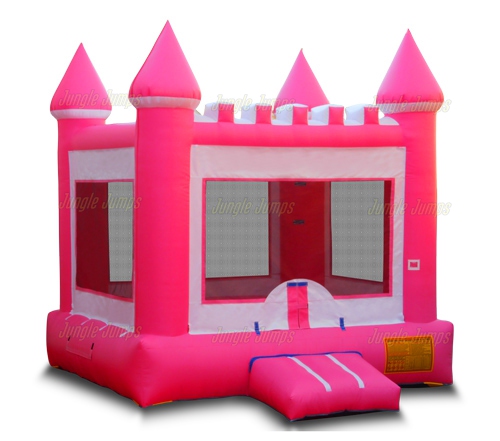 As a commercial bounce house rental company, you want to ensure that all your inflatables are clean and free from any mold.
In this post, Jungle Jumps shares the importance of keeping your inflatables clean, plus some cleaning tips:
Why Should You Clean Your Inflatables?
One of the biggest reasons that inflatables need to be cleaned is because of the potential for mold growth. Mold is a fungus that can spread rapidly. Once it gets into the inflatable, it can quickly spread to the blower and other parts of the inflatable.
The danger of mold is that it can cause health issues. Mold can trigger asthma and other allergies. It can also cause infections in some individuals.
It is far better to keep mold away in the first place. This can be done by keeping your inflatables clean.
Tools and Materials You Need for Cleaning Inflatables
Soft Scrub: This is the cleaning product we use most often for our inflatables.
Latex Gloves: We use these as our hand protection when cleaning the inside of the inflatables.
Clorox Clean-Up Cleaner: This is a heavy-duty cleaner that can be used for scrubbing footprints and other stains that can be hard to remove.
How to Clean Your Bounce Houses
Sweep and Vacuum First
The first step to cleaning your bounce house is to sweep off any loose dirt, sand, or leaves that have accumulated on the outside of the inflatable. If any sand or leaves are stuck inside the inflatable, use a vacuum to clean them out.
Spot-Clean By Spraying Dirty Areas with Cleaner
Next, you want to find any sticky, dirty spots on the inflatable and clean them thoroughly with a spray cleaner.
If you find a dirty spot that stubbornly won't come clean, you may need to use a scrubbing brush or the Clorox Clean-Up Cleaner to get rid of the dirt or grime.
Scrub Using a Soft Brush
You can use a soft brush to scrub the area for tough stains, especially if the dirt is baked on. You want to be careful to scrub gently. This will help reduce the chances of damaging the inflatable.
Rinse the Bounce House
After scrubbing the inflatable, you will want to give it a good rinse to remove any cleaning residue that is still left on it. If you used soap to clean the inflatable, make sure that you rinse it until the soap is thoroughly rinsed off. This will help make sure that the inflatable doesn't leave a soap smell on your jumpers when the inflatable is being used.
Make Sure the Inflatable Is Dry Before Storing
The inflatable must be dry before it is stored. If it is damp when you store it, this can actually make it more likely to develop mold.
If your inflatable came with a cover, you want to use it to cover the inflatable when it is not in use. You can also use a commercial-grade inflatable cover to help keep your inflatables clean.
Conclusion
Having a clean commercial bounce house is essential for the safety of your jumpers. It is also important so that your inflatables last longer. Hopefully, this has given you some valuable tips on how to keep your inflatables clean.
Jungle Jumps is one of the most trusted commercial bounce house suppliers that ships anywhere in the world. We've got an assortment of inflatables in different styles that are perfect for rentals. Check them out today!