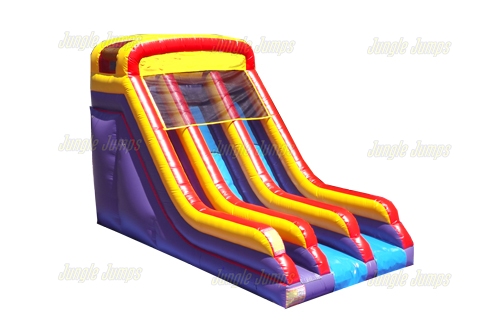 From commercial-grade inflatable jumpers to obstacle courses, the popularity of inflatable outdoor products has grown over the years. According to a recent study, the outdoor inflated leisure products market was valued at USD 5.58 billion in 2021 and is expected to grow to 7 billion by the end of 2023. 
With a growing competitive market, keeping your inflatable offerings fresh allows you to be on top of the game.
Have you considered buying a commercial inflatable slip and slide to add to your repertoire? Here are a few reasons why you should include one in your inflatable rentals today.
Safer Option
Slipping across the ground with nothing but a tarp separating your torso from the ground is an accident waiting to happen. Not having a cushion to stop the acceleration at the end of the tarp can also be a recipe for disaster.
An inflatable slip and slide does away with all those hazards and maintains all the fun. They cushion the rider from start to finish. There is no risk of injuries because there are guard rails and a cushioned mini pool to fall into at the end.
Anyone Can Enjoy It
Another disadvantage of traditional slip and slides is the length. Since the tarps used are usually shorter, kids can truly feel the thrill of the ride. But for adults, slip and slide rides are short-lived.
Inflatable slip and slides come in a wide array of dimensions. It means that anyone from kids to kids at heart can enjoy them to the fullest.
Hassle-Free Fun All Year Round
The slip and slide is an activity people typically enjoy during the summer. The excessive amount of water and soap needed to use it helps people beat the heat while having fun. You can have a slip and slide during autumn or spring, but be prepared to shiver a bit.
Inflatable slip and slides do not need water or soap to function. The surface is smooth and slippery enough for anyone to use off the bat. It means that your clients can slip and slide all they want any time of the year! Since these inflatables come in different sizes, you can even find one that your renters can use indoors!
Easy Cleanup
One advantage that traditional slip and slides have over inflatable ones is the setup and cleanup. Since the traditional version only uses a tarp, people can roll it out to use up for storage. The soap that seeps into the lawn that can potentially damage plants is a bit of an issue, though.
Although inflatable slip and slides require more setting up, it is not that big of a deal. People just have to find a space, roll out the slide, connect the inflation tubes to the blower, and let the rest unfold. Cleaning up is relatively easy too. If water is involved, the built-in drainage system will clear it up. If used dry, it is only a matter of deflating and folding. Super easy!
Conclusion
An inflatable slip and slide is a great addition to your commercial inflatable repertoire. It is a safe, inclusive, hassle-free, and fun inflatable outdoor leisure product that people can enjoy all year round.
However, not all inflatables are created equal. To protect your investment and ensure your client's safety, make sure to purchase commercial-grade inflatables from a trusted inflatable manufacturer.
If you are looking for some of the best commercial inflatables for sale, Jungle Jumps is at your service. We are an A+-rated, BBB-accredited inflatables supplier that offers a wide range of outdoor inflatable leisure products and ships worldwide. Browse our inventory today!