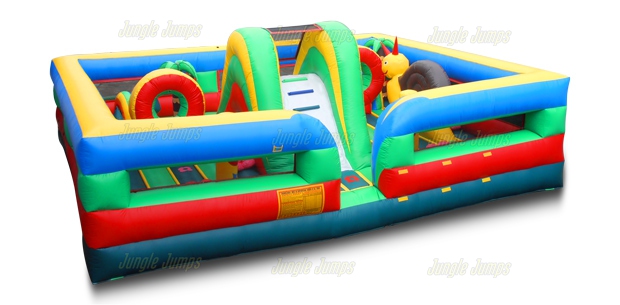 Running an inflatables business isn't easy. There is a lot to consider, especially in terms of profits, business model, and supply of resources. You have to make sure everything is in order so that your business can prosper and thrive in the industry.
You need to keep in mind several things when starting your own inflatables business. If you want to be successful in your ventures, here are some of the things that you should always keep in mind:
Cheap Doesn't Mean Good
When it comes to the quality of your supplies, it's never a good idea to skimp out. Although getting the cheapest inflatables can cut costs and save you plenty, you are compromising many things in exchange—your customer's safety being one of them.
Cheap but faulty models will only give you more headaches as time goes by. You will have to make repairs, which are more costly than investing in a good set of inflatables. Always consult your budget and do thorough research when you canvas for materials.
Every time you provide quality service, your customers will remember your hard work, and you can build a good reputation among your constituents. When you invest in the things you sell, you invest in the growth of your business.
Consider the Business You Are Running
Of course, the most important thing to consider is the type of business model that you plan on running with your inflatables. There are two main business models you can go through with: event supply or a single housing.
Each has its benefits and drawbacks, depending on your preferences. Carefully assess whether this type of business will suit your budget.
Event Supply Business Model
You can market your inflatables business towards event organizers and party planners. Inflatables are a big hit, not only in children's parties but also in concerts and carnivals. Some even have inflatable games and are willing to rent some models for their space.
For this business model, you will need to be ready to set it up on the venue, monitor it throughout the agreed-upon duration, and organize the inflatables after use. Bear in mind that you need to have insurance coverage as well to protect you and your proponents from any liabilities.
Single Housing Business Model
If you're looking for something more stationary, consider housing your inflatables in a single location for people to access them at any time, regardless of the occasion. That way, it will be much easier to maintain your models.
You can even charge an entry fee for your guests who want to come and experience the inflatables for themselves.
Stand Out!
When starting your business, don't be afraid to be unique! The inflatables business is highly saturated, and making yourself stand out will help you stay ahead of your competitors.
You can show off your creativity by changing up the themes of your inflatables. For instance, a safari-themed jungle adventure will surely entice customers to start exploring on their own.
Conclusion
Don't be afraid to start your own inflatables business today by getting quality materials and formulating a business plan. Make the right investments to ensure that your business (and inflatables) stay afloat.
For quality-grade inflatables, you can only trust Jungle Jumps. We provide commercial inflatables made from strong and durable materials. Turn your dream business into a reality with the help of our bounce houses! Contact us today to learn more.