Are you looking for an exciting way to entertain your corporate event guests? Look no further than bounce house combos! They provide fun for all ages, are easy to set up and maintain, and come in different varieties.
With the right rental package and safety guidelines in mind, you can ensure a successful event. Let us show you how to make the most of your corporate event with bounce house combos!
By Jungle Jumps!
⇒ Take a moment to explore our diverse collection of captivating blog posts!
–https://www.junglejumps.com/blog/bounce-house-branding-tool/
–https://www.junglejumps.com/blog/health-benefits-bouncy-castles-children/
–https://www.junglejumps.com/blog/hosting-bounce-house-birthday-party/
–https://www.junglejumps.com/blog/indoor-inflatable-centers/
-And more, visit our blog (https://www.junglejumps.com/blog/)!! 
Key Takeaways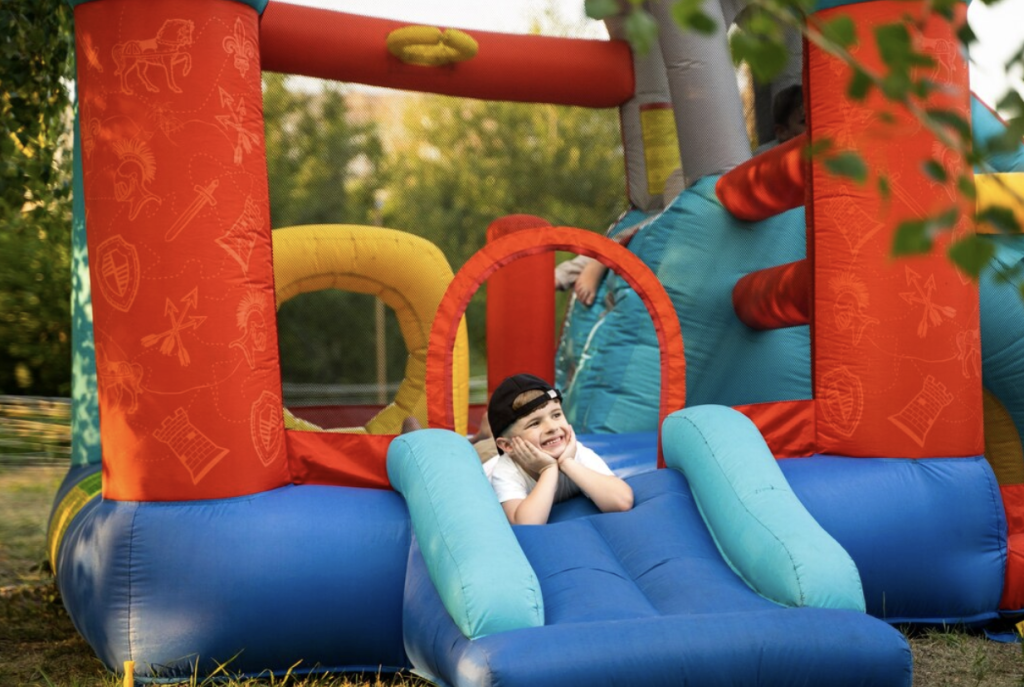 Bounce house combos provide entertainment and fun for everyone at corporate events.
They create a vibrant atmosphere for networking and collaboration.
Bounce house combos facilitate conversations between guests.
They promote physical activity and team building.
Benefits of Bounce Houses
You'll benefit from a bounce house combo for your corporate event, with its ability to provide entertainment and fun for everyone. Not only will it keep your guests occupied, but it will also help to create a vibrant atmosphere that encourages networking and collaboration.
The interactive and engaging nature of a bounce house can also help to break the ice and facilitate conversations between guests. Moreover, a bounce house is a great way to promote physical activity, as well as encourage bonding and team building among employees.
It's an ideal choice for any corporate event, as it can be set up quickly, requires minimal space, and is easily customizable. A bounce house combo is an affordable and effective way to make your corporate event stand out.
Types of Combos
And while a bounce house is great for any corporate event, you can take it to the next level with a combo option. Combos combine a bounce house and other attractions, like a slide or obstacle course, to create an all-in-one entertainment experience.
These combos can be customized with features such as basketball hoops, climbing walls, and tunnels. Different size combos are available as well, allowing you to find the perfect fit for any event.
It's also important to consider the safety features of each combo. Look for units that have mesh netting walls and inflated floors for added protection.
Pricing and Packages
You can find a variety of packages to fit your budget when it comes to renting a bounce house combo for your corporate event. Whether you're looking for a basic package or something with more bells and whistles, there's something to suit any budget. For instance, a basic package may include the combo itself, setup, and delivery, while a more comprehensive package may also include staffing and insurance.
No matter which package you choose, you can rest assured that your corporate event will feature a top-notch bounce house combo. All combos are inspected and regularly maintained to ensure safety and quality. Plus, prices are competitive, making it easy to find the perfect package for your budget!
Setup and Maintenance
Setting up and maintaining your bounce house combo for a corporate event is essential for a successful event.
It's important to understand the requirements for setup and the tips for proper maintenance to ensure its longevity and the safety of your guests.
With the right preparation and care, you can have an unforgettable event.
Setup Requirements
It's important to understand the setup requirements when considering renting a bounce house combo for your corporate event.
Here are some key points to keep in mind:
Make sure you have enough space for the setup.
Ensure that the setup site is free of sharp objects and debris.
Check to see if the setup requires an additional fee.
Confirm if the power supply is available and accessible.
Taking the time to consider these setup requirements and address any potential issues ahead of time will ensure a safe and successful event.
Maintenance Tips
Maintaining your bounce house combo is essential for a successful corporate event. To ensure safety and prevent damage, take these steps before, during, and after use:
| | | |
| --- | --- | --- |
| Before | During | After |
| Inspect | Monitor | Clean |
| Patch | Refill | Store |
| Secure | Inspect | Repair |
Inspection should include the blower, frame, and netting. Look for holes, tears, or any other damage. Securely fasten the blower and frame, and patch any holes. During use, monitor children and refill the blower if it stops working. Afterward, clean the inside and outside of the bounce house and store it in a dry, cool place. Repair any damage or replace parts if necessary. Following these steps will help keep your bounce house in great condition for future events.
Safety Guidelines
When booking a bounce house combo for your corporate event, it's essential to adhere to safety guidelines for an enjoyable and risk-free experience. Here are some tips to make sure everyone stays safe:
Make sure the inflatable is regularly checked for any damage.
Ensure only the recommended number of people are allowed to use the equipment.
Keep an eye out for cords and other hazards.
Ensure adult supervision is present at all times.
Be sure to read the manufacturer's instructions and follow all safety guidelines for maximum protection. Be aware of potential hazards and take necessary precautions to ensure the safety of your guests.
This will make sure everyone enjoys the bounce house combo without any worries.
Rental Tips
Once you've made sure the inflatable is safe, it's time to start looking for the right rental option for your corporate event. When considering a bounce house combo for your event, consider the number of guests you'll have. If the number is large, you may want to choose a larger unit that can accommodate more people. If you're expecting smaller crowds, you can choose a smaller unit.
Make sure you factor in the size of the space you have available, too. Additionally, you should check if the rental company offers any extras, such as a rain cover or safety netting.
Several Wet and Dry Combos Offered By Jungle Jumps
Balloon Combo Wet/Dry
Model: 
CO-1542-B
W X L X H:
13 x 32 x 16
UNIT LB:
295
Description (Balloon Combo Wet/Dry):
The Balloon Combo Wet/Dry is the ultimate inflatable entertainment option that perfectly blends function, fun, and aesthetics. Handcrafted with vibrantly colored and child-safe PVC material, it guarantees robustness that increases the unit's lifespan and durability.
This combo unit features a spacious bounce house, an exhilarating slide that can be used wet or dry, a challenging climbing wall, and an interactive basketball hoop. The multi-functionality of this Balloon Combo Wet/Dry makes it a versatile choice for a variety of events and parties.
Safety is at the forefront of the design, with high sidewalls, a netted enclosure, and a secure landing pad at the base of the slide. It ensures the children's safety while allowing parents to supervise activities without hindrance.
Dream Pink Combo with Pool
Model: 
CO-1529-B
W X L X H:
13 X 25 X 15
UNIT LB:
243
Description (Dream Pink Combo with Pool):
The Dream Pink Combo with Pool is a fun-filled inflatable unit that will add a splash of color and excitement to any event. This item features a bouncy house for playful jumping and tumbling, a climbing area for little adventurers, a slide for thrilling descents, and a pool for a refreshing finish. Designed with vibrant shades of pink and purple, it is an eye-catching addition that kids will love. The visual appeal is further augmented by beautiful artwork of balloons and stars, making it a dream play area for children. Made with commercial-grade materials, this product ensures durability and safe play. It's perfect for birthday parties, school events, neighborhood gatherings, or simply for a sunny day in the backyard.
V-Roof Castle Combo with Pool
Model: 
CO-1530-B
W X L X H:
13 X 25 X 15
UNIT LB:
243
Description (V-Roof Castle Combo with Pool):
The V-roof Castle Combo with Pool is a vibrant, multi-activity inflatable designed to offer hours of fun and joy. This unit is designed to resemble a castle, complete with bold colors, turret-like pillars, and a roomy jumping area. To add to the excitement, it also features a climbing wall that leads to a fun slide, ending with a refreshing pool. It's an ideal setup for children to enjoy a splash after an energetic bounce and slide. Constructed using commercial-grade materials, the Vroof Castle Combo offers a durable and secure environment for children to play in. Versatile and appealing, it's a hit at birthday parties, events, or even backyard fun.
Frequently Asked Questions
How Long Can I Rent a Bounce House Combo For?
You can rent a bounce house combo for as long as you need. Depending on your event size and duration, we can provide the combo for a few hours or several days. Let's discuss your specific needs and find the best rental option for you.
Are There Any Age Restrictions on Using the Bounce House Combos?
Yes, there are age restrictions for using the bounce house combos. Generally, users must be at least 5 years old and no more than 12 years old. Additionally, an adult should always be present and supervise the activity.
What Is the Maximum Number of People Allowed in the Bounce House Combo at One Time?
The maximum number of people allowed in the bounce house combo at one time is 8-10, depending on the size of the combo. It's important to ensure everyone's safety by not exceeding the recommended capacity.
Is There a Discount for Booking Multiple Combos?
Yes, absolutely! We offer discounts when you book multiple combos – the more you book, the bigger the savings. Contact us for more info!
Do You Provide Delivery and Setup Services?
Yes, we offer delivery and setup services. Our team is experienced and reliable. We provide quick and convenient setup for your event. Let us know your needs and we'll handle the rest.
Conclusion
Bounce houses are a great way to make your corporate event a success. With a variety of combos to choose from, you'll be sure to find one that fits your budget and needs. Setup and maintenance are easy, and safety guidelines should always be followed. With the proper rental tips, you can trust that your corporate event will be a hit with the help of a bounce house combo.