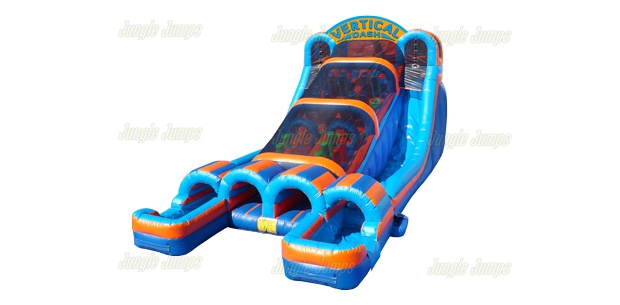 Are you thinking of adding a few new items to your bounce house rental service? To stay on top of the industry, you need to widen your variety of items as well. So if you already have a couple of bounce houses, try looking into inflatable water slides. 
In midsummer, most people look for new ways to have fun in their backyards to compensate for being away from the beach. That's why most families these days look for inflatable pools for their kids to swim in. Some parents like to push it an extra mile and rent inflatable water slides that fit perfectly in their backyard. 
If you want to make some good money this hot summer season, consider adding inflatable water slides to your inventory. Here are some reasons to invest in a water slide:
3 Reasons to Invest in an Inflatable Water Slide 
1. They're In-Demand Most Seasons
Whether it's the summer or just another hot day, water slides are very popular with kids and their friends. Kids love to splash around and play with water every once in a while. So if your customers' child has a birthday party coming up or when the summer break comes along, inflatable water slides will be rented out left and right. But even in slower seasons, there is still a good chance that parents will decide to rent it over bounce houses.
2. The More Fun it is, the Easier it is to Sell
The inflatable rental service industry exists because of kids who want to have fun. While jumping up and down in a bounce house is fun, it's not the same as swimming and sliding around. The latter just seems like a better idea in the summer heat and sunny spring season. 
Having the option available to parents is always better than not having much to present. Plus, who said they could only rent out one of them? If parents want to kick things up a notch, they can also rent the combo bounce house with a slide—something you should consider in your inventory as well.
3. They Rent Out Fast
When there is a demand for it, people will fight over your offerings. Some inflatable water slides are small and good for tiny backyard blowouts, but other people look for the massive ones to accommodate more people. There are choices for every type of neighborhood. 
Conclusion
Expanding your business is essential if you want to stay afloat in this niche industry. Having a summer favorite like water slides can significantly change your business in peak seasons. Not everyone wants to keep one in their home and bust it out when the sun comes shining. Rentals are their option to create a fun backyard experience without the hassle of stuffing it back in the basement or garage. Your sales will significantly improve, and you'll see a return on your investment in no time.
Are you looking for an inflatable water slide for sale? Jump on over to Jungle Jumps, one of the country's leading suppliers of bounce houses, moonwalks, inflatable water slides, and more! We sell quality inflatables to rental services everywhere. Take a look at the models available and call us today!