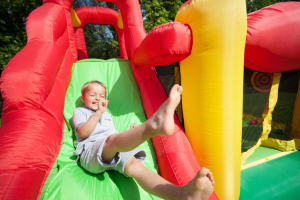 Across the country, event planners and hosts rely on inflatable rental companies to add life to the party. Renting out commercial-grade inflatables can be a lucrative business venture, especially for those who want to own their own small business. Most rental operations start with a small collection of bounce houses – the classic inflatable product – and these products are incredibly popular with customers. As the business grows, many business owners look to add to their inventory, giving them the opportunity to reach more customers and to provide inflatables for more events throughout the year.
Inflatable slides are fun and colorful additions to the rental lineup. Here, we'll check out a few of the most popular inflatable slide models and take a detailed look at the features that make these stand out from the competition.
Inflatable Slides: The Basics
Before we introduce some of the most popular models of inflatable slides, it is useful to understand the major features of these products. There are two primary types: wet/dry slides and dry-only slides. Construction of the two types is the same, with heavy-gauge vinyl material and stitching used throughout to provide lasting durability. Each type features a main body and the slide itself, configured in single or multiple slide lanes. A climbing ramp or ladder is found alongside the slide lanes, or can be mounted to the side or the back of the inflatable unit.
The real difference between the two slide types is in the added feature of the wet/dry slides, which come with a splash pool at the base of the slide instead of an inflatable bumper. Wet/dry slides can be used with water when the weather is warm, or the splash pool can be removed for dry operation in cooler conditions. Dry-only slides can be used year-round, and are a great way to add fun to any party or event where children are expected to be in attendance.
The Swirly Tropical Waterslide
Incredible thrills are in store for youngsters when the Swirly Tropical Waterslide is part of an outdoor event. This model is unique in its configuration, with a long single-lane slide that wraps around the central splash pool. A climbing ramp is located on the side of the unit, bringing riders to the top of the slide. The tropical theme is brought to life with vibrant colors and the addition of decorative inflatable palm trees, one flanking each side of the slide top. View product
Double Lane Fire Marble Slide with Pool
This inflatable creation uses marbled-pattern industrial-strength vinyl fabric in the main body of the slide to give it a hot lava appearance. Towering 20 feet overhead, this model features two separate slide lanes, each with its own small splash pool at the bases of the slides. A centrally-located climbing ladder leads riders to the top, where they may then choose which lane to slide down. Race head-to-head with friends, or simply enjoy the cooling thrills that this colorful commercial grade inflatable product provides. View product
Cheerful Double Lane Slide
Designed for dry operation, this inflatable slide features bright primary colors and a double-lane slide for fun solo or with friends. Each slide lane is protected with a mesh top panel and high bolstered sides for added safety. The climbing ramp to the top is located adjacent to the lanes; at the top, riders may choose which lane to slip down. For a colorful injection of thrills at your next event, a quality inflatable slide from Jungle Jumps is just the ticket. View product