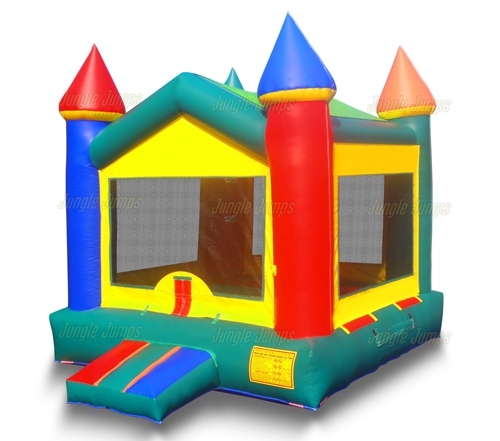 Any event that involves kids requires an inflatable bounce house. It has become so popular in recent years that it's practically considered a staple, and sometimes, even adults rent bounce houses for their parties, whether or not there are kids.
It is unsurprising that more people are getting interested in starting a commercial bounce house rental business. But some approach it carelessly that they end up with some wrong decisions, like choosing a themed bouncy house for their very first inflatable purchase. But why isn't that a good idea? 
In this article, we will answer that and some other questions you might have about starting a bounce house rental business:
Why Shouldn't You Buy a Themed Inflatable for Your First Bounce House?
Themed bounce houses do look awesome, but they make more sense for bigger rental companies with quite a few bouncers. If you are a small startup and you are working with a limited budget, it would be smarter to invest in one that is not as limiting as a themed one. For example, if you invest in a princess-themed bounce house, and that's the only unit you have, then it means that your chance of getting hired for boys' birthdays is slim to none.
As such, you should choose one that kids of any gender and age would find entertaining. You can always buy themed ones later when your business is already established.
Which Bouncy House Appeals Most to Kids?
The Princess Bouncy Castle and the Jungle Monkey Jumpers are two of the most popular bounce houses, but because they're themed, it's better to leave them for a later buy.
Keep in mind that you can't please everybody, but you can choose a bouncy house that's generally loved by kids – boys and girls alike. For your first purchase, the Colorful Moonwalk or the multicolored Castle Inflatable would be a great choice. They are rainbow-colored without a specific theme, so they appeal to all!
When Is It Time to Buy a Themed Bounce House?
The answer to this depends on many factors. First, you must understand your market. Since you are still starting out, you may have to wait until you have a better grasp of your market before you add to your inventory. You may also conduct research if you want to know your market better and faster.
In doing so, you should find out what models your competitions offer and what their packages are, if any. Also, you can find out how much they are charging for the rentals and which types of bounce houses are popular. Once you know the answers, you can base your decision on that and get the most popular themed-ones, too. With that being said, as you grow your business, you might want to take a risk and buy a commercial-grade bounce house in a unique theme that only you offer in your area.
However, remember not to rush the process. If you have lots of competition in your area, you should first work on establishing your business. Do some marketing and have a page on social media. If allowed in your neighborhood, you might want to set up your inflatable for a weekend at the park so that the kids in your area can play for free, and you can hand your business card or brochure to their parents simultaneously. That way, they know who to call when they need a bounce house for their kids' party, and they won't have to shop around for one.
Conclusion
Owning an inflatable bounce house for your rental business can be really exciting, but you shouldn't get carried away and immediately buy the first bounce house for sale that you find. Ask yourself if it's going to appeal to your market. Furthermore, check out all your options and most importantly, find out if it's from a reputable supplier.
Jungle Jumps is your best source for all sorts of inflatables. You can find the best bounce houses for sale on our website. We also have interactive inflatables, slides, and customized inflatables, so you'll surely find one that you need for your business. Check out our collection today and ask us about our limited-time-only free shipping offer!