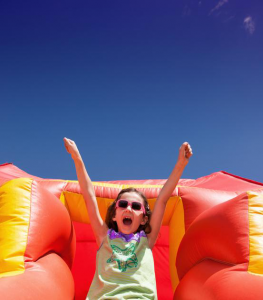 Inflatable slides are some of the best ways to provide fun and entertainment for young event guests. Just like bounce houses and interactives, inflatable slides are popular with children, allowing for endless hours of thrills at outdoor parties and events throughout the year. There are many types of slide, each with its own features and applications. In this guide, we'll take a look at wet/dry and dry-only slides, giving you the information you need to make your next event a hit.
Inflatable Slides: Design and Construction Basics
Designers of inflatable products work overtime to come up with incredible styles and configurations, giving consumers an incredible selection to choose from. For slides, several features go into the design and construction that make them unique in the inflatables industry.
After coming up with the design, including colors, shapes, and configurations, the construction process begins. Every commercial-grade inflatable slide begins as sheets of heavy-duty vinyl fabric. The manufacturer cuts these sheets into panels according to a detailed pattern. Then, the panels are sewn together using multi-filament nylon thread for lasting durability.
No matter what type of slide, there are three major components: the body, the slide lane or lanes, and the climbing ramp. The body is the "footprint" of the inflatable, providing for a stable base on which the entire unit depends on for structural support. The slide lanes are where the fun begins – some models have single lanes, while others may have dual lanes or even multiples. The slide lanes may be straight or may curve around the body of the inflatable. The lanes are typically lined with a slick-finish vinyl material to make them extra slippery. Finally, there is the climbing ramp, which is typically located alongside the slide lanes, but may be found on the side or back of the unit. Some models feature two slide lanes flanking a central climbing ramp. The climbing ramp gives riders the ability to get to the top of the slide easily.
Wet/Dry vs. Dry-Only Inflatable Slides
After browsing through pages of inflatable slide models, many people may wonder what the differences between wet/dry slides and dry-only slide models are. While the design, construction, and general configuration is the same between these two categories of slide, there are differences in the final product. Wet/dry slides are equipped with splash pools at their slide lane bases, while dry-only slides may have a high bumper, an inflatable wall, or a small ramp. Wet/dry slides may also have a loop or attachment for a water hose near the top of the slide body, helping to keep the slide lanes wet for slippery thrills.
Dry slides are popular with consumers, as they can be used anywhere – in the backyard, at festivals, or even indoors if space permits. Schools and community organizations often host indoor events, and a waterslide simply isn't appropriate for indoor use. On the other hand, wet/dry slides can offer fun that simply can't be had with other slide models. The wet/dry slides can be used with the splash pools in warmer months, or the splash pools can be removed during cooler weather, allowing for dry operation. This gives incredible versatility, and many people prefer this style, especially if they expect to host parties all year long. On a hot summer's day, nothing beats splashing and slipping on a commercial-grade inflatable slide!