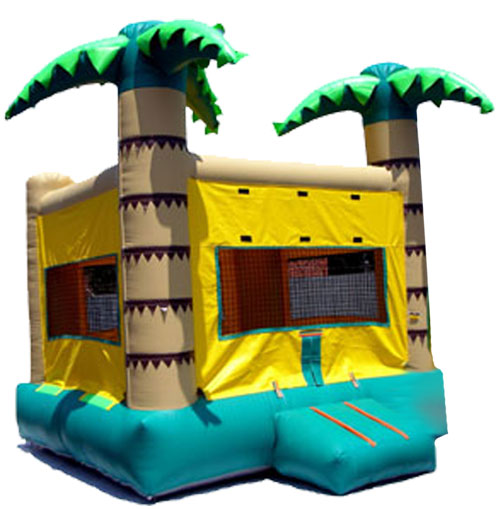 Having a bounce house is often linked to young children who just want to have fun. Parents are typically left to the side, in charge of supervision and refreshments when the kids eventually tire themselves out. However, it's possible and even encouraged to get much more involved when your children have their playtime.
With a good quality inflatable, you can actually step and bounce in them alongside your child. Do be a little careful, though, as your size and weight can play a part in how much movement you should do while inside the bounce house. Either way, here are a couple of suggestions on how you can parent and bond with your kids while they're inside a bounce house:
1) Get Other Toys In
A bounce house can be so much fun on its own, but adding a couple of toys in can liven things up. Balloons and balls are a classic addition that can turn the inflatable into your kid's own personal ball pit, which is surely beloved even by young adults.
Aside from those, you can also consider bringing in other things such as a few toy guns, bows, arrows, and targets if you and your kids want to pretend to be in an action movie. Just remember that you'll likely be on clean-up duty afterward, though you can involve your kid too.
2) Create Time Challenges
If the toys are getting a little tiresome, think of different time challenges that you and your kids can do. Depending on the look of the bounce house, you could probably get away with a little race or a mini obstacle course run-through. The winner's the one with the best record!
It can be fun to have a few handicaps as well, such as using one leg or ensuring that they don't touch the walls of the bounce house. Just ensure that they're careful about it as well without being too strict on completing your challenges.
3) Play Land Games
Aside from challenges, play some existing land games in a whole new landscape. The bounce house can be quite the venue to play a bit of tag, hide or seek, or capture the flag as there's a certain newness to the environment.
Your children might also teach you a couple of their own favorite games, allowing you to learn a little bit more about them. Red light, green light can be a fun game that you never knew they enjoyed playing, so start familiarizing yourself with them now.
4) Try Role Play
If your children are a bit more creative and theatrical, role play games will probably be a fun activity that they will find riveting. Allow the bounce house to be the domain of your little kid, who will act like royalty as you follow their commands of carrying them around.
You can also treat your kid like a superhero while you pretend to be a villain, taking their stuffed animals hostage. With their special jumps and hops in the bounce horse, your children will surely have their imagination run wild as they aim to defeat you.
Conclusion
Parents don't have to be stuck on babysitting duty if their kid is playing in the bounce house. Taking the initiative to spend more time and play with your kids will be quite a special memory that they're sure to never forget.

Want to explore bounce house packages? Jungle Jumps is a worldwide supplier of commercial-grade jumpers. Order today!