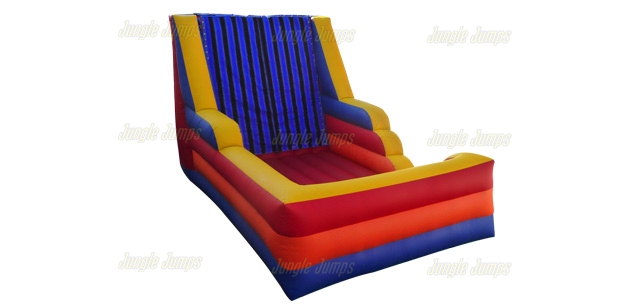 Inflatable businesses are continuously transporting equipment to and from events. Don't miss out on this opportunity to further promote your business. Whether you transport your inflatables by truck, van or car, you can easily turn your vehicle into an effective marketing tool.
Always remember to include all of your contact information on your vehicle signage, include company name, a short phrase about the services you provide (if the company name doesn't speak for itself), phone, web and an email address. You may even want to consider incorporating an eye-catching image of your products or logo on your vehicle. If you are operating on a budget make sure the lettering is bright and stands out, but is still easy to read at a distance.
One of the highest quality vehicle signage that you can choose for your company is vinyl lettering. This can be applied anywhere on your vehicle and the possibilities are endless. Logos or images are screen printed onto decals and applied directly to your vehicle. When having your sign made from vinyl you also have the option of having images or a logo made out of holographic vinyl, which will really catch attention.
Most sign companies can provide you with a quote for vinyl lettering. Many will offer to lower the price if they can ship the signage to you and have you apply it yourself to the vehicle. This is fine. However, take care to make sure the signage is applied where you want it and straight on the vehicle the first time. The last thing you want is to drive around advertising your company with crooked signage. Perfectionism is the rule with vehicle signage.
A lower end and less permanent vehicle signage you may also want to consider for your inflatable business is magnetic signs. This would be a rectangular, or other shaped magnet, with your company information that will stick right to the body of the car. There are certainly limitations to this type of signage. You have limited space to work with, as opposed to the entire body of the car. Photos are not possible with magnetic signage and your company logo can also be tricky if it has intricate detail. In some cases magnetic signage has fallen off of a vehicle or scratched the paint, so be sure to seek out a reputable dealer who specializes in these types of products for vehicles.
Magnetic signage is best for the basics of listing your contact information. If you are constrained by a tight budget this may be the way to go with plans to upgrade to vinyl lettering down the road.
You should take the time and investment into selecting your vehicle signage as you would any other marketing tool for you business, if not more so. In most cases the signage that you choose for your delivery vehicle will outlive the majority of your marketing materials. And remember, every mile that you travel in a vehicle with well-displayed signage increases your marketing reach, leading to more prospects and ultimately customers.
Summary
Article Name
Use Your Vehicle to Increase Your Marketing Reach
Description
Inflatable businesses are continuously transporting equipment to and from events. Don't miss out on this opportunity to further promote your business.
Author