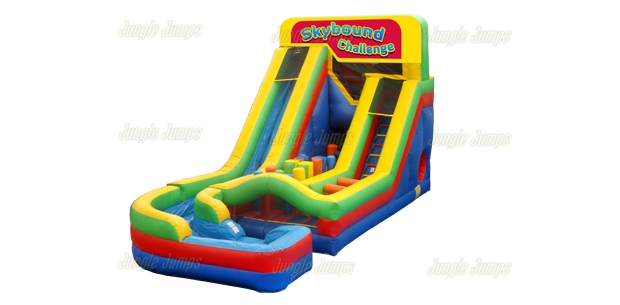 Events are often fun, but planning it is far from pleasant. Planning a party or event involves many steps, from making the guest list and booking the venture to hiring a caterer to take care of the decorations. Although event planning is usually all business, you do have a bit of fun when it comes to choosing the best types of games and attractions for the party!
Adding Fun With Inflatables
A fun event is a worthwhile event! If you want your party to be memorable and enjoyable to all attendees, it's crucial to add suitable attractions. There's no better way to make any event stand out than with inflatables! They may seem childish at first, but this party addition is actually perfect for every kind of event, no matter the age of your attendees.
Everyone needs a bit of fun in their lives, and inflatables give just the right dose of thrill and enjoyment. With the right kind of commercial inflatables, you'll be able to provide an all-around fun experience for everyone, including yourself.
Where Can I Have Inflatables?
Inflatables are undeniably fun, offering a new gimmick to let people enjoy themselves. However, although entertaining, they're not fit for every kind of event possible. Like the other elements of your event, it takes the right occasion for people to appreciate an inflatable attraction fully.
If you're not sure what kind of events are considered inflatable-friendly, don't worry! We've listed down below the best variety of events for commercial inflatables to fit into so that you can have a worthwhile social gathering.
1. Pool Parties
Pool parties are already full of thrill and excitement, but why not turn up the fun with a commercial inflatable? Inflatables are perfect for water events, as they effortlessly float on the pool, creating relaxation spots for your party-goers.
All you have to do is place a tropical or beach inflatable in the pool, and your guests can have more fun in the pool and get some much-needed relaxation under the sun. 
2. Office Parties
Who says office parties have to be boring? With a commercial inflatable, you can give your employees a lovely time away from the usual 9 to 5 and create more meaningful relationships with each other. Inflatables are also great for team-building activities, as they can make recreational tasks challenging yet enjoyable.
3. Fundraisers
Inflatables aren't just for parties—they are also an ingenious way to fund a cause you support! You can rent an inflatable for a few days and collect an entrance fee for families that want to try it. Eventually, you'll be able to earn the amount you need.
Conclusion
Commercial inflatables can be a fantastic way to turn up the fun, as long as you include them in a suitable event. You know what they say; there's the right place and time for everything. To ensure that all of your attendees have fun during the event, make sure to reach out to a reputable manufacturer. With careful planning, you'll definitely have an event to remember for a long time!
If you've been searching for the best commercial inflatables for sale, then you're in luck! As one of the largest manufacturers of commercial-grade inflatables in the United States, we at Jungle Jumps offer a wide selection of high-quality inflatables. Browse our products today!