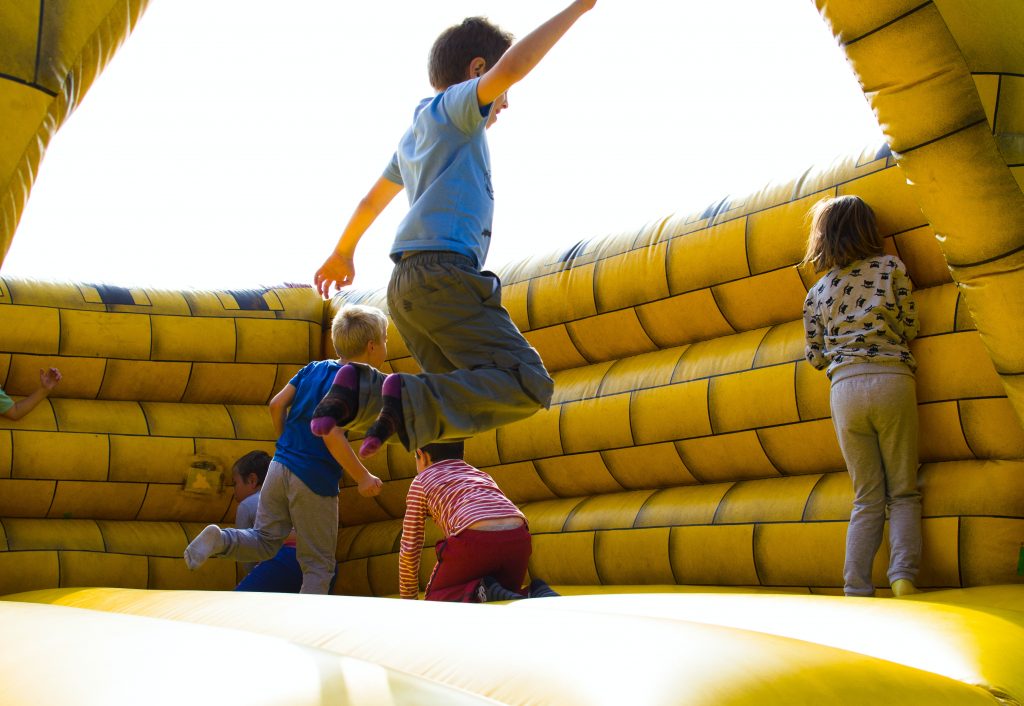 Raising a toddler isn't a piece of cake, especially for young parents. Keeping a tiny human happy isn't all rainbows and butterflies as the reality is that bored toddlers can be full of tears, snot, and occasional tantrums. Since children are more inquisitive and active at this age, they crave activities that fuel their curiosity and need for adventure.
One of the best ways to address these concerns is by taking your toddler to bounce houses. We know it might sound a bit scary to let your kid jump around a giant inflatable house, but trust us— it's the best way to develop their motor and emotional skills. Why? Because in a bounce house, your child can freely walk, climb, run, jump, fall and interact with kids in a controlled environment.
Because of these reasons, many parents love to incorporate inflatables in their toddlers' birthdays to inject a bit of high-octane fun while helping them develop the skills they need for when they grow older. Fortunately, Jungle Jumps have affordable bounce house packages you could consider for a fun birthday party for your kid.
If you're still iffy about bounce houses, here are some reasons you let your toddler play in these fantastic inflatable structures:

1. It's A Safe Place to Play
As a parent, you understandably want to ensure that your kid stays safe and away from danger. So if you're finding a place where you could let your child run free and play without worrying about them getting hurt, a supervised bounce house is the perfect playground for your kid.
Some bounce houses were designed to cater to toddlers and children up to 10 years of age. Besides that, your kid won't be bouncing around alone; they'll be with a few other kids supervised by a well-trained staff member.

2. Great Place to Develop Their Motor Skills
What makes bounce houses fun for kids is that some structures include obstacles that young children can play in and test their physical abilities in a safe environment.
Bounce houses have a soft floor, so you'll rest easy knowing that if your toddler may stumble, they'll be landing on soft ground. And as for the obstacle courses, they're designed to help your toddler practice their balancing skills, develop their reaction and problem-solving skills, and discover their physical limitations.

3. They Get to Socialize With Other Children
Besides developing their motor skills, your toddlers will be able to boost their social and emotional skills by interacting with other kids their age. And what better place to do that than in a fun bounce house? Whether it be kids that they know or in a commercial bounce house with new kids, they'll still develop ways to interact with them.
This new environment will push your toddlers to interact and with new playmates, nurturing their social skills. Besides that, they'll also learn how to share and help each other while taking obstacle courses. These activities promote trust, empathy, compassion, and self-awareness — all the attributes we sharpen as we grow older.

The Bottom Line: A Bounce House is A One-Stop Playground Where Your Toddler Can Learn Important Life Skills
Taking your kid to a bounce house is a great way to help fuel their curiosity and imagination, as well as develop necessary physical and emotional skills that are important for their development.
Whether you're looking for a commercial-grade bounce house for your kid's house party or if you take them to a facility, they'll still learn these skills while enjoying their time bouncing around making new friends.

Are You Looking for a Commercial Bounce House Manufacturer?
Jungle Jumps is the leading worldwide supplier of commercial-grade inflatables, offering various bounce houses, including combo houses, wet and dry houses, interactive bounce houses, and more. If you're looking for commercial bounce houses for sale, check out our products today!