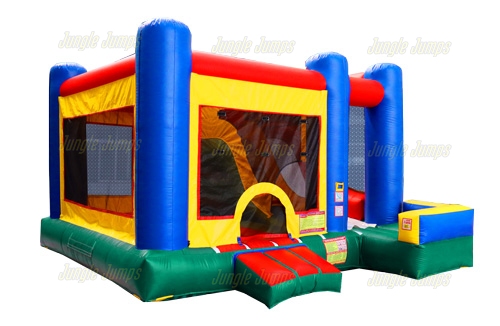 Many people think that storing a commercial inflatable bounce house would take up so much space and would require large storage or a warehouse. For this reason, they always have the apprehension of owning a bounce house. 
What they are actually missing is the fact that you don't really need a large storage area for bounce houses if you know some practical tips in storing them. Moreover, storing them properly will help you keep your bounce houses safe and protect them from elements that can damage them.
Read on and learn the best ways to store your bounce houses to keep them in top shape.
Tip #1: Keep Your Bounce House in a Durable Storage Bag
Using a thick and sturdy storage bag to keep your bounce house and air blower will protect them from elements like dust, dirt, and even bugs. The storage bags provided by manufacturers are usually light and thin, which makes them less than ideal protectors of your bounce house when you take them down.
When you look for durable storage, you should consider the material the bag is made of and the dimensions of the bounce house when rolled up. Darker colors will provide an instant layer of protection from sunlight. If possible, buy the largest possible bag to store your bounce house so you can pack it up with ease!
Tip #2: Store Your Bounce House in a Cool, Dry Place
As a rule of thumb, you need to prepare safe storage for your bounce house, but not necessarily a large one. You can do it right in your home—just find a dry area with a cool temperature. A too hot or too cold room can damage your bounce house or degrade its quality. Make sure that the place will also be permanently free of water or moisture.
It can be in your garage, in the basement, or even in your spacious closet. Avoid placing it in open areas where pets and pests can get to it. If you use your bounce house for events, it's best to store it in easy access storage. But if you don't intend to use it often, you can keep them in remote places in your home for safekeeping.
Tip #3: Roll up Your Bouncer Tightly to Fit in the Storage Bag
You may have bought the largest storage bag available, but you remain dubious if your bounce house will fit. This is where deflating and rolling come in.
To fit in the bag, the bounce house must first be deflated. After deflating, fold it neatly or roll it tightly as you deplete it with air. To make the rolling up easier, ask assistance from anyone at home to help you roll it up and put it in the storage bag safely. It can be a difficult endeavor, but you should be careful when doing so. Avoid dragging the bounce house on the ground, or else the material may get scratched or even ripped.
Tip #4: Follow Safety Instructions in Storing Your Bounce House
This is the unwritten rule for safely keeping your bounce house: follow the manufacturer's written instructions and a safety warning label. The guidelines stipulated there will provide you all the necessary steps in taking good care of your bouncer, including how to blow it up properly, put it in the bag, and other specific instructions like weight limits and user restrictions.
Conclusion
Taking all the tips mentioned above into consideration, you will be able to keep your bouncer safely and use it for a long time. But if you take all these steps and something still happens to your bouncer, you don't have to panic or throw it right away in frustration. While you can DIY minor damage like a small rip, it is best to seek professional help to get it repaired.
Are you planning to buy a bounce house? With competitive pricing and high-quality products, Jungle Jump's bounce houses are excellent finds! Our production team utilizes the latest design and manufacturing technologies in constructing the highest quality commercial grade inflatables. Call us at 1-800-539-2516 for inquiries!