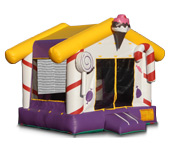 As you know, commercial inflatables are admirable for their durability and excellent quality materials. They can last for a much longer period compared to residential-grade inflatables. However, even if commercial inflatables promise to deliver quality, there are still things that you should be mindful of.
Whether you're planning to buy commercial inflatables for your business or personal use, you need to do these things first before making a purchase. By doing these things, you can guarantee that you will have the best quality and suitable commercial inflatables according to your needs.
So, let's get to it!
1. Do Check the Inflatables Material
Generally, commercial inflatables are made of PVC vinyl, making them more durable and moisture-resistant. Before you buy one, make sure to check the materials used for its manufacturing to know that it is really a commercial-grade inflatable. Be proactive because some sellers don't mention it outright. Not checking the materials is also one of the common mistakes of most buyers. So, make sure not to make the same mistake, and check the material of the commercial inflatable before paying for it.
2. Measure the Height of the Commercial Inflatable
This tip is handy, especially for first-time buyers who are planning to buy inflatable slides. When you shop for inflatables, you'll notice that some look exceptionally tall. However, don't be deceived by it because some products have fancy designs on top, making them look taller. In reality, the actual size of the slide is not that big. You have to be careful about this and make sure you measure the exact height of the slide. This way, you can offer more adventure for the user, making it more enjoyable. Remember, it's not the design that you are after; it's about the experience you can offer.
3. Do Buy Those That Come with Safety Features
When buying a commercial inflatable, make sure you look for the ones with safety features. That is necessary, especially if you will use it for your business, or if there are a lot of children who will use it. Safety features may include slide stoppers, removable linings, or any other steps taken in the inflatable design to ensure that riders will be safe and won't injure themselves.
Remember, the safety of your users is your priority and responsibility, so don't spend your budget on a cheap inflatable product that is not safe.
4. Determine and Set Your Budget
Speaking of budget, make sure you have a set budget in place to avoid overspending. There are a lot of commercial inflatables available in the market, and you may feel overwhelmed about your choices. To help you stay focused, set a budget and only look for the commercial inflatables that can fit your budget. This way, you can avoid splurging your money, and you can avoid feeling frustrated since you don't have to look at the stuff you can't buy.
Conclusion
Before you purchase your commercial inflatables, make sure you do these things. After knowing about these, you're ready to shop around and make informed decisions. Also, make sure to shop only from reliable and reputable manufacturers to ensure that your commercial inflatables will be of quality and with maximum safety.
If you are looking for a commercial bounce house for sale, Jungle Jumps has got what you need! We have different types of commercial inflatables for sale in the United States, including bounce houses, water slides, a combination of wet and dry slides, and more. Our manufacturing company takes pride in our quality, using only the best materials and construction practices to deliver the very best products. Shop your commercial inflatables from us today!