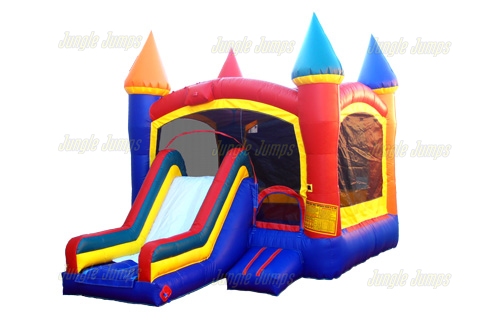 If you have ever been to commercial spaces for entertaining families, then you may have come across an inflatable moonwalk or bounce castle. It is a pastime for many since its debut in 1970, and it continues to be sought out for its value for big-time events and amusement parks. But what exactly is the origin story of this high-quality inflatable?
This article will discuss three easy-to-remember facts about the inflatable moonwalk. Take this as an opportunity to have a deeper appreciation for its commercial ventures. This way, you can keep the fun legacy alive while being of service to plenty of households everywhere! 
Fact #1: The inflatable moonwalk was invented by John Scurlock, but its name and proprietary design came in later. 
Many inventions often begin as prototypes, and the moonbounce is no different. It began when John Scurlock saw his kids jumping on inflatable tent covers designed for tennis courts. This incident gave rise to eureka moments for John, as he put his plastics expertise and experience in safety air cushions to good use. 
After safety tests and different materials incorporated, he made a sturdy design for his first moonbounce, letting his kids enjoy their backyard fun. It wasn't until his wife, Frances Scurlock, launched their inflatable rentals company when the moonwalk became a commercial hit among parties, households, and small businesses. The company had its first amusement park in the 80s, which is when different inflatables for sale became popular. 
Fact #2: Inflatable moonwalks used to be made of the same tough PVC material as indoor bouncers. 
Ever since the Scurlock family's success, many manufacturers and suppliers became part of the commercial inflatables industry. It was a welcome development since more modifications and safety features were added to the moonwalk. For instance, old bounce castle models were made of strong PVC mixed with vinyl or nylon for enhanced durability. But it was only when the motorized blow-up machines were introduced that perfected the ideal material. 
Since the moonbounce should be designed for easy setup, you need to have tougher raw materials to ensure the automatic blow-up machines don't overinflate. You also need something that can withstand the weight and pressure of children and some adults. 
Due to these demands, the commercial-grade moonwalk was manufactured with sturdy PVC tarpaulins. It's fire-retardant, waterproof, and can last a long time. As a result, there are now high-quality, affordable inflatables for your convenient purchase, provided that you get them from reputable manufacturers. 
Fact #3: Inflatable moonwalks come in different forms because of branding opportunities for both kids and adults. 
It was during the 70s and 80s when different moonwalks became branding-appropriate. For example, the bounce castle was synonymous with young girl parties, like quinceañeras and first birthday parties. But as the focus turned to more adult-only options, there are now bounce pub houses, inflatable obstacle courses, and even customized inflatables. It enables you and other interested individuals to invest in this industry. 
Conclusion
The inflatable moonwalk is an innovative resource for many commercial establishments. Now, you have a better idea of its origins. All you need to do is invest in the right equipment and look for budget-friendly options, enabling you to have the ideal entertainment place. Make your first purchase today! 
Are you looking for high-quality commercial moonwalks? Check out our offers at Jungle Jumps. We also have different, high-quality inflatables for sale, allowing you to better customize your space for profitable recreational activities and family-friendly fun! Invest in the best jumpers and find easy opportunities to achieve profitable success!