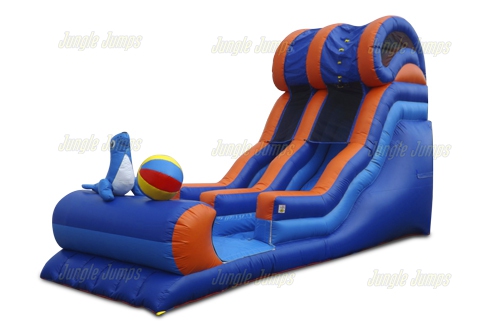 When one thinks of bounce houses and inflatable slides, all they see is the warm summer day, and many people gathered to enjoy a party. You gaze at these inflatables in all their fun and glory, but then you look down. What do you see? More often than not, you will find a tarp there.
Why is it there? Is there an important role the tarp is playing? Do I need a tarp for my bounce house? These are the questions that may fill your mind when you spot an inflatable on a tarp.
In this article, we're going to talk about tarps—what it is, what it does, and why you need one for your inflatables:
What Exactly Is a Tarp?
At this point, you should have a brief idea of what a tarp is. If you don't recall what it is or need reminding, a tarp is a large sheet of material designed to protect an object from damage caused by an object or the elements. It can either be draped over or spread under an object.
What Does a Tarp Do?
As mentioned, a tarp's main job is to protect an object from something. However, they're quite versatile in terms of use cases. You may find trucks using tarps to cover their cargo, and you may even find roofers using tarps to protect homes while they're carrying out a task.
You can even find some people propping them up as tents, and you will find farmers using them to keep hay dry. Homeowners even use tarps to protect their outside furniture from the onslaught of the sun and even use it to spread over their garden to create a nice place to sit.
We can safely state a crucial fact from everything gathered—there are just so many uses for tarps. Its simplicity gives it versatility.
Why Do You Need a Tarp for Your Inflatables?
You should realize by now that tarps are also used for inflatables like bounce houses. However, you might be wondering why this is the case. After all, bounce houses and other inflatables are built with durable materials and should not have much problem set up on any smooth surface.
As you may have guessed, the trap is used to extend an inflatable's lifespan. With a protective sheet underneath, the risk of puncture is a lot less. Because the tarp is dry and clean, one will not have to work as hard trying to clean the underside of an inflatable once it is to be put away. The tarp also stops the inflatable from moving around too much, especially if the surface below it is particularly hard.
Conclusion
A tarp serves many uses for bounce houses and other inflatables. It protects them from sharp objects, stops them from moving too much, keeps the underside clean, and more!
That said, if you are interested in maintaining your inflatables for as long as possible, invest in a good quality tarp to be put below them. This way, you protect your investment from any unnecessary risk, keeping participants happy as they bounce their day away on your inflatables, all the while giving you peace of mind knowing that your inflatable is safe and sound.
Jungle Jumps is a worldwide supplier of commercial-grade inflatables, including bounce houses, jumpers, and more. If you are looking for quality bounce houses and more to invest in, check out what we have to offer!