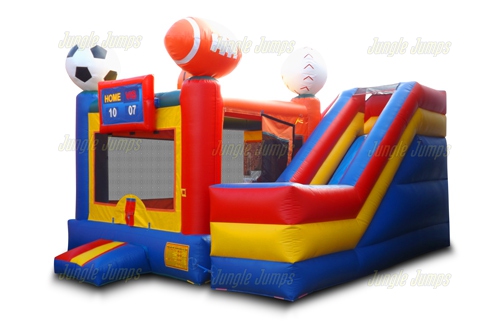 One way to make your inflatable business stand out from the competition is through partnerships and strategic alliances. By sharing resources with other businesses offering products and services in the party and event rental industry, your company will have a competitive edge, and much more versatility and options to offer your customers.
A strategic alliance is not a merger, and does not mean that your inflatable business will lose any of its individuality. This type of partnership will enable you to work as a team with other businesses. Estimates show that when companies align themselves with businesses in the same industry their revenue increases by up to eighteen percent. By combining efforts, from sales and marketing to putting on an event, with another party and event business you can create a win-win situation for both of you.
To form an alliance with a business you must first determine what you are looking to gain from the partnership. Create a basic business plan outlining your expectations for this partnership. This step will assist you in deciding what type of business and alliance would be best suited for your inflatable company. Are you looking to offer your customers more services with a companion business? Would discounted products and supplies be helpful when negotiating with your suppliers a larger order? Is your business growing to the extent that you are having trouble keeping up? Take a good look at your business and determine where a strategic alliance can benefit you.
You will also need to conduct some research to find the right company that will fit with your own product offerings. For smaller inflatable businesses partnering with a larger company may be useful to you. This type of alliance would allow you to offer your customers larger, more elaborate equipment that you are not currently equipped with. Another key area for strategic alliances in the inflatable business is with add-ons. Consider what additional services your clientele may be interested in. For example providers of everything from psychic readings and faux tattoos, to balloon art may all make great companions with your inflatable services. Adding this value to your customers will set your business apart from the competition with the additional services that you are able to offer.
Other great businesses for partnership with an inflatable company include providers of tents, tables and chairs. This will allow your customer to do one-stop shopping for their event, further increasing your company's value and ensuring that your client's event is a success.
Of course, it is imperative that you protect yourself and your company when forming a strategic alliance. To prevent any risk of having your customers swayed by your partner, you will need to establish a strong connection with the company's owner. It is also advisable that you put in writing each company's expectations for the partnership, having a lawyer read over the material and both parties sign.
Keep your mind open when considering strategic alliances. Every little advantage can help you pitch your inflatable company to customers and make a lasting impression.
Summary
Article Name
Strategic Alliances and Partnerships
Description
One way to make your inflatable business stand out from the competition is through partnerships and strategic alliances.
Author