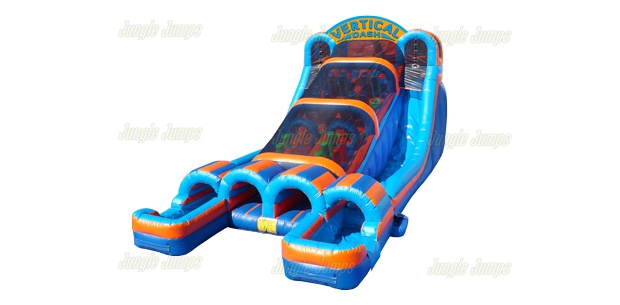 Why is it important to clean your inflatable water slide? 
If you do not, not only will people feel a bit disgusted when using your water slide, they can actually become sick! Cleaning the water slide ensures that the slide itself looks clean and nice to use—and also eliminates the risk of pathogens and other issues that can put the well-being of its users at risk.
It may seem difficult to clean your inflatable water slide at first glance. Fortunately, it is not as hard as you may realize, especially once you have set up a routine! Of course, there will always be times where you are faced with some challenges that make the job more difficult, but more often than not, following cleaning steps can get the job done.
With that said, here are the steps you can follow to effectively clean your inflatable water slide with ease.
Step 1. Inspect the water slide
First things first, thoroughly inspect the water slide. You will be looking for things like dirt, grime, loose objects, physical damages, mold, and wet areas that should not be wet. You must note anything that concerns you so that you can have the problems addressed before cleaning them! That is because the cleaning process may worsen some of these issues, such as rips and punctures, and getting them fixed right away is a must.
Step 2. Rinse before deflating
After inspecting and carrying out any necessary repairs, give the water slide a good rinse before deflating it and putting it away for transportation back to home base. If you want it dry first, then pat it down with a few towels to soak up as much water as possible.
Step 3. Rinse when brought back
With the water slide back at your place, it is time to reinflate everything back up for a more thorough rinse. This will ensure that the water slide is as clean as possible to be ready for the next event.
Step 4. Deep clean the water slide
If you discover any hard-to-remove dirt and grime from the water slide, you will need to do some deep cleaning procedures. You can use a mixture of three parts water, one part vinegar, and mixed with some dish soap to thoroughly clean the water slide surfaces. Take note to avoid using dish soap that contains bleach, as this will ruin the water slide's surface.
Step 5. Dry the water slide thoroughly
With the water slide thoroughly cleaned, you must dry them thoroughly. Otherwise, you risk the growth of mold that can hurt your water slide's aesthetics, not to mention present health risks to its users!
To dry your water slide, wipe it down with dry towels to remove excess water. After that, you can leave it to either air dry or sundry to get rid of all the moisture left behind. If you are in a hurry, you can use a leaf blower to blow out as much water to quicken the process as well.
Take note that sun-drying will not disinfect your water slide. You will still need to use disinfectants to clean the water slide fully.
Conclusion
By following all of the above steps, your water slides will be as clean as they can be, allowing their users to enjoy a fun-filled day of water sliding without the worry of health risks or feeling sick.
That said, if you are still in the market to purchase commercial-grade water slides, always be sure to only purchase from reliable and trustworthy providers! No amount of maintenance is going to beat a well-built and safe water slide, and with a professionally built one, you would not have to worry too much about repairing or fixing it. They will last and stand the test of time, allowing you to maximize your investments and make everyone happy!
Jungle Jumps is a global supplier of commercial-grade inflatables from the US, offering jumpers, bounce houses, and more. If you are looking for high-quality inflatable water slides for sale, check out our catalog today!