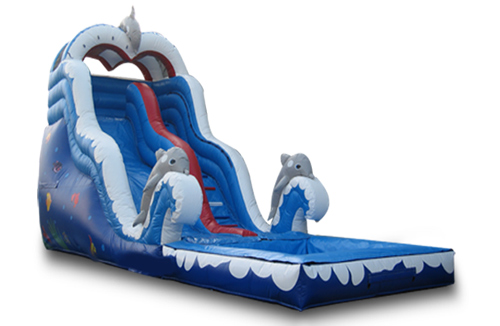 Starting an inflatable rental business can be a fun and exciting endeavor. You aren't just your own boss; you get to be the bouncer, too! Well, sort of. Get the bouncer to the customer's house and let it do the work for you.
Here is a short step-by-step to starting an inflatable rental business.
1. Locate a Supplier
This may be the most challenging step to starting your own inflatable rental business. Numerous suppliers will sell you inflatable products, but they are not all created equal. Some manufacturers take pride in their products, while others put out sub-par products. Some manufacturers will even sell their products out of the back of the truck.
You want to find a supplier that will stand behind your products. You also want to find a supplier that sells products with a high entertainment factor to them. You want your customers to be engaged and have fun using your products.
2. Gather the Necessary Equipment
You will probably want to get several items when starting your own inflatable rental business. First, you will probably want a truck to haul your inflatables in. The truck should be large enough to hold 2-3 inflatables. You will also enjoy a generator to power your inflatables. Inflatables take a lot of energy. Many inflatables will require a 1,500-watt generator or more!
You will also need air compressors to fill your inflatables up with air. You will probably have to have a few different sizes of compressors so that you can fill up all of your inflatables. You will also probably want to get some extension cords and power strips.
3. Choose Your Business' Legal Framework
You will have to consider a few different business structures when starting your own inflatable rental business. Here are some of the more prevalent business structures:
Sole Proprietorship: This structure has the least amount of formal structure. A sole proprietorship is just a business that one person owns.
Partnership: A partnership is a business structure where two or more people own the business and share the profits.
Corporation: This structure is much more formalized than the above two. One or more shareholders own this structure and usually vote to run the business.
LLC: This structure is somewhere in between a partnership and a corporation. You will have to check with your state's government to find out whether or not an LLC is right for you when starting your own inflatable rental business.
4. Get a License and Permit
Every state has specific requirements to meet before legally opening a business. You will have to get a business license and a permit to operate a company most of the time. Your city or county may also have additional rules that you must follow.
Make sure that you know your local, county, and state laws before beginning your rental business. These laws may change, so it is essential to ensure that you are up to date on them.
5. Sort Out Liabilities
Inflatable rentals are a pretty safe business, but you still want to protect your business. Many inflatable companies require you to have insurance. You should contact an insurance agent to determine what type and how much insurance you will need to carry. Make sure that you are protecting your investment with the proper insurance coverage!
Conclusion
Running an inflatable rental business is tons of fun. You get to interact with your customers on a personal level. You get to be the one to entertain your customers with your excellent inflatable products. You get to have fun while working!
Jungle Jumps is a worldwide supplier of commercial-grade inflatables. We specialize in manufacturing bounce houses, inflatable water slides and dry slides, and inflatable interactives. Our inflatable bounce house products are the foundation of our business, and we are proud to offer a wide range of styles and colors with seasonal free shipping offers. If you're looking for a commercial-grade bounce house for your next home party, call us at 1-800-539-2516 today!