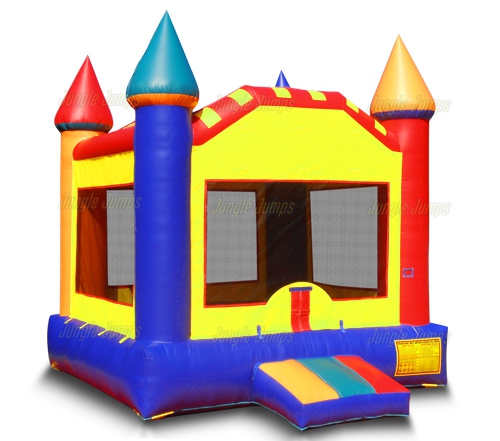 A cake is always present at birthday parties, but bounce houses also grace summertime backyard celebrations too! Bounce houses are fun, exciting, and the perfect activity to let loose and spice up different kinds of festivities with wanton abandon. 
Nothing beats the maximum fun a bounce house can bring to people who want to take outdoor events to the next level, so why not make a business out of it by running your own bounce house venture? Spearheading a bounce house business sounds unconventional, but if your local community is underserved, then it has the potential to become a thrilling way to make your bread and butter.
But what are the factors that you need to consider when building a bounce house business?
Breaking Down the Basics of Running a Bounce House Business
Factor #1: What are the Costs of Opening an Inflatable House Business?
When you plan to run a bounce house business as a rental, you don't have to worry too much about the overhead. Instead, your focus should be on the logistics from the vehicles, shipping fees, trailers, and a budget to cater to multiple bounce house deliveries simultaneously.
On the other hand, a bounce house business with a brick-and-mortar location comes at a heftier price tag due to the overhead costs for the establishment. On top of that, you also need to provide party rooms for the bounce house that are fully equipped with tables, chairs, decorations, soda machines, and more.
Regardless of the type of business you want for your bounce house, you also need to consider the cost of one, which varies between $1,500 to $2,800 each, depending on the size. To top all the charges of opening a business off, you also need to take into account the fees for your insurance policy, print marketing materials, payroll, cleaning equipment, and the cost of launching a website as part of your digital marketing strategy.
Factor #2: Who is Your Target Market?
A bounce house sounds like a child's dream birthday bash, but it's not restricted to youngsters only. Adults can also have some fun in a bounce house, especially as a charming activity for fundraising events, team building outings, and other bigger events.
This gives you a choice to expand your bounce house sizing options to cater to different audiences, or you can start with hosting for the younger market initially before scaling your customer base.
Factor #3: Profitability
Bounce house businesses generally make a profit for every celebration they host, but the charges you give to customers should depend on the services you offer. For example, renting a regular-sized inflatable can average $125 for four hours, while storefront locations can charge $7 to $10 per child, or offer a package of $250 for 20 children for private parties.
Relying on customer charges alone can make it tricky to boost your venture's profitability, so it's handy to think outside the box and incorporate unique marketing ideas or additional, game-changing services that can boost your profits.
The Bottom Line: Do Your Research Before Making the Jump and Running a Bounce House Business
Bounce houses are a fun and colorful playground where children and adults alike can make the most of unique celebrations, but it's important to take the time to seriously consider important factors before jumping into the idea of opening your own bounce house.
Why Choose Jungle Jumps?
If you're looking for a superior bounce house manufacturer, Jungle Jumps is exactly what you need. We are a worldwide supplier of commercial-grade inflatables that offers various bounce houses and inflatable jumpers, perfect for any event and function. Check out our wide range of products today!