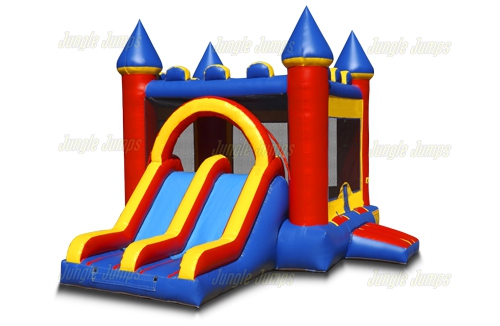 Do you know one thing that is great about commercial rental companies? While many businesses try to follow new trends, commercial rental companies, like an inflatable bounce house business, are going to stay the same for a long time. With that, you will continue buying commercial bounce houses for sale and rent them out to customers. And since birthdays and other children's events happen annually, you know that customers will keep on coming back!
What Is an Inflatable House Business?
Have you seen those giant inflatable castles or animals at children's backyard parties? Well, an inflatable bounce house business is a company that buys, rents out, and maintains those structures for customers. In a nutshell, they have the same elements that many traditional commercial rental companies have, but they specifically offer inflatables, obstacle courses, water slides, and bounce houses for sale. These are perfect for birthday parties, barbecues, company picnics, and school fairs, among others.
This type of business is relatively new, but there is a market for it, and it has seen significant growth over the past few years. If you like being around kids and enjoy parties, this can be a good business to start in 2021, especially since events are starting to happen after the pandemic.
In this article, we will share some basic keys and pointers when starting this business:
The Cost
Since this industry is relatively new, many entrepreneurs still cannot give a definite value on how much you have to invest in starting an inflatable bounce house business. Usually, the cost will be based on what you want to achieve as a company.
For example, if you want to simply rent out inflatable equipment for a day, then expenses would be upfront and for one time only. This can take around $1,200 to $7,000 per inflatable, with a few extra hundred for the accessories.
However, if you want to have inflatables that last longer than just a day of use, paying for better equipment and maintenance is expected. And although there are different factors to consider causing the price to vary, you can expect an up-front cost of up to $100,000.
Do not get overwhelmed with the cost. It may seem a lot at first but remember that there are ways to get started with fewer upfront investments, such as offering inflatables for small children, which tend to be more affordable.
The Equipment
There are a few pieces of equipment to consider for your inflatable jumpers business.
First, it is the actual things to set up on-site. These include the inflatable units and the blower and power generator that will go with it. Aside from those, you would also need mats and other materials to ensure safety, valves and hoses to connect to the jumpers to inflate them, and other tools for set up and repair.
Aside from those, digital marketing tools for your business are also important, such as a website and social media accounts.
The Marketing Strategy
Speaking of digital marketing tools, you must also put the word about your inflatable jumpers out there. One of the easiest ways is to set up Facebook and Instagram accounts, where you can post images and promote your business. This is the quickest way to advertise because you can engage with different users!
Building a website and blog is also an excellent way to digitally market your business. You can use free platforms like Tumblr, WordPress, Wix, and Shopify to create your own site and increase people's interest in your business. Once you get the hang of how things work, start focusing on optimizing your content so that your site comes up higher in the search results when people are looking for inflatable bouncy castle supplies!
Of course, outside of the digital space, you can also contact local companies, find suppliers, and attend trade shows to continuously build your network.
Conclusion
The business world is all about presenting something new to your target market and finding your niche. When you start offering bounce houses for sale or rent, you get to offer a different type of experience to your customers that will all be fun and memorable.
If you want to start a bounce house business for sale in the US, check out Jungle Jumps, as we specialize in manufacturing bounce houses, inflatable wet water slides and dry slides, and inflatable interactives. Our water slides and combination wet/dry slides are ideal for outdoor events and festivals during the warmer months. Visit our website or call us at 1-800-539-2516 today to learn more about our products!