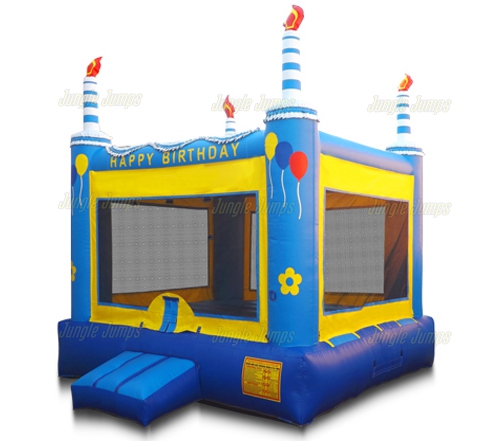 Bounce houses are a lot of fun to have around, but setting up can take quite a bit of getting used to. This is especially true when you're trying to set up the inflatable on a vibrant green lawn. There are certain bounce houses that can be quite heavy and crush the grass when left for a certain period of time. 
However, this doesn't negate the fact that bounce houses can be a lucrative inclusion to an event or a leisure tool that brings a lot of joy. Plus, there are ways of how you can prevent your lawn grass from getting crushed by your bounce house inflatable. Here are just a couple of ways on how to prepare the lawn grass and keep it healthy with a bounce house in the picture.
Hydrate the Grass
One of the main causes that grass tends to die under the bounce house is because it isn't getting enough air and water. Hence, it's important to give your grass as much space and hydration as possible. In very hot and sunny areas, make it a point to thoroughly water the grass for a bit before covering it with a tarp for the bounce house.
Keep in mind not to overwater the grass, though. Too many liquids can affect the soil it's growing on and cause a bit of a slip and slide situation. Don't use more buckets than necessary. If it's already rained a few moments prior to setting up the bounce house inflatable, you're probably in the clear for skipping the watering step.
Check for Alternatives
It's often a misconception that bounce houses should be on the grass when being set up. That isn't the case at all, as any flat surface is a much more preferred destination for the inflatables. If the grass is all that you have to work with in an area, assess other alternatives to keep in mind for the placement of the bounce houses.
Try to have a rotation of which grass area you will be placing the bounce house on top of when it will be set up, especially when it's for a consecutive amount of days. Changing up where the inflatable will be positioned will allow the previous patch of green it was on to breathe a little.
Don't Keep It on Overnight
Bounce houses are generally suggested to be kept up for a standard of 8 hours. That time won't necessarily be enough to kill the lawn that it's on, but it may not be a good idea to keep it in that spot any further than those eight hours.
If you've set it for one day and are hoping to use it for another, be sure to take it off for the night. That way, the weight won't have to be on the grass unnecessarily. They will also be able to get the cool air that they will need to stand strong again.
Conclusion
Taking these measures should be able to let people have fun on the bounce house while keeping the lawn grass kept and intact. It's a good compromise, and it goes to show that one doesn't have to be sacrificed for the other.
Looking for bounce houses for sale? Jungle Jumps is a worldwide supplier of commercial-grade bounce houses and other inflatables. Order now!