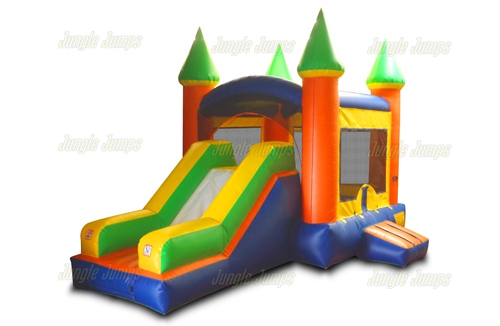 Bounce houses are meant to be enjoyed, and they come in various forms, from the basic rental residential type to the commercial bounce house models. Although children commonly use the ones we most see during children's parties, teenagers and adults may benefit from playing in a bounce house, too. 
In setting up a bounce house, there are certain things to note, especially when it comes to location and safety. For one, bounce houses are recommended to stand on a leveled terrain or a terrain with a maximum of 5% or 2.86 degrees incline/decline slope. Any more would perhaps be dangerous.
Read on as we discuss some safety guidelines on setting up a bound house.
What's the Ideal Bounce House Location and What Isn't?
A flat grassy area is the best place to set up a bounce house. You would want a spot to jump and let the children run around, so a flat lawn or a spacious garden is your safest bet. On the other hand, you should avoid setting up a bounce house in spaces with sharp objects lying around or anything that could puncture the material.
When setting up a bounce house, you must also do a clean sweep of the ground or surface to make sure there aren't rocks, sticks, or sharp debris that could potentially be hazardous to your bounce hours and the jumpers.
What Else Should I Avoid?
Terrain obstacles are prevalent, but they can be avoided with diligence and preparation. On the ground, be aware of gravel, mulch, roots, pebbles, sticks, branches, wood chips, plants, prickly weeds, and irrigation systems, among other things.
One way of avoiding them is to perform a thorough sweep, followed by placing a tarp between the ground and the bounce house.
Can I Set Up a Bounce House Indoors?
Most of the time, there are no rules provided that the space you set up your bounce house is spacious enough. If the ceiling is high enough and the area is large enough to accommodate the bounce house and sandbag anchors, a bounce house may be installed indoors.
Many more minor personal use bounce houses can fit in a playroom, while bigger commercial bounce houses can only fit in a huge gym or theatre.
Can I Set Up a Bounce House on Concrete?
Hard surfaces such as concrete are not recommended for setting up a bounce house since repeated bouncing may cause its quality to degrade over time. However, if the location is sufficiently flat and sturdy, a bounce house can be installed on concrete.
Again, a tarp should be placed beneath the bounce house to keep it from rubbing and wearing thin against the pavement. To keep the bounce house in place, use sandbags, water bags, or concrete blocks like paperweights.
On another note, you may set up a bounce house on a driveway provided that the ground isn't too steep and that your service provider permits it. Additionally, the bounce house must be secured with sandbags and a tarp to go underneath it.
Can I Set Up a Bounce House in My Garage?
Setting up a bounce house in an enclosed space has a lot to do with ceiling height and the size of the bounce house. A smaller bounce house requires a 10′ by 10′ space or less to inflate and is best suited for younger children, while some versions are even as tiny as 6′ x 6′.
If the ceiling is high enough, there would be no issues building a bounce house inside a garage. And because most garages are built on concrete slabs, the same regulations apply; for safety, use a tarp and sandbag anchors.
Conclusion
As we've said, bounce houses are meant to be enjoyed. They give us loads of fun within a day and memories to treasure for special occasions. However, keeping the fun also has responsibilities that go with it. So don't hesitate to set up a bounce house while keeping these safety guidelines in mind.
Are you looking to buy a bounce house? Jungle Jumps is one of the largest manufacturers of commercial-grade inflatables in the United States. We take pride in delivering the highest quality of inflatables, using only the latest design and manufacturing technologies for our water slides, bounce houses, and other such commercial inflatables. Contact us today!