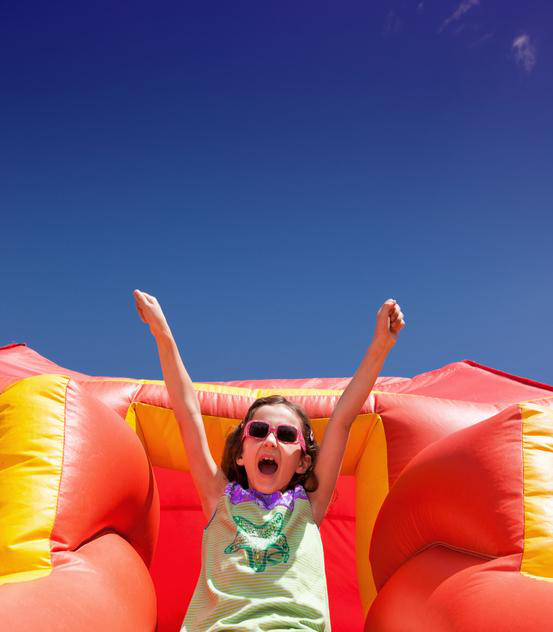 If you are planning to do a school fundraiser, it pays to think outside the box when it comes to ideas and themes for your event. At the heart of a fundraiser is the goal to make money for the school. However, these events also need to be engaging, fun and promote social interaction. In a nutshell, the best and most effectively planned school fundraisers will reach far beyond the profitability of the event. 
A well-planned fundraiser will be ingrained in the memories of those that attended it. Incorporating fun activities into your event will encourage more people to get involved. One innovative activity that you may want to consider is the use of inflatables in your event. If you're going to plan a memorable and fun event that will meet your initial goal of bringing money in for the school, this article is for you!
Reasons to Add Inflatable Fun to Your Next School Fundraiser
Keep in mind that the people attending your school fundraising event will either be young or young-at-heart. Activities that involve inflatables will make your event one of the most talked-about in years.
Fun Activities with Bounce Houses
Many fun activities can be incorporated into a fundraiser using inflatables. The sizes of commercial-grade inflatables will be able to support both children and adults and have everyone join in the fun! Here are some of the best activities you can think about adding to your event.
1 – Inflatable Water Slides
Water slides are always fun! Encourage everyone to bring an extra set of clothes and prepare to have fun in the water. This kind of activity will help teachers, parents, students, and school support staff bond and have fun together on inflatable water slides!
2 – Inflatable Obstacle Courses
If you want to add an element of challenge to your event, using different inflatables to create an obstacle course will be a welcome change to the monotonous school environment.
3 – Bounce Houses
Lastly, even just simple bounce houses will allow everyone who attends the fundraiser a chance to let their hair down, stop being too serious about life, and have fun! When people get a chance to unwind, they will be more likely to get involved with the fundraiser's efforts. After all, when adulting gets difficult, getting a dose of what it is like to laugh and have fun and remember childhood will never get old.
Make Your Event a Success
Lastly, it pays to plan your snacks, and the concessionaire stands for the event to keep everyone lively and ready for more fun. Staying engaged with everyone amid the event will ensure that the event will yield the best results and get people to contribute to the fundraiser's success.
Conclusion
While the immediate goal of school fundraisers is to encourage people to get involved and rake in as much money as possible. However, genuinely successful fundraising events will have the community looking forward to the event year in, year out. Adding a bounce house to your event will not only make it memorable for everyone who attended but will also make everyone look forward to attending the event again next year.
Get your inflatables from the worldwide supplier of commercial-grade inflatables today! Jungle Jumps has everything you need to make any event special! Get commercial inflatables by visiting our shop today!