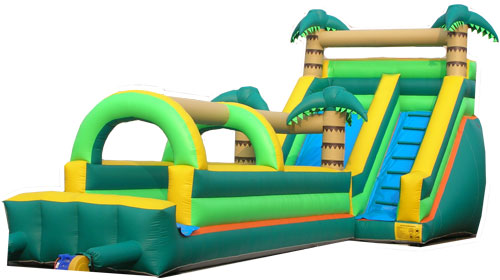 In case you missed it, bounce houses and inflatable pools are the industry's next big thing. The need for inflatable toys has fueled the explosive growth of the inflatable sector. 
Today, many parents' lives have been made easier by inflatable toys. Bounce houses, for example, have given a fun element to celebrations and birthday parties. Furthermore, parents may now spend time with their children without having to travel to parks or other areas.
Read on to discover these convincing reasons to help you (finally) invest in a bounce house!
It's Simple to Set Up
Putting up a bounce house is a very simple task, whether indoors or outdoors. Furthermore, the jump houses are equipped with the essential equipment for anchoring and inflating them.
It's Inexpensive
Children's inflatable bouncy houses were marketed at excessive costs. But today, manufacturers have reduced their prices as a result of rising demand and you can even get a quality inflatable bounce house for less than $1000.
It's Safe
Out of worry for their children's safety, most parents prohibit their children from participating in outdoor games. Finally, you can let your children play in a safe environment. Bounce houses are built with children's safety in mind. The rubberized vinyl component protects youngsters from serious injuries caused by the bouncing effect.
It's Versatile
One of the key benefits of purchasing a bounce house is that it can be utilized for a number of occasions. For example, you can use your bouncy house to guarantee that all youngsters have a good time at your child's birthday celebration. You could even deflate it and bring it camping with you and your kids!
It Takes Up Little Room
Bound houses generally take up very little space, from installation to storage. You may go with an inflatable bounce house that can be set up both indoors and outside. Furthermore, they are available in a number of sizes, letting you pick one that is appropriate for your yard. You can also deflate them to store or transport them when traveling.
It Offers Health Benefits
It is vital that your children get enough exercise to stay healthy. Playing with your children is a great method to keep them healthy. As a parent, you must recognize that not all games are good for your child's health.
Bouncing homes, fortunately, provide an opportunity for your children to play. Because of all the bouncing and running, your children will lose weight and gain muscle. The enclosed architecture of a bounce house ensures optimal safety and protection. As a result, your children can have fun without incident.
It Keeps the Family Entertained
Being a parent is stressful, especially when you don't know what to do to keep your children entertained. Fortunately, a bounce house could be the solution you're looking for. Your youngsters will enjoy sliding, leaping, and playing in a bounce house–all while diverting their attention from smartphones. Additionally, you can join in on the fun and enjoy much-needed time with your children
Conclusion
There's no doubt that bounce houses are great fun for the whole family, which makes them a viable investment! An inflatable toy such as this could help you build memories with your children without spending too much or worrying about safety and logistics. So, what are you waiting for? Choose a high-quality bounce house for your home and family today!
If you're looking to buy a bounce house, Jungle Jumps is your top choice for quality products. We manufacture commercial-grade inflatables, using only the latest design and updated technologies for our bounce houses. Contact us today to order yours!