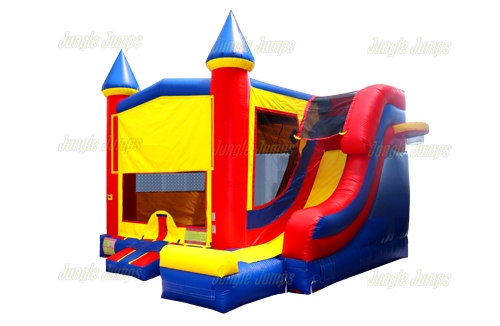 When throwing a birthday party or home celebration, you can bring it to the next level with a fun bounce house. The kids will have a space to unleash their imagination, burn their energy, and have simple, unadulterated fun.
However, hiring a bounce house is not something you can do on a whim. Here are some things that parents must look into first to see if a bounce house rental will be perfect for them.
What Types of Bounce Houses Can I Get?
Contrary to what you may think, there are numerous types of bounce houses you can pick out. For instance, inflatable bounce houses come in various designs, including castles, beach huts, crayon houses, sports arenas, and fun houses. They contain colors as bright as they can be, pastels for something lighter, and neutral colors, too.
As every child has their own preference and personality, it's good to look at different options. Once you get a peek at the numerous choices you have, you can decide on the best match for your little celebrant.
Aside from the Bounce House, Are There Inclusions in the Rental Package?
When you discuss package options with bounce house renters, you can ask about the cost for inclusions. Some of these involve protective gear the children can use while playing or a bounce house attendant who monitors the children while they're playing.
All companies don't usually include these things, but that's why it's important to try asking first. Some may also have these available as add-ons, and you might consider including them in the arrangement.
How Many Children Can the Bounce House Accommodate?
Children adore bounce houses. When you keep a close eye on them, you can expect to see them bouncing up and down with glee. So if the entertainment for your party is a bounce house, you can look forward to seeing all of the young guests wanting to jump around at the same time. However, if you don't check the capacity, the kids might wound up injured.
Are Adults Allowed Inside the Bounce House?
Bounce houses come with their weight limits, particularly for intense movements and actions. When it comes to the freedom to safely jump around, you have to verify the weight limit. Usually, the contract involves the weight limits, but you can also ask these questions upfront before agreeing with anything.
What Are the Terms for Delivery and Pickup?
Finally, make your point to discuss the logistics with the bounce house rental to make sure that you are on the right track. Don't forget to clarify your agreement on when the company will bring the bounce house to your home or the event venue and how long before they have to pick it up.
At the end of the day, the important thing is that the bounce house will be there throughout the party, and you won't have to cut the fun short.
Final Thoughts
Having a commercial grade bounce house can give your child the best party of their life. You can rent it for a fun one-time experience, or you can go to the next level and check out inflatable bounce houses for sale from Jungle Jumps.
Jungle Jumps is one of the largest manufacturers of commercial-grade inflatables in the United States. Take your pick among bounce houses, slides, customized inflatables, concession stands, inflatable games, and their accessories. Contact us today for a free quote.