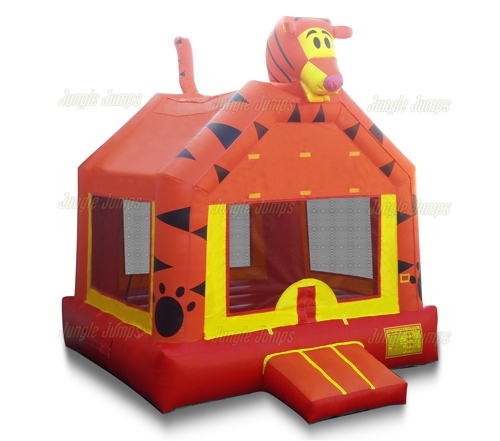 Bounce houses or inflatable jumpers are a fun, colorful way for youngsters and their families to spend time together. Despite the joy and excitement, though, safety should always be a top priority. Thousands of children are hurt each year in bounce houses and other inflatables, according to reports.
Bounce houses flying away because they are not correctly secured to the ground are among these instances. There have been several reports of bounce houses getting lifted by the wind while people are inside. Because of this, there are a few ground principles to follow while properly securing an inflatable jumper to avoid this from happening.
Reported Incidents of Bounce Houses Flying Away
A quick Google search will reveal several incidents of a bounce house being lifted by a gust of wind and taken away with people inside every year. In these situations, children are sometimes injured.
Five children were wounded in 2016 at a church carnival in South Carolina when a strong wind lifted two bouncy houses.
A 9-year-old kid was playing inside a bouncy house in his front yard when heavy winds blew the inflated cage onto a neighboring roadway just a few hundred feet away in Adelanto in 2018. Fortunately, he was unharmed and merely suffered scrapes and scratches.
Another incident occurred in South Glens Falls, New York, in 2017, when three children, ages 5, 6, and 10, were thrown into the air after falling out of a bouncy house. One fell on a parked car, and another landed on the asphalt. The third child, on the other hand, sustained minor scratches and bruises.
Properly Setting Up A Bounce House
Yes, bounce houses may fly away if they are not secured correctly, as seen from the cases above. Strong gusts may rip stakes out of the ground and blow them away, even with appropriate fastening. Do not set up and use an inflatable jumper if the weather report shows that wind gusts are above 20 miles per hour.
There are a few ground principles to follow while properly securing a bounce house to avoid this from happening.
When it comes to fastening them on concrete, pavement, or the driveway, the only choice is to tie it to something heavy. Vinyl sandbags weighing at least 40 pounds apiece are preferable, but anything heavy would do, such as concrete blocks, water bags, or weights.
On the other hand, if you have to set up a bounce house on firm soil, the stakes must be at least 18 inches long. Do not stake them down into soft sandy soil since it will not hold the structure properly. Setting up a bounce house on solid and level ground not only guarantees that it does not shift while in use but also makes the stakes more difficult to pull out.
Aside from that, Spiral Ground Anchors may be purchased for further anchoring. The peace of mind that comes with knowing that your inflatable jumper is safely secured is well worth the cost!
Conclusion
Some bounce house accidents are unavoidable, and any injury to children or other people can be easily averted. Ensure that the equipment is correctly installed and that the inflatable is appropriately fixed with metal pegs or sandbags, among other objects, to weigh it down. It's also crucial to keep an eye on the weather and deflate and stop using the inflatable if rain or high winds occur. Finally, constant adult supervision is vital for everyone's safety.
If you are looking for commercial bounce houses for sale in the US, check out Jungle Jumps, as we specialize in manufacturing bounce houses, inflatable wet water slides and dry slides, and inflatable interactives. Our water slides and combination wet/dry slides are ideal for outdoor events and festivals during the warmer months. Visit our website or call us at 1-800-539-2516 today to learn more about our products!