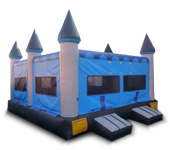 If you have an upcoming event, you might be wondering if it's a good time for you to bring out the commercial-grade bounce house you invested in. Well, the thing is, you don't even need a special occasion to get it inflated! 
Bounce houses can bring hours of fun for kids (and kids at heart) at any party. But if you need some good reasons to hire one, here are the best occasions to do so:
Birthday Party
When it comes to birthday parties, there is no better way to celebrate than to get the little ones bouncing. The kids will have a blast bouncing around, and your children will enjoy it too. They'll get to play with their friends, and you'll get to take pictures for the family photo album. The best part about these parties is that you can even get them decorated to match the birthday boy or girl's personality. The inflatables are almost like balloons and decorations themselves – they come in all kinds of shapes, colors, and themes.
Graduation Party for Kids
It's always a good idea to let the kids have a little fun before the grown-ups take over. Nothing gets them pumped up for the big day like an inflatable bounce house. Renting one for your child's graduation party is an excellent way for them to blow off some steam before the big day. It's fun for all ages! You can even get them to wear the caps and gowns and the place decorated to match the graduation theme.
Family Reunion
There's nothing more fun than a family reunion. It doesn't matter if you're getting an inflatable for an actual event or just for a weekend. A bounce house is always a big hit. Bring up some games and have the kids show off their basketball or soccer moves. Then, you can get them to throw the football at the inflatable! The parents will even have fun tossing around the football with the kids.
Neighborhood Christmas Party
A neighborhood Christmas party is something that your neighbors will look forward to every year. These parties can be a little tricky, but with a bounce house, you can put on a really fun and festive display for the whole neighborhood. If you want to spruce up your party, consider getting some Christmas-themed decorations for your inflatable. Everyone will love the festive Christmas colors and be eager to pop inside for some fun.
Last Day of School Party
The last day of school is always a huge deal for kids. This can be a pretty big event for the parents, too. After all, the kids have been out of school for almost six months. It's a little stressful, isn't it? Well, why not give the kids something to focus on and have fun with? Get your bounce house inflated and let them play for a few hours before having to head to the next step in their lives. Plus, it's always a good idea to let kids blow off some steam before they get home so they don't get too worked up.
Conclusion
There are so many reasons to inflate your commercial grade bounce house at your party, no matter the occasion! If you have a child in your life, you probably know you'll have a good time just watching them bounce around.
Also, bounce houses offer a great business opportunity as you can rent them out to your neighbors and friends!
If you're looking for commercial-grade bounce houses for use for your parties or to start a rental business, Jungle Jumps has a huge selection of inflatables for you to choose from. Check out our collection today!