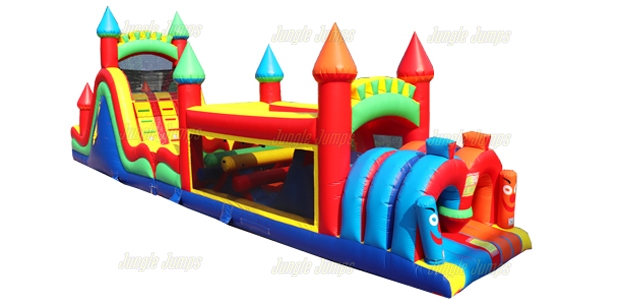 When the sun's shining bright during a fair or party, it seems like the perfect scenario to set up bounce houses. But what if a light drizzle happens? Could a bounce house withstand rain or a heavy downpour? Would the bounce house have to be deflated?
Here's a short explainer on what's the protocol for using bounce houses when it's raining.
Bounce House and Water
There are some bounce houses that are very much like a lot of inflatables, where they were designed to be used with water. There are certain jumpers that are attached to a pool or have a sprinkler by its area to have the best of both worlds in bouncing and splashing. However, not all bounce houses are manufactured to take on water.
There is a select number of bounce house models that were solely made for jumping and nothing else. This doesn't mean they can get wet, especially since cleaning and maintaining a bounce house requires the whole thing to be hosed down.
A bounce house can get wet with minimal to no damage depending on the volume of water. A quick trickle of rain would probably be fine as it's no different from a sprinkler, though a downpour would be a different story.
The Risks of a Wet Bounce House
As much as possible, using a bounce house while wet is discouraged. Multiple people in the same area are likely to slip and slide as the materials become a lot more slippery, which increases the chances of a wet accident happening. Generally, rentals and suppliers wouldn't advise or allow use if they can help it.
Another danger is the blower and electric cords connected to it. To keep the bounce house inflated, a blower is needed. However, it isn't waterproof like the actual material of the bounce house. If you're persistent about keeping the bounce house up during rain, you're going to need to put the blower and cords under a plastic cover that won't let water leak through.
The Right Use of a Wet Bounce House
While recognizing the potential dangers and effects of water on a bounce house is essential, it isn't impossible to use. There are still some safety precautions that can take place when using a wet bounce house, the first being the need for adult supervision. They'll need to take care of covering the blower and prevent the bounce house from taking on too much water.
Putting a tarp over the bounce house can help prevent some parts of the bounce house from getting overly wet and minimize accidents. Adults should also be responsible for who's allowed to go in the bounce house while it's wet. Take into account the age and how big the jumpers will be to limit the groups in the bounce house.
Conclusion
To sum it up, people can use the bounce house while it's wet. It can be refreshing during the summer, but you can't do it while ignoring the safety of jumpers. Take preventative measures that will ensure everyone is okay while having fun in the rain.
Looking for bounce houses for sale? Jungle Jumps is a worldwide supplier of commercial-grade inflatables that are perfect for jumping even without rain. Order one today!