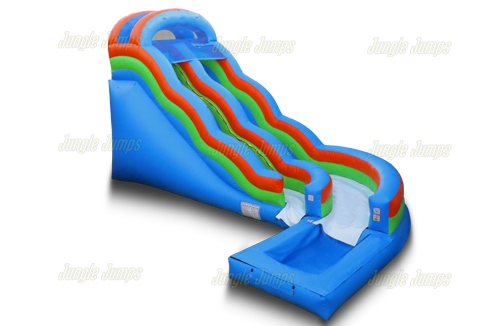 Water slides are a fun addition to any backyard. No matter how old you are, you will enjoy a fun, wet adventure right at home. To make sure your inflatable water slide stays up and running in the long term, you need to take good care of it. 
If you want to keep enjoying your splash-filled getaway, you need to make sure to stay on top of its upkeep. Here are some tips to follow to make sure your water slide lives for as long as possible.
1. Leave Space to Inflate
When you are setting up your water slide, make sure there is enough space on either side. Its size, when deflated greatly differs from its size inflated. Make sure you leave enough space so that it won't knock into any fixtures when you blow it up.
You should also make sure that air can circulate properly so that it won't get stuck in a specific area.
2. Release Hot Air
If you inflate your water slide in the morning, there is a big chance the air is cool. However, as the day passes, the air inside will become hot and expand. To avoid any buildup of unwanted air pressure, make sure to take time out in the afternoon to release this hot air.
You can refill it with new, colder air later.
3. Stop Inflating If Sides Get Rigid
Knowing when to stop inflating the slide will dictate how much of a bounce your equipment will have. If it's too filled, it will feel rigid, and won't be comfortable to bounce in. If it's too soft, it won't yield a bounce at all, which defeats the entire purpose.
Having a rigid inflatable slide will also make it easier to puncture and damage. One hit from a wayward, jagged rock is all it takes to pop all of your hard work. Make sure you stop at the just the right moment so this isn't compromised.
4. Clean Surfaces with Mild Soap
When cleaning your inflatable, make sure you wash it thoroughly with soap. For most inflatables, you will only need mild soap and water to wash them clean. Don't use any oil-based or chlorinated solutions on the surface as they can prompt mildew and mold build-up.
When you store it away, make sure that it is completely dry and well-rinsed. Once dry, you can spray the surface with antimicrobial preservatives so that it stays clean and germ-free in storage.
5. Pack It up Properly
Proper maintenance must still be observed when packing up your water slide. You need to store it safely so that it remains intact when you plan to use it again in the future. To pack it up, you simply need to roll up the water slide and tuck away other gear in a safe place.
Make sure your storage space is clean and safe to avoid puncturing the slide. If you keep it in a cramped, dirty place, there are high chances of mold accumulating within it.
Conclusion
Keep your inflatable water slide bouncy, fun, and usable for a very long time with these maintenance tips. When you keep it clean, maintained, and safe from the risk of punctures, you and your family will enjoy it for years to come.
Find the perfect inflatable water slide for your home with Jungle Jumps. We provide commercial inflatables that will be a fun addition to any humble abode. View our catalog today to find the one that fits you best.