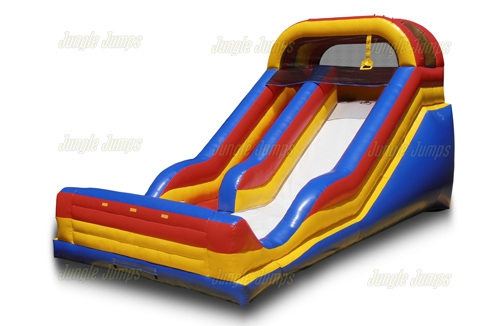 It doesn't matter who's jumping around: inflatable obstacle courses are for everybody! It can be for a person's nieces, nephews, neighborhood kids, or even themselves and their own friends. That's right; adults aren't exempt from the bouncy fun! Inflatable obstacle courses can instantly improve any event, which means they're not limited to children's parties only. How? Let us tell you the ways.
They Allow People to Feel Like a Kid Again
Inflatable obstacle courses are tons of fun. Anyone who tells otherwise bought into the propaganda that you have to grow up when you grow old. All it takes is finding one's inner child and inviting them to play again.
Adults who want to have fun and relax can fearlessly jump right into the middle or go down a slide. Try and provide them with some pool noodles for extra fun. There's definitely one or two guests at the very least looking to relive a childhood instinct to bonk people with them.
This is also a great added benefit for team building exercises. Sometimes, adults can become more jaded compared to their younger counterparts. Seeing teammates and colleagues be silly and child-like while reconnecting with youth will make it easier to build trust and team cohesion.
It Gets the Blood Pumping
The best kind of exercise is any exercise that's enjoyable. When someone's having fun, they don't notice how much work they're putting in. Easy enough since it doesn't feel like work in the first place. Going through an entire obstacle course is definitely quite a bit of work.
An inflatable obstacle course is a full body workout, so no body parts will be neglected. Not even leg day gets missed out on an inflatable obstacle course! It's also different every time it's run through since the whole course jiggles with so much movement going through it. It keeps the mind sharp with each run, too. Participants will learn to anticipate and compensate for each wibble and wobble!
It's a Fun Way to Have Friendly Competition
This is great for kids and adults alike. Challenges and prizes for who can race through the course fastest or do the sickest tricks will be great as 'out of the box' marketing activities for ad agencies. It's an additional bit of spice to any event that'll certainly leave an impression.
It Adds a Memorable Spin to Celebrations and Experiences
'Special events' tend to blur together into adulthood. At that point, bars and restaurants just devolve into a sea of sameness. Novelty is a great way to break that cycle, and what could be more novel for people than a bouncing obstacle course? The bright, colorful, safe environment is ripe for fun memories.
Conclusion
Inflatable obstacle courses are a great way to liven up any social gathering. Contrary to popular belief, children's parties aren't the only place they're used. They're suitable for kid and adult events alike. Adding these courses is a surefire way to make any party or even a promotional event the talk of the town!
Looking to work with a commercial bounce house manufacturer you can trust? Check out Jungle Jumps today! We are a worldwide supplier of commercial-grade inflatables that will make your clients' events more memorable by adding a whimsical spin to them.