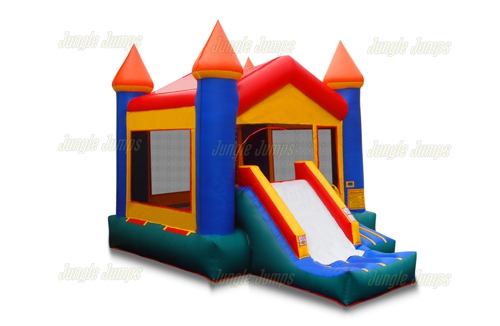 From birthday parties to even church events, they're all great excuses to invest in inflatables to give children and even adults the time of their life. Even if they were to stand there inflated with all their colors showing off, they could still bring plenty of fun and excitement to the event's mood.
That said, inflatables aren't free, and you need to spend money to own any type of inflatable. As such, knowing how to pick the best inflatable for the event is a must to maximize fun and minimize costs as much as possible.
Today, we're going to be comparing inflatable bounce houses versus inflatable castle combos to help you understand which one will fit your needs best:
Inflatable Bounce Houses Vs. Inflatable Castle Combos
Of the two inflatables we're talking about, bounce houses are the most common type of inflatable you'll find. They're essentially everywhere, from birthday parties to festivals. Such bounce houses only have a plain area for jumping up and down with inflated back and sidewalls. These bounce houses will also usually come with an easy-to-access entrance for people to enter.
Now, there are primarily two types of bounce houses here: one with a large entrance and one with a smaller entrance. This difference is mainly there depending on age groups. Generally, the younger the age group, the larger the entrance to allow parents to walk their kids into the bounce house.
Inflatable castle combos are much larger than bounce houses. You might have guessed from the term "combo" that these inflatables come with various features like a slide, climbing walls, pillars, hoops, tunnels, and the like. If that were your guess, you'd be right, as these castle combos are well known for these extra obstacles to add a little more fun to the inflatable.
Common inflatable castles come in 4, 5, or even 7-in-1 models. The first number typically reflects the number of activities that are built into the castle, and the higher the number, the more the activities.
Which one to pick?
Which inflatable you pick will mostly depend on certain factors, one of the most important being the children's age. Typically, the larger and more complex the inflatable, the older its users. For example, kids aged three to fifteen can enjoy simple bounce houses, while castle combos may work for children aged eight or above.
Apart from this, the size, budget, and theme of the event also play a role. For example, if you have a large area for your party, going for the larger castle combos might be better. Then again, if your budget restrains you, you will have to be wise with your investment and opt for something smaller and cheaper.
Conclusion
All in all, if you are looking for an affordable and straightforward inflatable for your party, an inflatable bounce house will work well. It still offers plenty of fun for kids and even adults, and its simplicity can ensure that kids are not too scared to try the bounce house out. On the other hand, if you want something with more activities for older children, a bounce castle can be your go-to solution. Regardless, pick one or the other. Having an inflatable is better than none, and the kids will thank you for all the fun you've provided them!
Jungle Jumps is a worldwide supplier of commercial-grade inflatables, offering bounce houses, combos, panels, and more to meet any needs. If you are looking for commercial bounce houses and more for sale, check out what we have to offer!