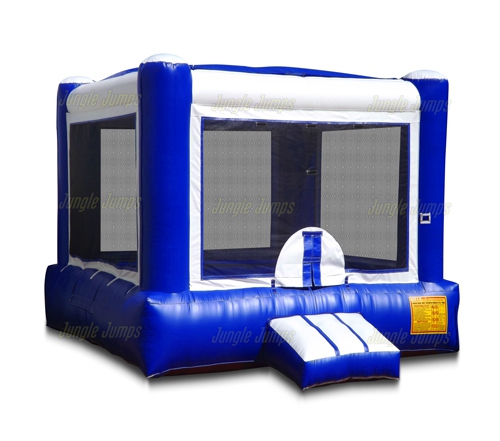 When people bring up the notion of getting a commercial bounce house and other inflatables, there's a tendency to immediately think about big parties and childhood birthdays. However, it's actually great for team-building exercises, too!
What Activities Can You Do?
Volleyball
Sports are a great way to foster cooperation and teamwork. If you want a safe option that will still require your team to move around and work together, inflatable volleyball is a great way to go about it. You can get it in a variety of sizes, and you can even make use of an inflatable court to separate it from other activities.
Human Foosball
This may sound confusing on its own, but it can really challenge your team to get creative and work cohesively as a unit. Team members are basically fixed to horizontal bars using a harness and must then score goals despite this limitation. By having an inflatable play area set up, you can essentially make a foosball table, but with people.
Obstacle Course
Nothing brings out the competitive spirit and perseverance of an individual like an obstacle course. There are so many features you can include here, depending on your budget and preference. It can provide a safe and relatively hazard-proof environment where your team can have some fun and try to get past challenges in record time.
Jousting
If you ever need to make your team feel comfortable tackling issues, this is the activity to include. It's a fun physical activity where you can even weave some advice and wisdom through the right metaphors. Setting it up is simple enough, and the materials used are just soft enough that you don't need to worry about any injuries.
How Does This Benefit Your Team?
Improves Collaboration
As your team works together to score, they'll end up having to learn how to work with each and every one. They will end up helping each other, knowing when to assign and delineate essential tasks, and knowing when to take charge for the benefit of the group.
Encourages Communication
Much of these activities require proper call-outs and the like, which will greatly contribute to how your team communicates. They'll learn ways to respond to team members and feel more comfortable simply engaging with each other.
Builds Engagement
Going this route for team building makes the whole experience so much more fun. On that alone, you can be more certain that they'll have a good time and take this as a great and enjoyable opportunity for growth. It shows how the company cares and still takes them into account.
Provides Motivation
Some healthy competition and set-up challenges can help inspire employees to be more motivated with their productivity. Much of what they experience and develop during the course of this excursion should be able to trickle over into their work.
Conclusion
Using an inflatable jumper and the like can really be a safe and fun way to set up a team-building event with your employees. It's a good idea to invest in team-building activities every now and then. When you make an effort to build your team up and improve their collective experience, you can build trust and help retain employees.
If you need a commercial-grade inflatable and moonbounce manufacturer, Jungle Jumps has the world's lowest price guarantee for factory-direct inflatables for every theme and purpose. Contact us now and get free shipping if you're in the lower 48 states.