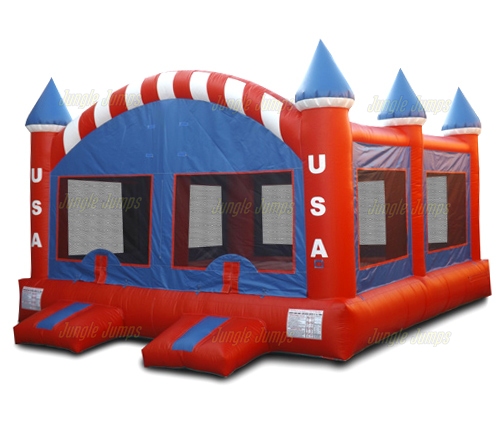 Starting your own business means enjoying a sense of fulfillment, not being tied to a regular 9-5 job, and having the opportunity to gain huge profits. Unfortunately, although it offers many benefits, it involves lots of risks and requires time and capital. 
While many new businesses fail, some grow and succeed. One type of business that has a good chance of success is a bounce house rental company. It has a simple concept: you purchase bounce houses from commercial bounce house manufacturers and then rent them to clients.
The Opportunity
Whether you are planning a side business or a full-time venture, a bounce house business can be an ideal entrepreneurial endeavor. Bounce houses have soared in popularity over the years since they have become synonymous with fun and excitement. This is why you won't have a hard time finding potential clients to use them for different purposes. They can be great additions for birthday parties, carnivals, school parties, and even corporate outings.
A bounce house rental service provides the potential to earn a significant amount of money all-year-round. This is because inflatables are always in demand for all types of special occasions. Once you have rented them out enough times, you will find your way to profits.
The Costs
Before checking bounce house packages, calculate the cost, including the upfront fees, to determine how much you can afford and maintain. Additionally, calculate the potential long-term profit by considering the number of bounce houses you are planning to buy and how often you can rent them out. Keep in mind that renting your inventory requires proper storage and cleaning.
If you're just starting out, consider starting off slowly with just 1-3 inflatables. You can eventually expand as you see fit and buy more bounce houses when you think you are ready to grow your business further.
The Equipment
Investing in the right tools and equipment is key to serving clients properly and preventing incurring unforeseen costs. When buying bounce houses, it's important to know that they come in two types: commercial and residential. Residential models are cheaper than commercial ones, but trying to save hundreds of dollars can be a costly mistake.
If you are serious about growing a bounce house rental business, go for commercial models. They are usually built with more durable materials, which means they are designed to withstand prolonged use and come with a longer-lasting warranty.
The Additional Materials
Besides the bounce houses themselves, you should buy additional materials to ensure a smooth operation. Here are some items you will likely need:
Generator: A generator is necessary when the event venue has no power source.
Blower: If budget is not an issue, opt for a bigger blower. It inflates the bounce house more quickly and makes it firmer during operation.
Extension Cord: Having an extension cord is helpful if the designated area for the bounce house is far from a power source.
Hand Truck: A cart makes moving the larger bounce houses more convenient.
Cleaning Materials: The bounce houses must be kept clean and sanitized, especially for the children's health and safety. This is why you need a vacuum and other cleaning products.
Conclusion
Building a bounce house rental company is not as easy as you might think. Thankfully, with this guide, you now know the basics of how to make your business successful. To start your business, look for bounce houses for sale and buy from a trusted supplier.
At Jungle Jumps, we offer commercial-grade inflatable bounce houses for sale. All of our jumpers come with a three-year warranty. Browse our selection today!