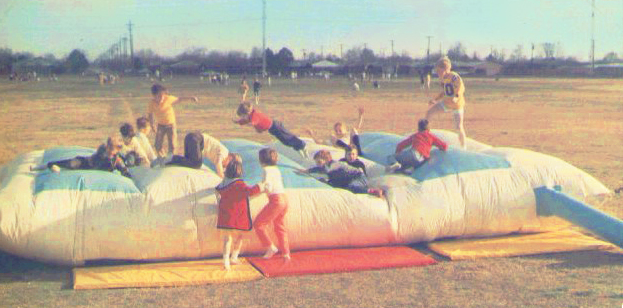 If there is one kind of job or business where you can safely say that you bring joy to people, then making and selling inflatables probably takes the cake! Just seeing the smile and utter bliss from the children's faces once they try their way into a bounce house or a moonwalk is genuinely priceless.
But it begs to question: where did bounce houses actually start? Who was the very first bounce house manufacturer that basically invented this one-of-a-kind contraption?
Read on to learn a bit about the history behind the conception of bounce houses.
Who Invented Bounce Houses?
The first inflatable to ever be created was designed in 1959 by John Scurlock, an engineering professor in Shreveport, Louisiana. When Scurlock started experimenting with inflatable tennis court covers that can be easily deployed and deflated for storage, he never thought of using it as a form of children's entertainment. One day, he stumbled upon the idea of bounce houses when he saw some of his employees hopping on his inflatable cover.
The Space Pillow
Scurlock's tennis court covers eventually evolved into his original inflatable design called the "Space Pillow." The product barely resembled the bounce houses we know today, as it didn't have walls or safety netting. In fact, it wouldn't be considered safe at all by today's standards!
After a few years, Scurlock developed a new version with a top called the "Space Walk," which eventually became the name of his company. From that point on, Spurlock and his family began developing the bounce house concept and tweaking it to the current configuration that we all know and love.
Little did Scurlock know that it was the first step to becoming a massive hit in the entertainment industry!
A Family of Inventors
In 1968, Frances, Scurlock's wife, decided to rent out Space Walks for social events. This was evidently a good business decision that added to their already successful inflatable manufacturing business.
In 1976, the Scurlock family was able to expand into a custom facility because of their businesses' success. Their son, Frank Scurlock, eventually took over the family business after his parents retired.
Towards the 1980s, Scurlock's family opened up play parks where their signature inflatable structures became the center of attention. Eventually, inflatable water slides were added to the park, thus inviting new and more fun ways of entertainment for children.
Frank was also credited with his own invention by creating the indoor amusement center in 1986 and the first inflatable water slide in 1991. Their company, Space Walk, went on to develop the world's first inflatable photo booth in 2012, too!
The Scurlock Legacy
Today, there are numerous bounce house manufacturers in the US alone producing top-of-the-line products like moonwalks, jumpers, wet and dry slides, and bouncy castles. Those commercial inflatables have become far more advanced than Scurlock's original Space Pillow designs—but those humble beginnings served as the impetus for the success of the thriving industry of commercial inflatables we all know and enjoy today.
Conclusion
John Scurlock's invention of the bounce house signaled the birth of a new industry that many people all over the world are thankful for. Scurlock's family became the pioneers of manufacturing inflatables that eventually spread out into hundreds of businesses, each with their unique take on Scurlock's classic design.
Jungle Jumps is one of the largest commercial inflatable manufacturers in the US. Our 24,000 square foot California headquarters is where thousands of commercial-grade inflatables are made and distributed worldwide. Take advantage of our three-year warranty lifetime support when you purchase one of our products. Visit our store page to order now!